Best Mexican Food – Top 30 Most Popular Mexican Dishes
Best Mexican Food – Top 30 Most Popular Mexican Dishes
The Complete Beginner's Guide to Mexican Food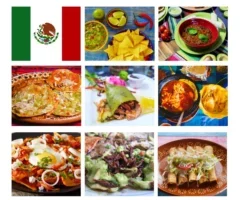 Best Mexican Food: Top 30 Most Popular Mexican Cuisines
Are you planning a trip to Mexico and want to know what the finest meals to taste there are?
Maybe you just want to pamper your taste buds with some well-known recipes.
Whatever it is, one thing is certain: you will enjoy Mexican cuisine. These foods are known for their unique flavor combinations that keep your taste receptors wanting more.
Traditional Mexican Food History:
The Mayan Indians are thought to be the originators of true Mexican cuisine. They were nomadic hunters and gatherers in the past.
They ate wild animals, tropic fruits, and fish, as well as corn tortillas with bean paste… The biggest influence on Mexican cuisine came from Spanish cuisine.
Mexico boasts one of the world's most diverse cuisines, and Mexican cuisine is one of the world's most popular cuisines!
It is the result of a collection of historic skills that are still used today, as well as a mix of pre-Hispanic native items and European ingredients such as cinnamon, wheat, cattle, milk, cheese, and so on.
Mexican gastronomy was designated as an Intangible Cultural Heritage by UNESCO in 2010 for its ritual practices, old knowledge, culinary methods, customs, and indigenous communal cultures.
Mexico is known for its street markets, where you may find all kinds of fantastic products you never dreamed existed. Every street market has its own unique food section that represents regional cuisine. If you ever visit this country, you must dine at a street market; else, you will be sorely disappointed!
Chocolate, chile (chili), guajolote (wild turkey), and maz (maize) are four of the most important pre-Hispanic Mexican ingredients.
However, as in any culture, certain cuisines stand out more than others. Fortunately, there are many delectable Mexican dishes to choose from.
If you're wondering what to eat in Mexico, you're in for a treat.
Check these Out >>>
When you think of Healthy Mexican food pictures and names, what comes to mind?
In this collection, you'll discover everything from traditional Mexican recipes to American – style (USA) versions.
All of the famous recipes on our list, however, are included for a reason: they're all fantastic!
These recipes highlight how adaptable Mexican foods are, from light and crunchy quesadillas to rich and savory chilaquiles (with a dulce de leche cookie tossed in for good measure).
Whether you're looking for a quick and easy lunch recipe or a dinner to feed a crowd, you're sure to find something great to try here.
Also, if you're planning a trip to Mexico, keep an eye out for these typical Mexican foods to get a true sense of the country's cuisine. To assist you, we've compiled a list of the top Mexican meals. Let's have a peek, shall we?
Top 30 Most Popular Mexican Foods- Best Mexican Dishes
Whether it's Taco Tuesday, Cinco de Mayo, or a Friday night, or Mexican food recipes easy and cheap that starts with the letters t, w, or m – these recipes are festive enough for a party but simple enough to make a delicious weeknight dinner.
Mexican Recipes You'll Want to Make Again and Again and again
It's easy to fall in love with the tastes of good Mexican cuisine, the Mexican food names which range from tacos and tamales to enchiladas and agua fresca.
We've compiled a list of our favorite original Mexican food menu (along with some fantastic Mexican-inspired vegan alternatives) to honor all of the delectable Mexican dishes we keep returning to.
Chilaquiles ~ Mexican Food Name
Chilaquiles is without a doubt the most popular breakfast on Mexico's food list.
Totopos are triangularly fried or toasted corn tortilla pieces soaked in a red or green hot sauce and topped with shredded chicken, chorizo, shredded beef, and scrambled or sunny side up egg.
It comes with fried beans on the side and is topped with fresh mozzarella, coriander, and sliced onion.
Rancheros de Huevos (Ranch Eggs) ~ Popular Mexican Food
Two ranchmen's hats are depicted here. It's made with two fried corn tortillas, fried beans, and two sunny-side-up eggs, all topped with coriander and freshly ground black pepper and soaked in red hot sauce.
Machaca (Shredded Dried Beef) ~ Best Mexican Dishes
On the northern part of México, this is one of the most popular dishes.
Machaca is a versatile ingredient that may be used in tacos, packed burritos, flautas, or simply as a stew with tortillas, beans, or rice on the side. Machaca is simply shredded dried beef that has been well seasoned. It's delectable!
Discada (Plow disc BBQ) ~ Best Mexican Dishes
Yes, it's a beefy meal from the north… Sausage, chorizo, ground meat, ham, bacon, fat, jalapeo pepper, and onion are all present.
And it's all seasoned with thyme, celery, cumin, oregano, bay leaf, black pepper, black sauces, salt, rosemary, and a splash of dark beer, among other herbs and spices.
This dish is prepared with a plow disc that has been cured over wood. It's a classic dish served at family gatherings.
Tacos ~ Best Mexican Food Name
The taco, often regarded as the most popular Mexican cuisine in the world, has evolved into an art form. Some call it the "art of eating with a tortilla," and Mexicans would never turn down a taco.
A corn tortilla can be filled with hundreds of different ingredients! Beef steak, flank steak, chorizo, offal, "al pastor," and hot and sweet marinated pork are the most popular.
Exotic tacos include fried brains, cattle eyes, liver with onions, scorpions, bull testicles, escamoles, and a variety of other unusual fillings.
Escamoles are ant larvae that can only be found in Mexico's central and southern regions.
Because the larvae are only found once a year and extracting them is a delicate procedure, making this a very affluent dish—a bit like caviar.
Burritos ~ Best Mexican Food
This is extremely popular in northern México, particularly in the states bordering the United States.
A burrito is a flour tortilla wrapped in a cylindrical shape and packed with various ingredients, most commonly a stew.
The fried bean burrito with cheese and the machaca burrito is the most popular.
Guajolote or Pozole de Pollo (Chicken or Wild Turkey Stew) ~ Best Mexican Food Names
Pozole was said to be made of human flesh before the conquest, according to Mexican legend.
In truth, it's a dish created using Xoloitzcuintle beef (a dog endemic to the country).
Pozole is now commonly made using shredded chicken or wild turkey.
Green, red, or white pozole, camagua, seafood, elopozole, and other varieties are available. Green and red are the most common colors.
Menudo (Pork Stew) ~ Best Mexican Foods
This is said to have originated in Spain decades before the conquest. According to Diego Granado's The Art Book of Cozine, they used tripe chunks.
Menudo is now a seasoned soup made with corn kernels and beef tripe, with or without the grains. Pancita is another name for it.
Pibil de Cochinita (Pibil Pork Stew) ~ Best Mexican Food Name
Pibil Cochinita
Cochinita Pibil, a slow-cooked shredded pork stew from the Yucatan Peninsula, is a southern pleasure.
Achiote, orange juice, onion, and vinegar are used to marinate the meat, which is then fried wrapped in banana leaves
It comes with a marinated onion and fresh habanero pepper. You can use it in tacos, burritos, tortillas, and other dishes.
10. Tamales ~ Best Mexican Foods
Tamales are a staple of Mexican cuisine. You can eat these all day long, every day, especially on Candelaria Day.
It's from pre-Hispanic America, and the indigenous tongue calls it náhuatl, which means "wrapped."
These can be loaded with any dish of your choice and covered in maize leaves or banana leaves.
Mole, shredded chicken or pork with green or red salsa, pepper with cheese, and yellow corn kernels are the most prevalent.
Quesadilla ~ Best Mexican Foods
Quesadillas (pronounced "cheese-adillas") are maize or flour tortillas folded in half and loaded with cheese or other toppings before being deep-fried or grilled and eaten hot.
Puercos Frijoles (Fried Beans) ~ Best Mexican Foods
Simpuhl's photo of Frijoles Puercos
Pork beans are a popular choice. They're a fantastic combination of beans cooked with lard, chorizo, bacon, cheese, serrano peppers, and a few other hidden ingredients.
Enchiladas ~ Best Mexican Foods
Depending on the style, this is fast cuisine prepared from maize tortillas dipped in hot sauce and filled with various stews, veggies, or proteins.
Enchiladas are pronounced en-chili-ada, so expect a sizzling bite. They're topped with sour cream, fresh cheese, onion, and celery and served with a side of sour cream.
Chile en Nogada (Nogada Pepper) ~ Best Mexican Foods
This dish is based on a long-standing tradition. It's cooked with a whole Poblano pepper stuffed with picadillo (ground beef, fruits, and spices), covered with a walnut-based cream sauce, with pomegranate seeds and celery on top.
The colors of the city of Puebla are similar to those of the Mexican flag.
Esquites (Corn Stew) ~ Best Mexican Foods
Esquites are a tasty street dish that comes in a variety of flavors depending on where you live in the country.
It's topped with cream, mayonnaise, chili powder, lemon, butter, and cheese in the northern states.
You can consume it in a cup or with a stick drilled through the whole corn.
They are preferred in the central-southern states with cream and cheese or with lemon chili spice, but not both.
They're sometimes cooked with epazote and bone marrow. Exceptionally tasty!
Alegria de Amaranto (Amaranth Hard Joy Candy) ~ Best Mexican Foods
Mexican popped amaranth hard candy is sold as a bar with a variety of toppings, such as dried fruit, chocolate, raisins, nuts, and so on. Amaranth seeds and honey are used to make this treat.
It hails from México City and has been known as Alegra, which translates to "joy," since the 16th century.
Mole ~ Best Mexican Foods
Mole is a spicy sauce created with dried chiles, tomatoes, chocolate, seeds, and other spices.
It is regarded as one of México's most emblematic dishes. There are various theories about how it came to be.
One of them claims that Poblano Mole, whose original recipe called for almost 100 components, was created in the Convent of Santa Rosa in Puebla by a nun grinding different chilies and seasonings in a metate.
Another story claims that Spanish Archbishop Juan de Palafox paid a visit to Puebla.
One of the cooks became so agitated that he stumbled into the casserole containing the guajolotes (wild turkeys) and spilled chilies, nuts, chocolate, and other seasonings.
There are seven different types of moles in México, and you should sample each one.
Pipián ~ Best Mexican Foods
Emperor Moctezuma's favorite cuisine was pipián stew, which dates back to pre-Hispanic times. It is a must-have on every sauce menu in the central-southern states.
The sauce is produced with toasted and pulverized pumpkin seeds and is commonly served with poultry, though it can also be served with pork, cattle, or rabbit.
Aguachile (Chili Water) ~ Best Mexican Foods
This is a traditional meal from México's western coast, specifically the state of Sinaloa. Dry meat was mixed with water and chilies (chiltepn chile) in pre-Hispanic societies, according to legend.
They added lime juice, cucumber, coriander, red onion, avocado, salt, and pepper to the recipe in 1970, replacing the meat with raw shrimp.
Ceviche ~ Best Mexican Foods
Ceviche is a Peruvian dish that is popular throughout South and Central America. Raw fish, onion, tomato, chiles, coriander, and lemon are always staples.
Fish, shrimp, clams, octopus, crab, and snail are the most widely used proteins.
Zarandeado Pescado (Stirred Fish) ~ Best Mexican Foods
This is a pre-Hispanic delight that is highly popular throughout the Mexican coasts. Zarandear is a noun that refers to a lot of movement or shaking.
The meat used to be cooked on a mangrove wood barbecue called Zaranda, but now it's done on a metal grill.
The fish is seasoned with lemon and jalapeño sauce before being smoked with mangrove wood.
Camarones a la Diabla (Deviled Shrimp) ~ Best Mexican Foods
Lent, when seafood is frequently consumed instead of meat, is one of Mexico's most ingrained traditions.
During the season, Camarones a la Diabla is a must-try dish. It's made with a mix of chilies, including guajillo, chipotle, and arbol, and it's incredibly fiery.
Birria de Chivo (Goat Stew) ~ Best Mexican Food
This meal hails from the state of Jalisco and is seasoned with a mixture of chilies, spices, and salt.
Consomé is a tomato-based sauce made from the fluids from the cooking. Birria was originally made with goat, but it can also be made with lamb, mutton, hog, chicken, veal, beef, or fish.
Some birrias are cooked in covered pots at high heat, with the lid occasionally shut with corn dough. Tatemadas are birrias that have been baked.
Originally, the meat was wrapped in maguey pencas and baked, but this is a dying tradition.
Tlayuda ~ Best Mexican Foods
This is the most well-known meal in Oaxaca, a state in southern México. It's a huge white corn tortilla (about 30 cm in diameter). It's cooked on the griddle first, then over the coals to dry out and crisp up.
A classic tlayuda is made with lard, black beans, tasajo (dried pork meat), chorizo, and cheese, and is served with water chile, sliced tomato, avocado, and, of course, mezcal with worm salt
Guacamole with Chapulines (Guacamole with Grasshoppers) ~ Best Mexican Foods
This can be found in the Mexican states of Oaxaca and México City. The creamy avocado and crispy, acidic grasshopper are a winning combo.
They're tasty and healthful, thanks to their high protein content.
They're an unexpected pleasure, marinated in salt and garlic and then sautéed on the griddle till crimson and crispy.
Flautas (Flutes) ~ Best Mexican Foods
Traditional Mexican tacos are prepared with a rolled corn tortilla and filled with mashed potato, cheese, chicken, and other ingredients.
The only distinction is that they are cooked in oil. On top, they commonly have coriander, tomato, fresh cheese, and sour cream.
Torta Ahogada (Drowned Baguette) ~ Best Mexican Foods
In the state of Jalisco, this is the most popular street food.
It's a sandwich prepared of birote bread packed with pig confit and dipped in a spicy sauce made with dried chiles, vinegar, tomato, and spices.
They're easy, spicy, and delicious! The torta ahogada is traditionally eaten out of a plastic bag.
Carnitas (Confit Pork Meat) ~ Best Mexican Food
Carnitas – Different pieces of pork are fried in lard and stewed for hours in enormous copper pots. The flavor originates from the different substances used in the cooking process, one of which is orange juice or soda!
It's great in tacos or sandwiches.
Caldo Azteca (Aztec Soup) ~ Best Mexican Food
Aztec Soup
With strips of fried tortillas topped with chicken broth, tomato, pepper, garlic, and onion, flavored with epazote and coriander, and topped with cheese, avocado, and sour cream, this is a fantastic classic of Mexican cuisine.
The Aztec soup was created in Tlaxcala as a mix of Mexican maize tortillas and the Spanish soup-making tradition.
Gorditas de Nata (Mini Cream Pancakes) ~ Best Mexican Foods
This fluffy pastry is served as an after-mass treat outside churches, especially on Sundays. They can be eaten simply or filled and are made with wheat flour, cream, sugar, and cinnamon.
Mexican Restaurants Near Me in Lagos – Nigeria