Pasteles: Tradition Puerto Rican Cakes in Banana Leaves
Pasteles: Tradition Puerto Rican Savory Cakes in Banana Leaves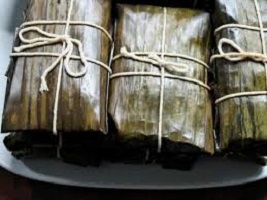 The Pasteles de Masa | For a proper Puerto Rican Christmas, you need three things on the table: pernil, arroz con gandules, and pasteles!
Preparing this dish also appeals to me because it is centered on the family. It requires family cooperation, as members of the family gather to form an assembly line to prepare this dish.
It's no surprise that pasteles are best served at Christmas. It's about the stories, laughter, and cooperation that happen while making this labor-of-love wrapped treat!
Related >>>
Origin of Pasteles ~ Pasteles Origin
Pasteles are thought to have been invented by the Tano tribe of the United States, who originated in Venezuela. It translates pastles from Spanish to English
Pasteles, the most magical treat wrapped in a banana/plantain leaf, are the subject of this post. A delectable treat to unwrap during the holidays!
What are Pasteles?
Pasteles can be difficult to describe if you are unfamiliar with them. Pasteles are made from seasoned taro root and plantain "masa," which are then filled with savory pork and wrapped in banana leaves before being boiled.
Some people compare them to tamales, but they are nothing like tamales except that they require a lot of work and are wrapped.
A labor of love! If you asked me to describe pasteles (pastel in single words), that's how I'd describe them. It takes a lot of time and effort, but it's well worth it.
Is there a difference between tamales and pasteles? Are tamales and pasteles the same?
I'm sure you're wondering if this wrapped dish is similar to that of Mexican tamale. They're not identical, but they're close enough. Tamales, on the other hand, are steamed to finish the cooking while pasteles are boiled.
They're made with green plantains, which aren't to be confused with unripe bananas. Plantain and banana leaves can both be found in your local markets.
Furthermore, instead of using ground green banana, eddoe, potato, or calabazas to make the masa, tamales use ground corn (or hominy).
You can also fill them with almost anything you want, including cheese, fruits, vegetables, and meats.
Making and serving pasteles at Christmas time is a Puerto Rican tradition.
In addition, Pasteles are a type of tamal made with pork and adobo stuffing, wrapped in banana leaves and encased in a green plantain masa.
These savory treats are the result of a team effort and are traditionally made in large batches, then eaten during the holidays and frozen for consumption up until the start of Lent.
Even the youngest member of the family is assigned a job of grating, mixing, stuffing, or wrapping. For a delicious and filling traditional pastel, use plantain or yuca.
What are pasteles made of?
To begin with, pasteles come in a variety of shapes and sizes. Colombian pasteles, for example, are similar to tamales.
It's made with rice, pickled vegetables, chorizo, chicken, chickpeas, and mozzarella cheese.''
Then it was wrapped in a cabbage leaf first, then a banana leaf.
Recipe
The majority of the ingredients for pasteles, a traditional Puerto Rican holiday dish, can be prepared ahead of time and brought to room temperature before assembly.
You can make the masa ahead of time and store it in the freezer for up to three months. Pasteles can also be cooked immediately, refrigerated for a few days, or frozen for several months in zip-top containers.
How to Make Puerto Rican Pasteles step by step 
ingredients
Filling
2 lbs cubed pork
¼ cup recaito
1 beef bouillon cube
½ teaspoon oregano
2 tablespoons capers
½ cup water
An envelope Sazon sin achiote
½ cup chopped Spanish olives with pimentos
1 14.5 oz can of garbanzos
Masa
2 plantains, peeled*
3 green bananas, peeled*
1 ½ lb of yautia (taro root), peeled
½ lb kabocha pumpkin, peeled
½ cup recaito
2 envelopes Sazon con culantro & achiote
1 tablespoon oregano
A beef bouillon cube
Achiote oil
6 tablespoons achiote seeds (annatto)
2 cups of vegetable oil
Assembly
1 small jar of pimentos
12 – 14 oz banana leaves
Pasteles paper or parchment paper
Butchers twine
DAY 1
Filling
Firstly, place all of the filling ingredients in a pressure cooker. Preheat the oven to 350°F and cook for 30 minutes. Allow it to naturally return to pressure without releasing it.
After that, cover and cook for 15 minutes to brown/simmer. Allow cooling before placing in an airtight container and storing in the refrigerator until ready to use.
Masa
Firstly, grate the plantain, green bananas, yautia, and pumpkin using the fine shredder blade on your food processor or a manual grater. You may need to work in batches depending on the size of your food processor.
Meanwhile, replace the shredder blade with a chopping blade. Process the shredded vegetables in batches until they are fine and pasty.
After that, mix in the remaining masa ingredients until well combined.
Lastly, refrigerate after transferring to a bowl and covering with plastic wrap.
Achiote Oil
Firstly, heat 1 1/2 to 2 cups vegetable oil, then add 6 tablespoons annatto seeds. Allow the seeds to cook until the oil turns a vibrant red color.
Then, remove the seeds from the oil and toss them out. Allow the oil to cool completely before storing it in a tightly sealed container until ready to use.
DAY 2
Banana Leaves Preparation
Firstly, remove the ridge on the leaves. Then, wash the banana leaves under warm running water and cut them into 12 x 12-inch squares.
After that, microwave the banana leaves in batches for 1.5 to 2 minutes to help them become more flexible.
Assembly
Firstly, assemble the masa mixture, filling, achiote oil, banana leaves, pastel paper, and butcher's twine at the assembly station.
Secondly, alternate stacking the pastel paper and banana leaves, starting with the pastel paper. 1 tsp achiote oil, applied to the banana leaf Spread 1/2 cup of the masa mixture onto the banana leaf in a rectangle.
After that, fill the center with 2 tablespoons of filling and, if desired, pimentos. Fold the masa over the filling with the banana leaf.
Then, bring the ends of the leaves together. To make a tight seal, fold the paper over twice. Tuck the ends under; don't worry if the banana leaf splits a little; we'll fold it back into the paper.
Meanwhile, wrap and fold the paper in the same way. I recommend double wrapping if you're using only pastel paper.
Tie the pastel like a present with butcher's twine. You can either boil them right away or freeze them until you're ready to use them.
Now, bring a large pot of water to a boil when ready to cook, then drop in the pasteles and cook for 45 minutes for fresh or 1 hour for frozen. They can also be cooked for 30 minutes in a pressure cooker with 1 cup of water.
Lastly, pick the pastel out of the water by the string with tongs and place it on a paper towel. Cut the string and unwrap it gently. Enjoy!
Please Note
How to Peel a Green Banana or Plantain
Recaito is a crucial component of masa seasoning. Although it can be found frozen in many Latin and Asian grocery stores, making it at home is preferable.
It can be prepared ahead of time and stored in the freezer for later use.
Many of the ingredients, including the banana leaves, can be found at your neighborhood Latin or Asian market.
What is the flavor of pasteles? What do pasteles taste like?
Pasteles were traditionally wrapped entirely in banana or plantain leaves before being wrapped in parchment paper or foil.
Today, many chefs use a piece or strip of banana leaf to impart the leaf's nutty flavor to each pastel.
Serve with pique criollo (Puerto Rican hot sauce), arroz con gandules (rice and beans), escabeche (seared and marinated cold meats or fish), roasted pork, and other holiday foods.
Nutrition Information
Serving: 1g| Calories: 855kcal (43%)| Carbohydrates: 146g (49%)| Protein: 23g (46%)| Fat: 21g (32%)| Saturated Fat: 8g (50%)| Polyunsaturated Fat: 2g| Monounsaturated Fat: 9g| Cholesterol: 65mg (22%)| Sodium: 341mg (15%)| Potassium: 1848mg (53%)| Fiber: 11g (46%)| Sugar: 18g (20%)| Vitamin A: 4500IU (90%)| Vitamin C: 85mg (103%)| Calcium: 116mg (12%)| Iron: 3mg (17%)
Cooking Tip
How to Cook Frozen Pasteles: When ready to cook, remove the frozen pasteles from the freezer and place them in a pot of boiling water.
Cook for an hour, or until the vegetables are tender. Pasteles can be frozen for up to four months, so make sure to label the freezer bags with the date you made them.
Variation in the Recipe
You can use yuca instead of both the yauta and the plantains.