Red Red Ghanaian Bean Stew: Vegetarian, Vegan, Gluten-Free
Red Red Ghanaian Bean Stew (Vegetarian, Vegan, Gluten-Free)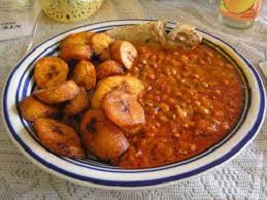 The Ghanaian Red Red Recipe ~ African stewed black-eyed peas
Red red is a Ghanaian bean stew served with fried plantains as a side dish and often topped with gari, a coarse toasted cassava flour. Ghana Red Red Recipe is a hearty, flavorful, and easy-to-make vegetarian black-eyed peas stewed beans in the African style.
It's an all-around delicious dish that's suitable for both vegans and vegetarians, and it's naturally gluten-free. Have a go at this if you want to try something new.
So, What Exactly Is Red-Red?  Ghanaian Red Red Bean Stew
It's a simple dish of fried plantains and beans porridge. The name "red" comes from the color of the beans after they've been mixed with a Palmoil-based tomato stew.
This slow-cooked black-eyed peas stew will keep you warm and satisfied for hours. A traditional Ghanaian dish made with West African beans, palm oil, and tomatoes is known as red red.
A hearty and wholesome stew that the whole family will enjoy. This delectable Ghanaian dish combines a rich beans stew with fried plantain, but there are other variations:
Red Red Ghanaian Bean Stew Garnished with Gari 
I don't remember liking red red as a kid, but for some reason, the older I get, the more I like it. This was a dish my family used to make with a red bean called red cowpeas.
What are the most important ingredients in Red Red Ghanaian Bean Stew?
Black-Eyed Peas or Cowpeas
The most commonly used bean is black-eyed peas, a type of cowpea. White black-eyed peas are simple to come by, keep their shape in the stew, and have a satisfying bite.
I occasionally combine them with chickpeas. Beans, whether canned or dried, work beautifully, but dried beans are the best.
My mom used the red version of the beans (cowpeas), and I recall that distinct color even though I didn't know what bean it was until just a few days ago.
It leaves me wondering if that's why red red is called red red in history, partly because of the red beans and partly because of the palm oil.
Red Palm Fruit Oil (Dende)
The crude red fruit oil from the oil palm tree, Elaeis guineensis, is used in this recipe as palm or dende oil.
Cooperatives of women farmers produce a significant amount of Ghanaian red palm oil. The cooperatives use the same heat and separation method to produce red palm oil.
My family makes a soup called palm nut soup out of palm fruits. Oil rises to the top of the soup as it cooks.
The West African Trio: Tomatoes, Onions, Chilies ~ 
Tomatoes, onions, and chilies make up the West African Trio.
Most Ghanaian stews begin with a great trio of onions, tomatoes, and chilies and there is no exception in the case of red red.
We use scotch bonnet peppers, which have a distinct flavor and aroma. These days, we add ginger and garlic, as well as tomato puree, to the stew.
Because the stew uses so much water, you'll use about 500ml of vegetable stock and may still need a drop or two of water.
It's impossible to make a mistake with this dish. Brown beans are the preferred bean in Nigeria. Because these are very soft and your stew will have a mashy consistency if you use them.
Plantain And Gari (Toasted Cassava Grits)
Plantains and a smidgeon of gari as a garnish are the last two ingredients, you'll need to finish this dish.
Plantains are commonly served fried, but I prefer to roast mine. The addition of gari is a nice touch.
However, the dish is now always served with a dusting of gari on the side. It gives the dish a textural crunch.
Plantains roasted in the oven with a red bean stew and an avocado salad is a good combo
Other Variations
Red Red isn't strictly a meatless dish, but it does provide a well-balanced meal with added protein.
Flavorful additions include salted, smoked, or dried fish. You can also make it with beef or goat meat. If plantains aren't your thing, try roasted sweet potatoes instead.
They have a natural sweetness that is similar to plantains. It's also delicious with rice or chapati.
Where Can I Purchase These Ingredients?
These are now widely available in the local markets.  Outside the country like the United Kingdom, can get the ingredients either online or from Afro Caribbean grocers.
Red Red Bean Stew in An All-Vegan West African Inspired Feast ~ How to Make Ghanaian Red Red
Ingredients
1 cup of dry black-eyed peas (180-200g or 1 can of beans)
¼ cup red palm oil
1 large onion
2 scotch bonnet peppers
1 tablespoon tomato paste
2 cloves garlic
3 to 4 medium size, ripe tomatoes or 1 can of tomatoes
1inch fresh ginger
500ml vegetable stock
Salt to taste
Water for soaking and boiling beans, extra as needed.
Instructions
Firstly, soak the beans in freshwater for about 2 hours or overnight, this makes the cooking process quicker. You can also soak the beans in hot water for half an hour before cooking. Cook the beans for 30 to 45 minutes until soft.
Secondly, chop the vegetables. Then, sauté the onions until caramelized then add the tomato paste.
Thirdly, add the tomatoes in and fry until they have cooked down. This should take 5 to 10 minutes.
After that, add the vegetable stock and allow it to simmer for half an hour on low heat. Meanwhile, you can prepare the plantains during this time.
Now, take 4 plantains. Peel, slice, season with salt, and deep fry or oven roast.
lastly, serve the dish garnished with a little gari powder.
Nutrition
452 Calories
79g Carbohydrates
16g Fat
12g Fiber
6g Protein
7g Saturated fat
418mg Sodium
32g Sugar
7g Unsaturated fat
Notes
If you don't have easy access to palm oil, use coconut oil if you have it on hand. The oil you use imparts a lot of flavors, and palm oil lends this dish its original West African flavor.
Each of these additives should be available at your local supermarket. If you want to use other beans besides black-eyed peas, try chickpeas/garbanzo beans, pinto, aduki, or kidney beans, or a combination of them.