Egusi Soup: How to Make Best Egusi Soup Recipe Variations
Egusi Soup: How to Make the Best Nigerian Egusi Soup Recipe Variations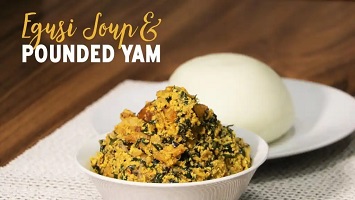 Egusi Soup – Egusi Soup is a delicious Nigerian soup made with a white pumpkin seed variety. It's hot, nutty, and full of exotic African flavors!
Egusi soup is a hearty, exotic dish that will satisfy your palate. It's a staple in most West African households, and it's a simple one-pot meal that's frequently served with side dishes like Eba, Amala, Semovita, Pounded yam, Fufu, and other similar dishes.
Some people, particularly Yorubas, will even eat it with rice.
Related Soup Recipes
What is the English name for Egusi soup?
Egusi gets its name from Igbo and Yoruba languages, and it interprets to mean "melon."
It is also known in West Africa as Wild watermelon, Ikpoghiri, Neri Niri, Ibara, Agushi, or Egusi melon.
This Nigerian soup comes from West Africa (Nigeria). It's a great soup for those who enjoy trying new things every now and then.
This soup gets its color and flavor from ground Egusi seeds (melon seeds) If you can't find Melon seeds, use pumpkin seeds as an alternative.
However, in place of the shrimp, any combination of crab, shrimp, and smoked fish can be used. Beef can be replaced with drained, smoked oysters and chicken.
What is the origin of egusi soup?
Nigeria
This soup is native to West Africa (Nigeria), and it has been enjoyed by both Americans and Nigerians.
It's a great soup for those who like to try something new every now and then. Ground Egusi seeds add a distinct color and flavor to this soup.
What Are the Ingredients in Egusi Soup?
Egusi Soup is a soup made from white pumpkin seeds (available in African markets).
The main ingredient is ground egusi (or pumpkin seeds). Red palm oil, African crayfish, meats and fish, seasoning, hot pepper, and some form of leafy greens are among the other ingredients.
Egusi is white pumpkin seeds, though some prefer to call them melon seeds.
Other Related Soup Recipes
What Is the Taste of Egusi Soup?
Because of the variety of meats and fish used, Egusi soup is nutty, spicy, and rich.
In West Africa, Egusi is consumed in a variety of ways.
Egusi Soup Recipe – How to cook Anambra egusi soup
Ingredients for Egusi Soup
2 Cups Melon
4 Tbsp Crayfish
24 oz chopped spinach
1 Cup Palm Oil or any preferred quantity
3 Tbsp locust beans
1 Red Bell Pepper
One Habanero Pepper
1 lb Beef Tripe, Dry Fish, Cow Leg
1 Fresno Pepper
3 cups Beef stock Chicken
2 Onions o Stock Cube (Optional)
Salt to Taste
How to cook egusi soup boiling method
Season the meat – add some of the spice (onion, seasoning cube) to the meat along with enough water to cover the meat and heat the pot.
While it's boiling, wash your pepper (I usually cook mine for 10 minutes because it gives it a nice consistency) and your smoked catfish in hot water and salt.
After 10 minutes of boiling the red pepper, blend it with the yellow pepper, onion, and crayfish, adding a little water before blending. After the pepper has been blended, add the local beans (ogiri) and blend until cream has formed.
Pour the blended pepper mixture over the meat and bring it to a boil.
If you haven't blended your egusi, take the seed and blend it with extra onion and a little water until it's smooth, then pour it into a bowl and set it aside until your sauce begins to boil (your meat with the pepper mixture).
If your sauce begins to boil, add your stock fish, seasoning cube, and everything else you're cooking with. Now wash your stock fish in the water before adding it to the sauce, season with a seasoning cube until it's to your liking, then add your catfish and salt to taste, and drizzle with a little oil to give it a richer flavor (this is optional because egusi already contains oil).
After adding the oil, add the fish and stir well before bringing it to a boil. Before adding the egusi, taste it to ensure that the seasoning is adequate.
After a few minutes of boiling, spread your egusi evenly throughout the sauce; do not stir after adding your egusi; instead, cover your pot halfway (leave some parts open) and cook for 3-4 minutes on medium heat.
After about 3-4 minutes of cooking, remove the lid, stir, and combine the egusi with the sauce before continuing to cook.
Now add your bitter leaf (you can use dry or fresh bitter leaf) and cover your pot halfway with the lid (leave some parts open) and cook for about 4 minutes on medium heat.
After about 4 minutes of cooking, remove the lid and give it a good stir; taste it to see if the salt and seasoning are sufficient.
Finally, add your Ugu/washed Bitterleaf/frozen spinach (the spinach already contains some water), and cook the water for about 4-5 minutes while constantly stirring.
Remove your delicious egusi soup from the heat and serve with whatever you desire – Try akpu and egusi soup and thank me later.
How to prepare egusi soup with lumps
Egusi Soup (with lumps) – a highly indulgent exotic soup made with melon seeds and chicken or smoked fish, depending on personal preference in most West African countries.
This soup is hearty and full of earthy flavors!
10-minute prep
40-minute cook time
50 minutes total
Servings 5 -6 people
Egusi Soup Ingredients
2 to 3 pounds of chicken, cut into pieces
1 ½ onion
½ cup oil
3 garlic cloves, (1 tablespoon minced garlic)
2 tomatoes
2 cups ground egusi
½ cup crayfish
2 cups spinach, I used frozen spinach/Ugu leaf/Bitterleaf – Alternatives
1 tablespoon smoked paprika (optional)
Instructions
In a medium-sized saucepan, firstly cook stewing chicken with salt (garlic salt), smoked paprika, pepper, and onions until tender, about 45 to 50 minutes.
Using a pressure cooker will cut the cooking time in half. 2. Set aside chicken stock Slice tomatoes, onions, and garlic while the chicken is cooking.
Thirdly, in a heavy saucepan, heat the oil over medium heat. Toss in the onions. 5 minutes later, the onion should be translucent. To taste, season with salt and pepper.
Then, add the tomatoes and their juices, as well as the garlic and crayfish. Submerge the stewing chicken pieces in the liquid. Add a cup of chicken stock to the mix. Bring to a low boil.
After that, combine a cup of ground egusi mix and 2 tablespoons stock in a mixing bowl until a thick mixture forms.
Now, scoop up the egusi with a spoon and add it to the sauce and chicken in the pot.
Meanwhile, reduce the heat to medium-low and continue to cook, uncovered, until the egusi has solidified.
Then add the remaining egusi and continue to cook on low heat. To achieve the desired consistency, add about a cup or more of chicken stock.
1 allowed for 2 minutes of simmering time after adding the spinach.
Lastly, warm with plantains or your favorite swallow/side dish.
How to cook egusi soup frying method ~ How to cook fried egusi soup
Firstly, clean and boil uncooked meat with onion, seasoning powder, garlic, seasoning/spices of your choice, and salt to taste if using uncooked meat.
Then, cook until soft, then fry, roast briefly in the oven, or serve as is. Some of the meat stock should be saved.
In a bowl of hot water and salt, soak the dried shrimp and fish for a few minutes to remove any dirt, rinse, and set aside.
Fourthly, in a large pan over medium heat, heat the oil and sauté one sliced onion until soft, then add half of the ground crayfish and fish (you can use just ground crayfish) and fry for a few seconds.
After that, check for burntness, then, add the iru later.
In a mixing bowl, combine the blended roasted egusi (melon), remaining ground crayfish mixture, grated ½ onions, and a small amount of water/stock; ensure a thick consistency.
If you need to add more liquid, make sure you don't add too much at once; if you do, add more egusi to absorb the liquid.
After that, scoop small balls of egusi mixture into the frying onion and fry on low heat (if you use high heat, the locust beans will burn as well) without stirring.
After the egusi has absorbed the oil, stir and fry for another 10 minutes, stirring frequently to avoid burning. Continue to fry until you're satisfied; you'll notice the difference when it's well fried.
Clean the pepper and blend it with the remaining onion until smooth while the egusi is cooking.
When the egusi is cooked to your liking, add the blended pepper, cooked diced liver, cleaned dried fish, and shrimps, along with about a cup of meat stock/water, cover, and cook until fully cooked.
Combine the meat, season with salt and seasoning powder/cube (be gentle with the seasoning because the meat was already seasoned), and cook until the egusi mixture is absorbed.
Thaw the spinach (if using frozen) while you wait for the meat to absorb the soup. If you're using fresh vegetables, cut and rinse them before draining them in a strainer.
You'll notice that the oil has risen to the top of the egusi soup. It can be eaten as it is, or more vegetables can be added.
Lastly, add the vegetable to the egusi mixture, taste it, adjust the seasoning as needed, and then cook for an additional 3 minutes.
ServeEnjoy it with your favorite swallow/side dish.
How to Serve Egusi Soup
Pounded yam, a dough-like side dish made from pounded (or ground) African white yam, is a popular accompaniment to egusi soup.
Depending on your preferences, you could serve Egusi Soup with Eba, garri, fufu, semo, or amala.
Notes on the recipe:
Peppers, onions, locust beans, and crayfish, as well as beef, goat meat, or dry fish, are common ingredients in Egusi soup. Chicken and turkey are occasionally used.
Once the Egusi is thoroughly cooked, add the spinach. If necessary, then adjust the seasoning, and waawu! It's time to eat your Egusi soup!
If you prefer, tomatoes can be used to make Egusi soup.
Meanwhile, I'm aware that Egusi is known by various names, including Agusi and Agushi, depending on where you're from. Please tell me what your tribe/dialect calls Egusi.
Calories: 457kcal | Carbohydrates: 11g | Protein: 16g | Fat: 39g | Saturated Fat: 17g | Cholesterol: 50mg | Sodium: 297mg | Potassium: 804mg | Fiber: 3g | Sugar: 5g | Vitamin A: 12470IU | Vitamin C: 37.9mg | Calcium: 147mg | Iron: 3.3mg
What are egusi and fufu made of? About Egusi Soup and Fufu (Pounded Yam)
Egusi soup is common in Western Africa. This African soup is thickened with ground melon, gourd, or squash seeds.
Pounded yam is a common African swallow dish comparable to mashed potatoes but heavier. Pounded Yam is very smooth and tasty.
It is a dough-like side dish made from pounded (or ground) African white puna yam and a popular accompaniment to egusi soup ( egusi soup and pounded yam)
However, you can buy yam flour in African stores and on Amazon these days to make your own pounded yam at home.
Egusi stew for rice
Egusi stew is similar to egusi soup in that both are made from the same vegetable.
However, egusi stew is typically served with rice because it uses different stew ingredients.
Frequently Asked Questions
Is it okay to make Egusi soup with tomatoes?
Yes, tomatoes can definitely be used if desired.
How can you tell if egusi is done?
When the oil has separated from the mixture, the egusi is done. Add the ground crayfish and pepper once you're satisfied it's done.
Finish with the Nigerian pumpkin leaves or spinach and stir well. Stir in the cooked stockfish, shaki, and meat thoroughly.
How nutritious is egusi soup? Nutritional Value of Egusi Soup
Protein, potassium, vitamin B1, sulfur, fats, calcium, magnesium, carbohydrate, zinc, copper, vitamins A, E, and C, manganese, dietary fiber, and others are among the nutrients found in Egusi.
What are the disadvantages of Egusi soup? Side Effects
This finger-licking soup has not been linked to any negative side effects.
Is egusi beneficial to weight loss? Good for losing weight?
On a keto diet, you can also enjoy it. This delicious and nutritious soup is made primarily from melon seeds in Africa. It also includes plenty of meat, fish, and other nutritious proteins.
It's a good source of vitamins A, B1, B2, and C.
How long will Egusi Soup keep in the refrigerator?
The soup lasts three to four days in the refrigerator and three months in the freezer.
Is it possible to eat egusi with rice?
Yes, egusi stew can be typically served with rice because it contains a variety of ingredients.
Which state in Nigeria has Egusi soup?
In Nigeria, egusi is popular amongst the people of the southwestern Yoruba people, the Efik, Ibibio, and Annang people of south-south Nigeria
Also, the southeastern part of Nigeria by the Igbo people of southern Nigeria
How much is a bag of egusi in Nigeria 2022
The accessibility of egusi on the market has increased its demand. The cost of a bag of egusi is between ₦40,000 and ₦45,000.
Which state is the highest producer of egusi in Nigeria?
Egusi seed is widely grown in West Africa, with Nigeria producing approximately 65 percent of the total.
Enugu, Benue, Nasarawa, Taraba, and Kogi states have high melon seed production rates in the country.
How should peeled Egusi be stored?
It should be kept in airtight containers. This is done to keep weevils and moisture off.
When melon seeds are shelled, they do not last as long because they are more susceptible to moisture and becoming moldy