Fried Egusi Soup with Uziza Leaf – Ofe Egusi and Uziza Recipe
Fried Egusi Soup is Nigerians favorite. This is one soup every tribe in Nigeria claims to be their native soup.
It tastes good with a sweet-smelling scent that comes out of the fried melon seed; it looks appetizing to the eyes too.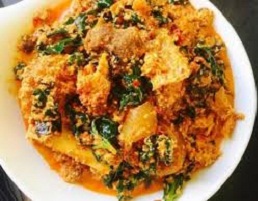 Fried Egusi Soup with Uziza Leaf can also be called Uziza Leaves Stir-Fried Egusi Soup Recipe which means the frying method of preparing egusi soup garnished with uziza leaves.
Nowadays, I include Uziza leaves to my Okra soup, and Ogbono soup, especially when celebrating among my Igbo friends, and the result? Simply Amazing!
Fried Egusi Soup with Uziza Leaf vegetable Variations
This egusi soup recipe can also be garnished with other leafy vegetables such as ugu, bitter-leaf, ukazi, utazi, garden egg leaves, Soko, Tete, and so many others.
Also, you can prepare this soup with tomatoes, without vegetables, or made to appear lumpy or with vegetable oil
Nigerian fried Egusi uziza Soup Recipe is a ground melon seed used as a thickener with any leafy vegetable mentioned above, and other soup ingredients.
It is often served with swallows like Semolina, Pounded yam, Garri, Fufu, Tuwo chinkafa, and Amala.
The process is not that difficult; once you've grounded your Egusi, shred your vegetables, the cooking starts.
Fried Egusi Soup with Uziza Leaf Recipe
There are different ways of making egusi dish; Boiling or fried with different vegetables of choice.
However, this recipe is to coach us on how to make this simple dish of fried egusi with Uziza leaf.
How to Make Fried Egusi Soup with Uziza Leaf
Ingredients for Egusi Soup
2 cups melon seeds (finely ground egusi)
1 kg beef (Cow meat, Goat meat, Chicken)
1 sachet onga classic
Kpomo (kanda cow skin) optional
Stockfish
Dry Fish
3 cooking spoons palm oil
1 medium-size onion (slice)
2 teaspoons ground crayfish
1 teaspoon ground dry pepper
2 seasoning cubes
A handful of Uziza leaves (finely sliced)
½ teaspoon ogiri opkei (Iru, Dawadawa)
Salt to taste
Directions
Firstly, wash the meat, spice with Onga seasoning, onions, and salt. Then, add water and boil for 30 minutes.
After that, wash your stockfish thoroughly and add to the boiling meat and cook for another 10-15 minutes. Same with the dry fish and add with little water.
Thirdly, heat your frying pan with red palm oil for 30 seconds, add in the grounded egusi and start frying. Stir constantly to avoid burning until completely dry.
Fourthly, pour in the fried egusi into the meat pot add pepper, crayfish, Ogiri okpei, seasoning cubes, cover and cook for another 5 minutes, stir and taste for salt.
Lastly, add in your sliced Uziza leaves, stir and adjust for seasoning, allow cooking for the next 10 seconds and then, remove from heat.
Serve with any choice of swallow, even with rice! Yessoo, try egusi soup with rice and thank me later
Enjoy your meal!