Orishirishi Green Vegetable Stew or Efo-riro with Yam Cubes
My recipe today is Orishirishi Green Vegetable Stew or Efo-riro by tradition prepared by the Yoruba people. Efo-riro is a healthy vegetable soup that is native to the Yorubas of Western Nigeria
Simply put this is a vegetable combined in a tomato/pepper stewed sauce. The vegetable of preference could be Shoko or Gbure (generally called green amaranth).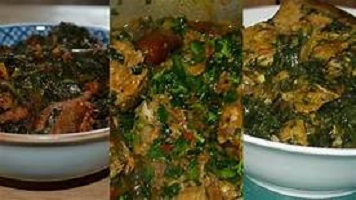 Though any green vegetable will do. Some alternate with Ugu
The usual explanation of a "rich" Nigerian soup is one that comprises orishirishi meaning you can find all parts of the meat in the soup.
Related >>> Recipe: Nigerian Vegetable Beef Soup ( Edikanikong)
For some reason, in Nigeria, we easily associate good soup with the number of meats used.
Homemade Orishirishi Green vegetable stew is always easy to make, this is a simple stew recipe with many health benefits especially the low-calorie content. It goes well with any staple food/dumplings.
Also Related >>> Efo Riro (Yoruba Delicacy): How to Make Stewed Spinach
You can adjust this stew to satisfy both vegetarians and meat-eaters, without losing its rich depth of flavor and nutrients.
Nutrition Tips: If you are a vegetarian, you can use mushrooms or skip that if you can't find it.
How to Make the Best Orishirishi Green Vegetable Stew
It is very rich in vitamins and nutrients. So there is no reason why you should not be cooking this Orishirishi Green Vegetable stew recipe immediately.
Ingredients for Nigerian Orishirishi Green Vegetable Stew
1 large bunch of spinach, shredded
4 pieces of fried fish
6 pieces of fried beef/mushrooms
5 medium tomatoes, coarsely blended
2 scotch bonnet peppers
3 cloves of garlic, minced
2 tablespoons of ground crayfish
1 medium onion, chopped
2 stock cubes
Cooking oil
Orishirishi Green Vegetable Stew Preparation
1. Firstly, rinse and combine tomato with pepper to blend and put aside.
2. Secondly, wash and shred spinach into tiny pieces, chop the onion, and set it all aside.
3. Thirdly, place a pan on the stove, add oil just enough to fry the meat or fish. Fry everything until it turns golden.
4. After that, lessen the oil if it too much, add the minced garlic, chopped onions to it and fry until translucent.
5. Then, add the blended tomatoes and fry, stirring occasionally until the water dries from it.
6. Season the stew with crayfish, stock cubes, and salt to taste, stir the stew properly and leave to cook for few minutes.
7. Now, add the shred spinach and stir properly until it is properly mixed with the sauce.
8. Lastly, return the fried fish or meat to the stew and stir, taste for salt, and adjust any needed ingredient.
The Orishirishi Green Vegetable sauce is ready to take off the heat and served with steamed rice, or with other staple foods/dumplings such as boiled yam cubes, pounded yam, Eba food, fried plantain, or even mashed potatoes
How Many Calories Are In A Bowl Of Homemade Mixed Vegetable Soup?
One serving of mixed Vegetable Clear Soup is just 32 calories. From which carbohydrates comprise 15 calories, proteins account for 4 calories and the left behind calories come from fat which is 13 calorie