Recipe: Nigerian Vegetable Beef Soup (EDIKAIKONG)
Vegetable beef soup is liked by everybody in the family except me. i don't like leafy vegetables, if my mum puts it in my food, I will eat the food and leave the vegetables behind. Shredding the vegetables is another big issue for me. My mum will never cut vegetables in the market; she believes it is not healthy since most of the nutrients are lost when you cut before washing.
Read Also: [VIDEO] How To Prepare Bitter Leaf Soup The Eastern Nigeria Way
She taught me to always soak the leafy green vegetables in a bowl of cold water for two minutes before rinsing them twice under cold running water. This is to get rid of any trapped germs or dirt before cutting the vegetables. (I still adhere to this instruction till date and it's working for me). Read on to find out what made me change my mind about leafy vegetables. The reasons why I always include it in my food either as a main or side dish, using Nigerian vegetable beef soup as my case study-Lol.
Nigerian vegetable beef soup is prepared in many ways using different leafy vegetables and methods in countless cultures.  Edikaikong, Afang, and Eforiro are some of the common vegetable soups we have here in Nigeria. The most popular of these three names is Edikanikong. That's why the name Edikaikong when translated to English simply means "vegetable soup".  This soup has Efiks origin-these are people from Akwa Ibom and Cross River states of Nigeria.
NUTRITIONAL VALUE OF VEGETABLES
Edikaikong soup is one of the most nourishing Nigerian vegetable beef soups. Eating a meal rich in these vegetables may lower the risk of cancer, stroke, type-2 diabetes, and heart diseases. Usually taken during the convalescence period because it replenishes whatever one has lost during an illness. Also, this healthy vegetable soup contains lots of vitamins and micro elements needed and is easily absorbed in the body. Therefore, always go for vegetables to assist you in staying able-bodied and strong!
FUN FACTS ABOUT EDIKAIKONG SOUP
Edikaikong soup can be prepared with ugu leaves, water leaves or spinach and the name vegetable soup truly represents this food very well.
The undisclosed fact to preparing an ideal edikaikong soup is to Cook until the meat is soft with just a little stock left in the pot because water leaf comes with its own water.
Furthermore, the ratio of water leaf to ugu should be 2: 1. That is 2 bunches of water leaves to 1 bunch of ugu.
RECIPE FOR NIGERIAN VEGETABLE BEEF SOUP (EDIKAIKONG)
Edikaikong soup is prepared using a large quantity of green leafy pumpkin leaves (ugu), and waterleaf (Talinum Triangulare) among other ingredients.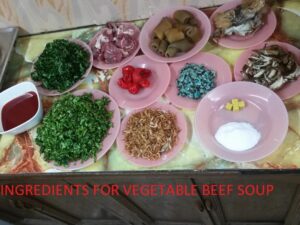 INGREDIENTS
2 bunches of water leaves
1 bunch of pumpkin leaves
1kg of assorted meats (beef/kpomo/shaki/goat meat)
2 tablespoons crayfish
Stock fish (optional)
Shrimps (optional)
1/2 cup Palm Oil
2 medium onions
1 cup of Periwinkles (optional)
2 Seasoning cubes
Pepper
Salt to taste
PREPARATION
Get the vegetables ready by washing and cutting them into thin slices and put aside.
Thoroughly wash and cut the assorted meats in small sizes. Clean the periwinkles, dried fish and stock fish and set aside.
NOW THE COOKING DIRECTION
First of all, place the assorted meat and stock fish in a medium-sized pot, and cook with salt, little water, seasoning cubes, and chopped onions. Cook all meats (remember to cook the toughest first) until soft and there is little to no water left in the pot for 40-45 minutes.
Afterwards add the dried fish and periwinkle, crayfish and pepper once the meat is done, and finally, the palm oil. Stir into the meat and leave to boil for about 10 minutes.
Next, add the water leaves, stir and cook for 2 minutes, then add the pumpkin leaves and cook for 5 more minutes. Adjust for seasoning.
Finally, mix very well and leave to cook for 5 minutes on low heat. That's it! Your Edikaikong soup is ready.
Enjoy your Edikaikong soup with Pounded Yam, wheat meal, Fufu, Semolina, Amala, Eba, or Rice.