Sauce Gombo: How to make Ivorian Okro Soup
Sauce Gombo comprises of Gombo which means okra as the main ingredient. Okra (Hibiscus esculentus) is known as "Gombo" in the Ivory Coast West Africa.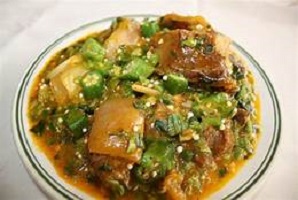 This vegetable is the main thickening agent of this simple sauce. The soup is common in many West African countries including Nigeria, Cameroun, Benin, and Togo
Related >>> Gombo Sauce: A traditional African (Ivorian) Okro Soup
Though it is spelled and pronounced Gumbo in the U.S.  The term 'Gombo' is alleged to be derivative of Portuguese quingombo of the word quillobo, the local name for Okra plant in the Congo and Angola area of Africa.
Sauce Gombo: Okra's Beneficial Effects
This includes being rich in vitamins, minerals, and other nutrients like Fiber, Vitamin C, Vitamin A, B3, B6, and K.
The protein found in the Okra seeds is enriched with amino acids, whose benefit is hair loss prevention.
Promotes weight loss – Okra is a good source of fiber, which not only improves your digestion but keeps you satiated for a long time, thereby curtailing your food cravings.
Besides, it also loaded with essential nutrients that increases our body's metabolism and strengthens our core muscles
As with other West African countries, what distinguishes us is the way we combine the same ingredients in the pot.
Sauce Gombo Ivoirienne is quite comparable to Ilasepo, a traditional soup dish popular with the Yorubas of Nigeria, West Africa.
This healthy soup's fibre content comes from the Okro and tomato. Sauce Gombo can be served as a soup with pounded yam which is called fotou or rice or poured over potatoes, plantains, or other starchy vegetables.
Sauce Gombo Recipe – Ivorian Okro Soup
Recipe for Sauce Gombo:
6 pieces Beef
1 medium-size smoked Fish
15 fingers Okro
2 fresh Pepper
I medium size Onion
3 whole Tomatoes
1 tablespoon Tomato purée
2 cooking spoons vegetable Oil
1 tablet Crayfish seasoning
Beef seasoning cube
Salt to taste
Method for Making Sauce Gombo
Firstly, season the beef with a little salt and beef seasoning and set aside. Boil till tender
Secondly, wash the Okro thoroughly and boil whole until soft and then, mash in a mortar and set aside
Thirdly, heat the oil and fry a little onion till brown for 2 minutes. Add the beef and fry till brown. If using stewing beef, fry until blood vanishes from the surface, remove and set aside
Fourthly, add tomato purée to the oil and fry for about 3 minutes. Add the water, beef, whole tomato, pepper, and onion and boil until vegetables are soft
After that, remove the tomato, pepper, and onion and grind in a mortar. Add the smoked fish and seasoning to the boiling soup. Adjust the seasoning.
Now, return the tomato blend to the pot and allow boiling until the beef is soft. You may need to take out the fish so it does not crumble.
Finally, add the Okro and cook for 2 minutes. Return the fish to the pot just before the final tasting.
The sauce is ready!