What Is Pozole? How to Make Authentic Mexican Corn Soup
Pozole (or posole) is a classic Mexican soup that is full of different flavors, loved by many and is consumed year-round.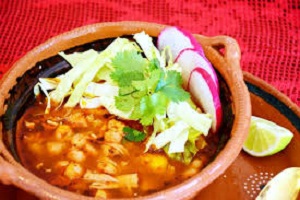 Mexicans consume pozole in large amounts during every season of the year. It is also common at holiday celebrations in Mexico and the good news is that it is easy to make and you will love it!
Please Read: Nigerian chicken Tortilla Soup – crockpot, Slow cooker, pr Stove-top!
!What is Pozole?
Traditionally, it is a pork-based soup and there are different versions – such as Pozole Verde, that are made with shredded chicken. Pozole Rojo, and Pozole Verde which is more popular in central Mexico.
Pozole (pronounced po-so-le) means "hominy" and it is mainly a cross among soup and stew.
It is a common and beloved dish throughout Mexico and is popularly enjoyed for events and exceptional occasions, such as Independence Day, weddings, and Christmas.
It is known as Mexican comfort food, for the reason that it warms you from the inside out.
One of the major ingredients that you need to make this dish is hominy. In Mexico, it is sold raw, so it takes a little bit extra effort to peel and soak them so that they are soft enough to use.
What is Hominy?
Hominy, which is made from shelled, dried corn that is soaked (often in water with lime) to make it puff up.
It has a chewy texture and slightly resembles the same flavor as a corn tortilla.
How to Serve
The soup itself should be a bit watery since you will load it up with shredded cabbage, chopped avocados, onions, thinly sliced radishes, cilantro, and wedges of lime.
Additional hot sauce or chilies can be added for more heat. Pozole is all about the garnishes.
How to Store or Freeze
The leftovers will keep, refrigerated, for about a week or can be frozen for up to three months.
To freeze, put the soup in freezer containers or bags with as little air as possible to prevent freezer burn.
To use, melt overnight in the fridge, and warm over low heat on the stovetop.
Recipe – How to Make Red Pork Pozole
Authentic pozole is not hard to make but it is laborious. It's a dish you make when you are having family and friends over to share good food and good times.
It's worth the effort! Once you make it, you will be asked to make it every time you get together. Trust me.
This Is How I Prepare My Perfect Bowl
Everyone has a unique way of personalizing this dish.
Here is a simple Pozole recipe you can try at home.