Banku and Okro Stew Recipe, Ghana-Style
Banku and Okro Stew is a delicacy that Ghanaians simply cannot do without.
Today, we will take a trip to Ghana. Ghanaians and Nigerians share many similarities, particularly when it comes to food.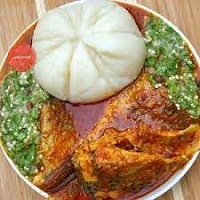 Apart from Egusi, Jollof rice, fufu, suya, etc we also have a similar method of preparing okra, which they name Ghanaian Okra stew.
Perhaps it's because it's created with a tomato basis. Not to mention the Yoruba tribe in Nigeria, who call theirs Okra Stew too.
Related >>> Okra Soup | How to Make Simple Nigerian Okra Soup
Growing up, I was a huge lover of okra soup. It was the first soup I was able to perfect the art of making. It's quick and easy to make, and it tastes great.
For the reason that okra soup prepared with palm oil isn't the healthiest of dishes, I've cut back as I get older.
Several chefs have tried to make the recipe healthy by using vegetable oil and chicken instead of palm oil, but I believe palm oil is necessary for the dish's rich, deep flavor and color.
Please Read >>> Sauce Gombo: How to make Ivorian Okro Soup
To put it another way, I'm an okra soup classicist. As a result, I only eat it occasionally these days, but I enjoy it when I do.
If you're a vegetarian and want to use vegetable oil instead of beef or smoked meat, I recommend using poultry instead of beef or smoked meat because the flavor is somewhat better.
Banku and Okro Stew
This soup is served with banku by some of my Ghanaian neighbors. A corn and cassava fufu combination.
Even so, you can eat this soup with other fufu such as garri or pounded yam, Amala, semolina, and other similar grains product
Normally, this stew is meant to appear soupy, but nope; not for me o. I was unable to eat any soupy stew. For me, it has to be a touch thick.
I got a lot of inspiration from my Instagram app, which featured African cuisine with a modern twist. Instagram reels make my foodie soul happy, therefore I adore gazing at them.
The reel images alone are worth dying for, or as the Warri say, "na die!"Lol
You should see how my Ghanaian neighbors near me consume this Banku and Okro Stew: as if it were the last item on the planet. Okra soup is also popular among Nigerians.
So, after competing for jollof rice with (Nigerians), is the Koko now okro abi na okra?"
But, Banku and Okro Soup Ghana na helele (very delicious).
Banku And Okro Stew Recipe – How to Prepare 
To make Banku and Okro Stew, follow these simple instructions. Banku is a traditional Ghanaian meal eaten by the Fantes, Gas, and Ewes.
In this guide, I'll show you:
Step by step guide on how to prepare banku and okra soup
Ingredients needed
And other tips
Follow the simple steps to get yours ready.
There are actually several methods you can use to cook banku in Ghana.
Using fermented corn only
Fermented corn with cassava though
Using the banku mix.
Ingredient
1 cup fermented corn (without cassava dough)
Salt
Cassava grated tuber with cassava dough
1 cup fermented corn dough
Instructions
Step to cook banku without cassava dough
Firstly, combine the fermented corn dough and at least 2 cups of water in a large saucepan. Season with salt (Make sure it has a thicker consistency).
Secondly, put the mixture on fire and stir constantly with a wooden label to prevent lumps from developing.
Then, when the mixture starts to stiffen, add a little water and stir until it softens.
After 10 minutes, cover the banku and stir it again.
Finally, roll it into orange-sized balls
Step to cook banku with cassava dough
Firstly, in a big saucepan, add water to a mixture of fermented corn and grated cassava until it thickens.
Secondly, place the saucepan over medium heat and constantly stir the mixture to prevent lumps from forming.
After that, when the mixture begins to harden, add a small amount of water and stir until the mixture becomes soft.
After 10 minutes, cover the banku and stir it again.
Lastly, roll it into orange-sized balls and tightly wrap it with rubber.
How to prepare the Okro stew
Ingredients for Okro Stew
2 cups of chopped okra
1 pound beef (or any meat of your choice)
2 large onions
4 medium-sized tomatoes
Shito pepper, Ginger, garlic
4 fingers of herrings
Cowhide (Wele)
Palm Oil
1 salted fish (momoni)
Salt
How to prepare Okra Stew
Firstly, place the chopped beef and cowhide in a pot, cover with water, and bring to a boil. Pour in the onion, ginger, and garlic mixture and steam for about 10 minutes.
Secondly, transfer the chopped okro to a clean pot, add a cup of water, and cook for around 8 minutes. Remove the pan from the heat and set it aside to cool.
Thirdly, transfer the palm oil to a separate pot. Fry the salted fish for a few minutes before adding the chopped onions. Cook for 3 minutes.
Then, simmer for about 5 minutes after adding the blended kpakpo shito (pepper), ginger, and garlic.
Now, toss in the tomatoes, which have been washed and chopped.
After that, remove the bones from the herrings and add them to the sauce. Simmer for around 8 minutes.
Stir in the steaming meat and cowhide (wele) and set aside for about 10 minutes.
Finally, add your cooked okro and stir well to combine. Reduce the heat to low and cook for about 5 minutes.
Season with salt to taste (but be careful, because momoni is naturally salty). Before adding more salt, make sure to taste the sauce.)
Now it's time to eat your Banku and Okro Stew. Serve this African Okra Stew in a Nice Bowl with a chilled drink.
Nutrition
Calories: 402kcal