Apple Pie Filling – How to Make an Easy Apple Pie
Apple Pie Filling – How to Make an Easy Apple Pie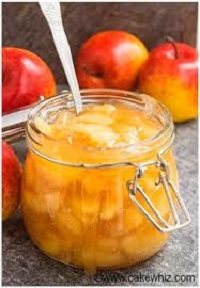 Apple pie filling made from scratch is far superior to canned apple pie filling and may be used in everything from traditional pies to danishes.
Do you want to switch up your dessert? Apple Pie is a great option because it provides you with all of the nutrition and satisfaction you could possibly want.
Checkout >>> Apple Lemon Oats Smoothie for Weight Loss
The sweet and delicate flavors of baked apples are combined with a wonderfully flaky pie crust in this Apple Pie Recipe.
Apple pie filling is one of my favorites. It is without a doubt one of the greatest food creations of all time. It's much better when it's warm and topped with ice cream… delicious.
How Do You Make Apple Pie Filling?
This recipe is a combination of sliced apples, brown sugar, butter, and spices that is thickened with cornstarch on the stove.
It only takes a few minutes to put together and maybe frozen or refrigerated for later use.
Apple Pie Recipe
Here's a top-rated apple pie recipe for you! Do you want to learn how to prepare the tastiest dessert you've ever had? Learn how to prepare this delicious dessert by following these simple steps!
Below is a tried-and-true recipe for you to try:
Ingredients
One of the most popular and delectable pies is apple pie. Let's get together and learn how to make apple pie.
2 pre-baked pie crusts (sold at your local grocery store)
4-8 apples peeled, core removed and sliced (granny smiths are preferred or you can mix granny smith and other types)
¼ cup white sugar
¼ cup brown sugar
2 ½ cups 7 up
2 tablespoons lemon juice
1 tablespoon butter
¼ teaspoon nutmeg
1 teaspoon cinnamon
Instructions
Firstly, in a mixing bowl, combine white and brown sugar, sliced apples, 7up, cinnamon, and nutmeg.
Then, set aside for 30 minutes to let flavors meld.
Thirdly, while you're waiting, line the baking bowl with a crust pressing on the edges and the bottom.   ( You can use a foil bowl from the grocery store as a baking bowl.)
Fourthly, preheat the oven to 450 degrees Fahrenheit.
Now, drain the mixture from the apples after 30 minutes and boil in a pot until it is syrupy.
After that, place the apples in the baking dish.
Drizzle the apples with the syrup.
Melt the butter, then pour it over the apples.
Place the second crust on top of the pie and press the sides of the top and bottom crusts together to seal.
Make slits in the pie shell to allow heat to escape slowly (5 is a good number)
Bake at 450°F for 15-25 minutes, or until the crust is golden brown.
Lower the heat to 350°F for 35-55 minutes, or until the apples begin to boil.
Finally, place the pie on a cooling rack for 45 minutes to an hour to cool.
Enjoy!