Nigerian Vegetable Soup | How to Cook with Green Veggies
Nigerian Vegetable Soup | How to Cook Soup with Green Veggies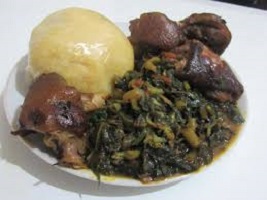 How to Make Nigerian Vegetable Soup (Edikang Ikong)
Nigeria is home to a diverse range of civilizations, and vegetable soup is no exception.
Types of Nigerian Vegetable Soup
Nigerian vegetable soup varies per tribe, some prepare it with/without tomatoes, however, the main common thread being that certain veggies are more popular than others.
In Nigeria, green vegetable soup is served with any of the swallows as either lunch or dinner. This recipe demonstrates how to make a nutritious vegetable soup in the Nigerian way.
This soup is one of my favorites for a variety of reasons: for starters, it's cooked with veggies, which are known for their health benefits.
Nigerians prepare a variety of soups by combining various veggies. Okra soup, Afang soup, Efo riro vegetable soup (Nigerian spinach/collard greens stew), and even Edikaikong are different combinations of different veggies.
Edikang Ikong soup is a highly healthy and protein-rich traditional Nigerian soup. Nigerian Vegetable Soup is another name for this mouthwatering dish.
Related >>>
What is Edikang Ikong? Nigerian Vegetable Soup
Edikang Ikong is a soup popular among the Efik people of Nigeria's Cross River and Akwa Ibom states.
This soup was once known as "rich man's food" because of the various meats and proteins used to make it. However, it is currently popular throughout the United States.
What is the composition of Edika Ikong soup? What is Edika Ikong soup made of?
Waterleaf (Malabar spinach) and Ugwu leaves (fluted pumpkin leaves) are the main ingredients in Edikang Ikong
Edikang Ikong health benefits ~ This vegetable soup has a number of health benefits ~ Nigerian Vegetable Soup
The leaves are high in Vitamin A, folate, and calcium, and are a great source of these nutrients. Other health benefits of Edikang Ikong include:
Helping to lower the risk of certain cancers.
Blood pressure is reduced.
Boosts the immune system naturally;
Improves blood production
Helps with weight loss
What's not to love about this tasty soup when it comes to its various and wonderful health benefits?
Nutritional value and calories in Nigerian Vegetable Soup (Edikaikong)
Serving Size: 1 of 100 g
Calories: 193kcal | Carbohydrates: 2g | Protein: 36g | Fat: 4g | Saturated Fat: 1g | Polyunsaturated Fat: 1g | Monounsaturated Fat: 1g | Cholesterol: 71mg | Sodium: 644mg | Potassium: 28mg | Fiber: 1g | Sugar: 1g | Vitamin A: 697IU | Vitamin C: 2mg | Calcium: 73mg |
Edikang Ikong Recipe: How to prepare vegetable soup with ugu and waterleaf 
Ugu and waterleaf soup is a nutritionally dense soup that is high in vitamins, minerals, and fiber.
You've come to the right place if you want to learn how to make vegetable soup with ugu and waterleaf.
Ingredients for Healthy Vegetable Soup ~ Nigerian Vegetable Soup Ingredients
Big bowl Waterleaves
A big bowl of ugu leaves (fluted pumpkin)
Roasted mackerel
One KG or 35 Ounce of Goat meat
1 cup crayfish
6 scotch bonnet peppers
400ml Palm oil
2 seasoning cubes
Salt to taste
2 tablespoons Ground Ofor
Step 1 of the preparation process ~ Nigerian Vegetable Soup
Firstly, using a kitchen knife, slice the water leaves and fluted pumpkin leaves.
Secondly, by slicing the water leaves, you can wash them. Wash the leaves thoroughly and then, drain off any excess water in a strainer.
Am sure you don't want your vegetable soup to be too watery hence the strainer
Thirdly, remove the center bone from the roasted fish and cut it into smaller pieces, as shown below.
After that, season the goat meat with a teaspoon of salt, two seasoning cubes, and sliced onions.
Then, allow the beef to come to a boil, then add two cups of water and cook until it is soft and easy to chew.
Lastly, combine the scotch bonnet (peppers) and 1 cup crawfish in a pounding bowl.
You could mix them together if you wanted to. Put on a small plate and set aside.
2nd Step: How to Cook Vegetables Soup
Add the washed roasted fish to the cooking meat. Allow them to cook until almost all of the water has evaporated. Allowing it to burn is not a good idea.
Most people don't want their vegetable soup to have too much water in it, so you'll have to apply some techniques, such as cooking the meat/fish until the water has almost dried out.
Add the palm oil, 400ml, once the meat is tender and the water has almost completely dried. When making vegetable soup, you'll need a lot of palm oil.
3rd step: How to Cook Vegetables Soup
Now add the vegetables, starting with the water leaves. It should flood the pot, but it will subside in 3 minutes if you keep stirring.
You can gradually add the leaves so that the pot does not become too full and difficult to stir
Allow it to simmer for 2-4 minutes after adding all of the water leaves, stirring occasionally.
4th step ~ How to Cook Vegetables Soup
Firstly, add the crayfish and peppers that have been pounded.
Secondly, stir everything together and season with salt to taste. You don't want to use too much salt in your food.
Then, at this point, add the ugu leaf (fluted pumpkin) also
After that, add 2 teaspoons of ofor to the mixture (used as a thickener). Stir thoroughly to avoid forming crumbs.
Finally, allow the vegetable soup to simmer for three minutes after stirring everything together.
That is how Nigerians whether Igbo, Yoruba, or Hausa prepare the vegetable soup. Swallow is normally served with all soups – fufu \Eba\Semo, yam that has been pounded
In any Nigerian home, this Igbo Vegetable Soup could be served with any of the swallows for dinner or lunch. Try this Nigerian garri and vegetable soup and thank me later.