Vegetable soup | Preparation of Vegetable soup in Nigeria
Vegetable soup | Preparation of Vegetable soup in Nigeria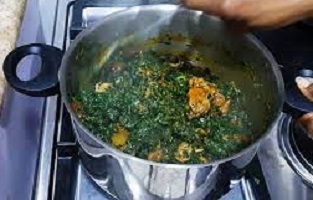 Vegetable Soup for good reason has become one of my most popular soup recipes. It's nutritious, soothing, and 1,000 times better than anything you'll find in a can!
You can't go wrong with a big steaming cup of vegetable soup because it's flavorful and simple to cook.
In Nigeria, this soup is eaten with any of the swallows as either lunch or dinner and the recipe demonstrates how to make a nutritious healthy soup in the Nigerian way.
For starters, it's cooked with veggies, which are known for their health benefits.
In Nigeria, we prepare a variety of soups by combining various veggies. Okra soup, Afang soup, and even edikaikong soup are all various vegetable combinations.
This soup is one of my favorites for a variety of reasons:
Vegetables are beneficial to the heart and bodily cells. That is precisely why we are making this soup.
Preparation of Vegetable soup in Nigeria
I've written a lot on healthy Nigerian foods in the previous several months, and you might want to read that piece just to learn why this soup should be on your plate more often.
Ingredients for Vegetable Soup
Ingredients for vegetable soup preparation include:
Big bowl Waterleaves
1 KG or 35 Ounce of Goat meat
1 cup crayfish
6 scotch bonnet peppers
400 ml Palm oil
Big bowl ugu leaves fluted pumpkin
Roasted mackerel
2 seasoning cubes
Salt to taste
2 tablespoons Ground Ofor
Thinly slice the waterleaves and fluted pumpkin (ugu leaves)
Method
Firstly, before slicing the ugu leaves, and then wash them. Wash the water leaves, then slice them.
Secondly, allow them to filter the excess water separately using a sieve.
Thirdly, wash and clean the cooked fish, and pound the crayfish and peppers. Season the meat with salt and pepper and simmer until it is soft.
Fourthly, add the washed roasted fish to the cooking meat and continue to cook until the water evaporates. Also, add the palm oil (400ml) to the hot meat/fish.
Then, add the vegetables, starting with the water leaves. Allow simmering for 2-4 minutes after adding all of the water leaves, stirring occasionally.
After that, continue to stir. Toss in the crayfish and peppers that have been pounded. Season with salt to taste.
By now, ugu leaves should be added (fluted pumpkin). Add 2 teaspoons of ofor to the mixture (used as a thickener). Stir thoroughly to avoid forming crumbs.
Finally, stir the soup and let it simmer for 2 minutes before serving.