Vegetable Sauce for White Rice | Easy Healthy Nigerian Stew
Vegetable Sauce for White Rice | Easy Healthy Nigerian Stew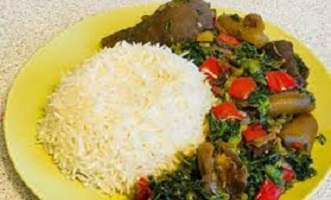 This Vegetable sauce is simple to prepare and goes well with rice, beans, plantains, and even cooked yam.
Authentic Vegetable sauce recipe not only tastes incredible, but it also has incredible health benefits thanks to the combination of healthful veggies and other components.
Learn everything you need to know on how to make vegetable sauce in Nigeria in my step-by-step guide.
Green vegetable sauce (stew) is one of a kind, and I genuinely love it!
In this article, I'll show you how I prepared vegetable sauce for white rice below, as well as why I think this sauce is superior to conventional Nigerian tomato stew.
Checkout Related Articles >>>
It's always been about eating healthy Nigerian foods and finding ways to include them into our everyday diet for me.
This is because we live on a continent where so much junk is provided as food regularly, and there is a clear link between the foods we eat and our overall health.
Vegetable Sauce Recipe: How to Make Vegetable Stew
This veggie sauce is surprisingly simple to create; the recipe is straightforward to follow.
This recipe not only tastes incredible, but it also has incredible health advantages thanks to the combination of healthful veggies and other components.
It should be a constant fixture on your cuisine due to its health benefits.
Ingredients for Vegetable Stew
4 cups of sliced fresh tomatoes.
Sliced fresh pepper to taste.
1 cup of sliced onions.
3 seasoning cubes
1 KG of assorted meat.
Half teaspoon of beef seasoning spice
One big bowl of sliced fluted pumpkin.
3 spoons of ground crayfish.
200 ml vegetable oil
Salt to taste.
Method
Firstly, prepare the fresh tomatoes, peppers, and onions by washing and slicing them.
Secondly, thinly slice the vegetables (fluted pumpkin). Before you slice, make sure you wash your hands.
Then, cook for 30 minutes after seasoning the mixed meat with two seasoning cubes, half teaspoon of beef seasoning spice, and a teaspoon of salt.
Fourthly, in a large frying pan, heat 200ml vegetable oil, then add the sliced onions, tomatoes, and peppers. Allow cooking for 10-15 minutes, stirring occasionally.
After that, stir in the cooked meat, the remaining seasoning cube, salt to taste, and the ground crayfish; heat for 4 minutes.
Finally, toss in the vegetables, mix, and season to taste with salt. Allow simmering for 3-4 minutes on low heat.
This vegetable stew can be served with rice, beans, or yam.
Please Take Note 
Why I used Ugu leaves for my vegetable sauce Recipe?
Firstly, ugu, or fluted pumpkin leaves as it is known around the world, has even fewer calories.
Secondly, pumpkins are quite beneficial; they, like watermelons, contain a large amount of water, and they also contain several vitamins such as carotene, vitamin A, vitamins group B (6 vitamins), vitamin E, vitamin C, and others.
Thirdly, because of the low-calorie content, it is suitable for those who are trying to lose weight (22 calories per 100 grams of pumpkin)
Finally, it is always available, accessible, and popular in my Nigerian market due to its nutritional properties.
Now For My Comparative Evaluations:  Nigerian vegetable sauce vs. conventional Nigerian stew without vegetables?
Which do you think is better? If you ask me, I would choose the vegetable sauce; not only because it is simple to make, but also because it is more flavorful and healthier than the alternative.
You can even leave out the oil entirely if you like.