Chia Seed Oil: Smoothie Ingredient for Your Skincare Routine
Chia Seed Oil: Smoothie Ingredient for Your Skincare Routine. The Chia Seed Oil Benefits for Skin & Hair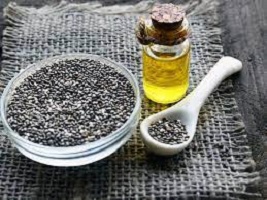 The Chia seed oil conjured up images of tiny seeds to be eaten in a creamy pudding rather than a skincare product high in antioxidants and emollients.
Chia is an edible seed that comes from a Mexican desert plant. The word "chia" means "strength," and ancient tribes employed the small black and white seeds as an energy enhancer, according to legend.
We adore putting chia seeds in smoothies or sprinkling them on desserts till they've turned into a superfood with a long list of health benefits.
But did you know that this little chia seed oil has a variety of minerals that are beneficial to our development?
What is chia seed oil?
It is a type of oil made from the seeds of the chia plant.
The small black and white seeds are from the desert plant Salvia Hispanica, which grows in Mexico.
Chia seeds are pulverized to get the oil from them. It's also a tasty and edible substitute for olive oil in kitchens all around the world.
Chia seeds have a mild, nutty flavor that makes them easy to eat raw or add to salads and meals.
The Chia seed oil is high in essential saturated fatty acids, which are necessary for maintaining healthy skin cell membranes and preventing free radical damage.
Chia seed oil has excellent nutritional value and is the best source of:
Omega-3 fatty acids and Omega-6 fatty acids • Dietary fibers
Antioxidants – polyphenols and carotenoids • Minerals – Magnesium, Zinc, and Potassium • Vitamin B
Chia seed oil health benefits
The oil has been utilized for a variety of purposes for many years, from adding a nutty flavor to improving your health.
Here are some of the finest chia seed oil benefits:
1: Prevents premature aging of the skin
Because of its high fatty acid content, the chia seed oil is a popular cosmetic component. Omega-3, omega-6, and other fatty acids are abundant in chia seed oil. Chia seed oil keeps your skin membrane healthy and protects it from ultraviolet (UV) radiation, which helps to decrease fine lines and wrinkles. Additionally, this oil aids in the removal of dirt from closed pores.
2: Helps to relieve dry skin
It contains the omega-3 fatty acid ALA as well as the omega-6 fatty acid linoleic acid, which helps to seal moisture inside your skin.
These two beneficial fatty acids aid in the restoration of the skin's moisture barrier, especially in people who suffer from dry skin diseases like atopic dermatitis.
Apply the oil on the skin just after bathing for the best benefits.
3: Promotes hair growth
A lack of moisture in the hair causes frizz and lackluster hair. The oil contains fatty acids that aid to maintain moisture and moisturize your hair.
The seed oil reduces hair breakage and keeps hair shafts healthy. Apply the oil to moist hair for optimum results. You can also eat chia seeds to help your hair grow faster.
4: It helps to keep your heart in good shape.
Improved cardiac functioning is one of the top advantages.
Essential fatty acids, such as omega-3 fatty acids, are in chia seed oil and help to reduce the risk of heart disease.
Regular edible oils, such as olive oil, are poor in omega-3 fatty acids; if you wish to improve your omega-3 consumption, switching to chia oil may be beneficial.
It may also assist to lower cholesterol levels and lose weight, according to research. The oil is high in dietary fibers, which are good for the heart and help you lose weight.
5: It has a calming effect on the mind.
The oil has a lot of omega-3 fatty acids, which may help with brain function.
These fatty acids have neuroprotective properties in the brain, lowering the risk of stroke, depression, and Alzheimer's disease.
6: Assists in the reduction of inflammation
Chronic inflammation can cause a variety of problems in your body, including joint inflammation.
The oil is high in omega-3 fatty acids, which work as a buffer to minimize joint inflammation.
7: It helps to get rid of belly fat.
It aids in the reduction of bad cholesterol and the control of blood sugar levels, both of which aid in the loss of excess belly fat.
What are your favorite ways to use chia seed oil?
To removes blemishes
It can help cure blemishes rapidly because of its anti-inflammatory properties.
Then, apply it on blemishes with a Q-tip to use as a spot treatment. Allow it to absorb before adding any further products.
For lustrous hair
Protein and zinc are two minerals that are particularly beneficial to hair health. And the oil is full of both.
For extra sheen, apply two to three drops to your palms, massage them, then rake through lengths before style. Alternatively, use it as a leave-in conditioner on damp hair.
As an eye serum
The oil tightens the skin naturally, thus using it on the under-eye area reduces bags and sagging while also nourishing the sensitive skin.
Simply dab a drop under your eyelids with your ring finger and relax.
Bottom Line
Chia seed oil is high in omega-3 fatty acids and fiber. Its high-fat content gives several health benefits, including healthy skin, hair, and red blood cells.
Disclaimer: This article is for educational purposes only and should not be used as a substitute for professional diagnosis or treatment.
Always seek medical advice, guidance, and treatment from your healthcare professional before making any health-related decisions or seeking counseling, guidance, or treatment for a specific medical condition.