1000 Calories Nigerian Diet Plan
1000 Calories Nigerian Diet Plan – Is It Good For Weight Loss? Please Watch >>>>
What to eat and what to avoid simple recipes and everything else you need to know
Note: Before beginning this diet, consult a nutritionist or a doctor because it requires a significant reduction in calorie consumption.
A 1000-calorie diet is specifically designed for rapid weight loss, and the reasoning behind this plan is straightforward.
Give your body fewer calories, and you'll lose weight quickly, even if you don't exercise.
As part of this diet, you consume fewer carbohydrates, more lean protein, and more vegetables and fruits with fewer calories.
According to studies, this low-calorie diet can help you lose 8% of your body weight on average, but it is only a short-term solution.
Continue reading to learn more!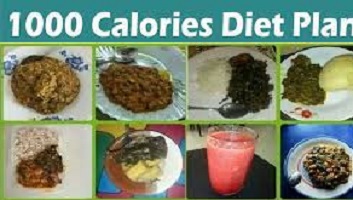 Nigerian food calorie calculator ~ Calorie Counter For Nigerian Food
How to Calculate Calories
Keeping track of your calorie intake allows you to better understand how many calories your body requires to lose, gain, or maintain a specific weight.
Whatever your goal, knowing how many calories you consume is critical to achieving it.
One method for counting calories is to keep a food diary, write down everything you eat, and then look up the calorie count for each item.
Another option is to download an app that will calculate your calorie intake for you.
What to Eat ~ 1000 Calories Nigerian Diet
The foods for a 1000-calorie diet should be carefully chosen to create a healthy menu that will yield the desired results.
The 1000-calorie diet plan should include foods high in vitamin B, protein, and fiber, which are commonly found in wheat foods and enzymes.
The diet necessitates a decrease in whole food types, such as carbs or trans fats, because your body requires nutrition to improve overall health.
Calcium can be obtained through the consumption of low-fat milk and green vegetables. Fruits and vegetables should not be overlooked.
Low-calorie fruits such as oranges, cantaloupes, kiwi, pears, strawberries, and various other berries can be used in salads.
Green vegetables, such as spinach, celery, zucchini, broccoli, and artichokes, are high in vitamins and minerals while also being low in calories.
A single serving of cabbage has only 35 calories but is high in nutritional fiber.
Other vegetables with high water content include cucumber, celery, and eco-friendly peppers.
What Not To Eat ~ 1000 Calories Nigerian Diet
Here is a list of foods that you should avoid on the 1000-calorie diet:
Fats and oils include coconut oil, groundnut oil, walnut oil, palm oil, avocado oil, lard, and other animal fat oil, butter, peanut butter, almond butter, cashew butter, cheese, cream cheese, and ghee.
Hazelnuts, cashew nuts, watermelon seeds, walnuts, pine nuts, desiccated coconut, peanuts, Brazil nuts, pistachios, and chia seeds.
Dates, prunes, dried currants, apricots, figs, and cranberries are examples of dry fruits.
Avocado, mango, litchi, Chiku, custard apple, potato, corn, lima beans, and soybeans are examples of fruits and vegetables.
Proteins include beef, pork, lamb, and tofu.
How many calories is too low? 1000 Calories Nigerian Diet
However, calorie intake should not fall below 1,200 calories per day for women or 1,500 calories per day for men unless under the supervision of a health professional.
Consuming too few calories can jeopardize your health by depriving you of essential nutrients.
The Diet Chart for 1000 Calories (Sample Plan)
This 1000-calorie diet chart is a sample menu that anyone who wants to lose weight quickly can follow.
The plan may change depending on your weight and level of physical activity.
Please consult with a doctor or a dietitian to adjust it to your body's needs.
Variation 1
| | | |
| --- | --- | --- |
| MEAL | WHAT TO EAT | CALORIES |
| Early Morning | Apple cider vinegar and warm water | 6 |
| Breakfast | 2 boiled egg whites and a bowl of fruit | 86 |
| Pre-Lunch | 100 g of low-fat yogurt | 154 |
| Lunch | Lettuce taco with yogurt sauce | 351 |
| Post-Lunch | 1 bowl of watermelon | 46 |
| Evening Snack | Green tea and 2 digestive biscuits | 142 |
| Dinner | Vegan salads with fat-free salad dressing | 221 |
Total Calorie Intake – 1008
Useful Tip – Instead of a detox drink, you can drink green tea in the morning. Green tea contains no calories.
According to a mouse study, it is high in the antioxidant epigallocatechin gallate (EGCG), which has an anti-obesity effect.
Variation 2
| | | |
| --- | --- | --- |
| MEAL | WHAT TO EAT | CALORIES |
| Early Morning | Honey, lemon juice, and warm water | 70 |
| Breakfast | Oatmeal with strawberries | 101 |
| Pre-Lunch | Green tea | 0 |
| Lunch | Cabbage soup and 100 g low-fat yogurt | 227 |
| Post-Lunch | 1 peach and 1 orange | 98 |
| Evening Snack | Green tea and 2 digestive biscuits | 142 |
| Dinner | 1 bowl of boiled lentils with stir-fried French beans, capsicum, and peas with a dash of chopped garlic | 386 |
Total Calorie Intake – 1024
Variation 3
| | | |
| --- | --- | --- |
| MEAL | WHAT TO EAT | CALORIES |
| Early Morning | Veggie smoothie made of 1 carrot, 1 tomato, 1 cucumber, and a handful of spinach | 98 |
| Breakfast | Soy milk, 1 slice of multigrain bread, and 2 boiled egg whites OR Soy milk and 1 banana | 157 OR 159 |
| Pre- Lunch | 1 glass buttermilk (if following a non-vegan diet) OR 1 glass watermelon and kiwi juice | 40 OR 91 |
| Lunch | Chicken clear soup with veggies OR Roasted veggies with 100 g yogurt | 187 OR 152 |
| Post-Lunch | 1 pear and 1 orange | 143 |
| Evening Snack | Green tea and 2 digestive biscuits | 142 |
| Dinner | Baked fish and 100g yogurt OR Vegetable clear soup (cabbage, onion, garlic, carrot) with 2 slices of whole wheat bread. | 296 OR  265 |
Total Calorie Intake – 1050
FAQs on 1000 Calories Nigerian Diet Plan
800 calories Nigerian diet plan ~ how much weight can you lose on 800 calories a day?
Some people use a very low-calorie diet to lose weight quickly, often consuming only 800 calories per day.
This diet typically includes special foods such as shakes, bars, or soups to replace meals and provide additional vitamins.
Very low-calorie diets can assist a person in losing up to 5 pounds per week.
What is the fast 800 diet plan?
In a new iteration of his famous 5:2 diet, Dr. Michael Mosley encourages people to eat 800 calories per day, fast intermittently, and replace some meals with nutritious shakes.
7-day diet plan for weight loss in Nigeria ~ what can I use to lose weight in 7 days?
For quick weight loss, try Zumba, aerobics, or swimming. Make a meal plan: Make a meal plan for seven days.
Eating habits include the following:
Eating too quickly.
Constantly consuming dessert.
Missing meals.
Eating when one is not hungry.
Always leave your plate clean.
Standing up and eating (may lead to mindless eating)
African Masa Recipe ~ Nigerian Masa Calories
Nutrition
817kcal | 179g carbs | 17g protein | 2g fat | 1g saturated fat | Sodium: 18mg | 306mg potassium | 5g fiber | 16g sugar | 56mg calcium | 2mg iron
Nigerian 1200 calories diet ~ Lose Weight On a 1200 Calorie Nigerian Food Diet
How much weight can I lose on a diet of 1200 calories per day?
However, the average weight loss on the 1200-calorie diet is about one to two pounds per week.
What Nigerian dishes are low in calories? 1000 Calories Nigerian Diet
Ewedu (Jute Leave) (Jute Leave)
Jute leaf is a common vegetable in western Nigeria.
It is used in the production of Ewedu soap. Ewedu has very few calories. 100g only has about 37 calories.
Is a 1200-calorie diet doable?
A 1,200-calorie diet is usually safe and potentially effective for those who need fewer calories.
The number of calories a person requires each day is determined by several factors, including age, gender, body size, and activity level.
Can you lose weight if you only eat 1200 calories per day?
Many studies have shown that low-calorie diets, including 1,200-calorie diets, can help people lose weight.
A study of 2,093 obese people, for example, found that a medically supervised 1,200-calorie meal replacement diet resulted in an average fat loss of 4.7% over 12 months.
Is 1200 calories sufficient for a woman? Are 1200 calories too low for a woman?
Consuming at least 1,200 calories per day has been promoted as the bare minimum for basic bodily functions and avoiding starvation, but this amount is too low.
Adult women should consume 1,800 to 2,400 calories per day, while men should consume 2,000 to 3,200 calories per day
1500 calories Nigerian diet plans ~ what food should be included in a 1500-calorie diet?
Foods to eat on a 1,500-calorie diet
Non-starchy vegetables include kale, arugula, spinach, broccoli, cauliflower, peppers, mushrooms, asparagus, tomatoes, and so on.
Fruits include berries, apples, pears, citrus fruits, melon, grapes, and bananas, among others.
Will I lose weight if I eat 1500 calories per day?
This diet may be tried by people who want to control their food intake and lose weight.
According to some studies, the average female can lose 1 pound per week by limiting her daily caloric intake to 1,500 calories or less.
To lose the same amount of weight, the average male may consume up to 2,000 calories per day.