Abacha Food (African Salad) | Health benefits | Side Effects | Recipe
Abacha Food, also known as African Salad in English, is a nutritious and delicious delicacy. This Nigerian food has its origin from Igbos in the Southeast part of Nigeria.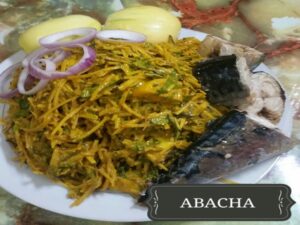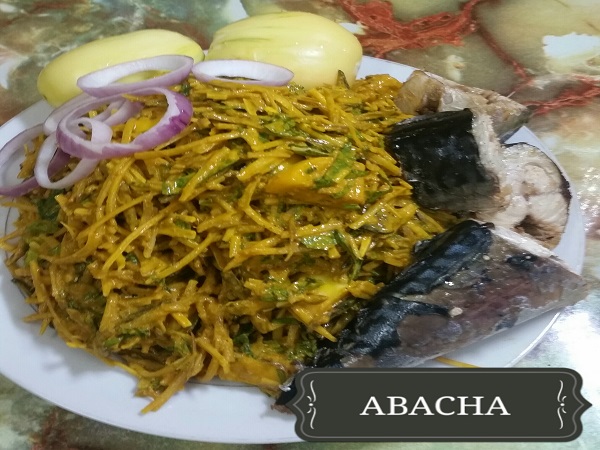 The dish is uncooked, which makes it as nutritious as a salad but you should be careful when eating because of its high-calorie content.
It is regularly served at traditional Igbo gatherings and can be enjoyed as a snack, dessert, appetizer, or a full meal any time and day.
It is usually prepared with dried shredded cassava, which is normally soaked in water to soften it a little bit. The dried shredded cassava is obtained from cassava tubers cut with a grater or knife into small pieces, boiled, and dried in the sun.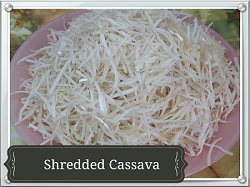 Abacha food is typically prepared with ugba (oil bean) and garnished with chopped garden egg leaves, sliced onions, utazi, and fried fish, smoked fish, kanda, or stockfish.
The combination of raw vegetables, ugba, and various other ingredients makes Abacha a balanced diet and is recommended for a healthy lifestyle.
Also Related >>> African Oil Bean Seed: Amazing Health Benefits | Side Effects
Cassava is gluten-free, high in carbohydrates, and calories due to its high sucrose content. It is also rich in complex B nutrients and has a low-fat content.
Raw vegetables are a rich source of minerals, beta-carotene, ascorbic acid, and calcium. It also has anti-inflammatory and antioxidant properties.
Garden egg leaves are ideal for cell regeneration and help restore dead cells.
Ugba is rich in protein in addition to fish and meat.
It's obvious, the African salad has excellent food benefits.
Nutritional Value of Abacha Food (African Salad) 
African Salad is a very nutritious food as it contains rich minerals such as potassium, sodium, calcium, magnesium, Vitamin A, Vitamin C, iron, phosphorus, and zinc.
Thanks to other ingredients included in salads, such as crayfish or meat, peppers, and garden eggs, they are rich in protein and green fiber.
Some of the Health Benefits of African Salad (Abacha Food)
Include:
It protects the bones from damages
It aids digestion and boosts blood circulation.
Contains a good amount of fiber, treats constipation and encourages bowel movement.
Reduces blindness risk
Reduces Heart Diseases
Prevents Cloning Cancer (Anticancer)
Treats obesity.
It is gluten-free. Perfect for persons with gluten intolerance.
It also is rich in b-complex nutrients.
Rich in vitamin c (from the vegetables)
high protein source (from the meat, shrimps, and orishirishi)
Aids good vision and eye health
an antioxidant – mops up free radicals.
Rich source of iron and helps boost blood production on the body.
Abacha Food Calories
100g Abacha contains 380kcal.
Abacha Food Recipe: How to Prepare African Salad
There are lots of methods for preparing Abacha. Nevertheless, whichever method you opt to use, the Abacha food will still come out tasty.
If you are as excited to cook this dish as I am, get ready, and let's start!
Ingredients in African Salad (With Potash)
Fresh Abacha/Dried Abacha – I used dried
Ugba (Ukpaka)
Palm oil
Powdered Potash
Dry/roasted/fried fish
Onion, chopped
Salt and dry pepper
Ground crayfish
Stock cubes
Ehu seeds (calabash nutmeg)
Optional African Salad Ingredients
Ogiri / Iru
Ponmo, cooked and sliced
Garden Eggs, diced
The Garden Egg leaves/Utazi leaves/spinach leaves finely chopped
1 medium onion (for serving), sliced
Onion rings to garnish the prepared Abacha.
Preparation
Firstly, cut the fresh fish and fry.
Secondly, dissolve the akanwu (potash) in little water and sieve to remove particles, set aside
Thirdly, rinse the Ugba in lukewarm water and set aside.
Then, soak the Abacha in water for 30 minutes and subsequently drain out the water.
After that, slice one onion into rings, and chop the other onion bulb.
Lastly, grind some pepper.
Making the West African Salad
Firstly, warm the palm oil and allow it to cool before pouring it into a bowl or pot.
Secondly, gradually add the potash mixture into the palm oil, mix very well, you will notice that the palm oil will begin to thicken and turn yellowish.
Then, add the crayfish, chopped onions, ground pepper, ground ehuru (calabash nutmeg), ogiri, seasoning cube and mix very well
After that, add the Ugba (ukpaka), cut garden eggs, and mix well
Carefully, add the drained Abacha and salt to taste. Please note that it is important to add salt last because our Abacha may or may not need salt. Then, mix thoroughly.
Finally, add the shredded garden egg leaves, and mix thoroughly.
African salad dressing is done with onion rings and fried fresh fish.
Alternatively:
How to Make African Salad without Potash or Akawu at Home
While schooling at Enugu state, I learned how to prepare Enugu African salad without potash.
Ingredients
Dried /fresh Abacha (4 to 5 hand full)
Ugba food packed with health benefits – 1 milk cup
Maggi cube – 2 cubes
Palm oil – 15 cl (1 milk cup)
Salt and fried pepper to taste
Garden egg leaves – 200 g
Crayfish – 100 g
Garden eggs for African salad dressing (big or small)
Fresh fish preferably mackerel (fried) – 400 g
Onions – 200 g (2 medium bulbs)
Kpomo or Kanda (cow skin) – 200 g
Opkeyi (Locust beans-optional)
Stockfish (optional)
Ehu 3 seeds (optional)
Method
Firstly, wash the fish and kpomo into a clean pot, season lightly with salt, Maggi cube, and onions.
Secondly, cook for about 10 to 15 minutes. Then, remove fish and deep fry.
Thirdly, soak the dried Abacha in boiled water and sieve immediately to avoid being too soft. Then keep aside. Skip if you are using fresh Abacha.
Fourthly, slice your onions, garden egg leaves and blend your crayfish, then set aside.
In a pot or mortar add about 10 cl of red oil and then, add the blended crayfish, pepper, ground ehu, ugba to the mixture and stir.
After that, add salt, Maggi cube, sliced kpomo, and Opkeyi
Then add Abacha stir very well to incorporate all the ingredients. Put shredded garden egg leaves and onions in the mixture and stir very well
Finally, garnish with sliced garden egg seed (if using big seed), and fried fish
Serve your African salad warm or cold with palm wine as an appetizer or main dish
FAQs:
Is African Salad Fattening/Good For Weight Loss/ Is Abacha Healthy?
No, not really. The 'Abacha food' is a dish made with a lot of ingredients all of which contain about….
380 calories! Just that small Abacha food serving! That's right.  I am not saying you cannot eat it, but eat with caution. Apply wisdom!
 Is Abacha Food good for a pregnant woman?
Abacha is safe and healthy in pregnancy if it is not made with potash. Potash (akanwu) from limestone can cause pregnancy loss (miscarriage) and birth defects in babies.
Please Read >>> Potash (Akanwu) Consumption and the Effect on Human Health
That is to say, Abacha made with potash is not safe in pregnancy. Furthermore, if you wish for Abacha as a pregnant woman, make sure you eat the one made without akanwu.
In a nutshell, Abacha is safe in pregnancy when prepared without potash (kanwu).
Is Abacha Healthy? Side effects of Abacha
Absolutely yes! However, in some cases, Abacha can be contaminated during preparation due to improper handling and this can cause food poisoning symptoms such as diarrhea, vomiting, nausea, and abdominal pain.
This can be completely avoided if you wash your hands thoroughly before and during the preparation.
Where to Buy Abacha Food/Abacha Food Joints in Lagos?
Abacha is street food, though you can order this delicacy near you using online delivery at the following places:
Natives Restaurant & Patio, Bukka Hut, Jevinik, Nwanyi Nnewi Restaurant, L'afric Restaurant, and Bar to mention but a few.