Atama Leaves Benefits (Editan Leaf & Fertility) How to Identify?
Atama Leaves Benefits (Editan Leaf & Fertility) How to Identify?
What is atama leaf? Atama Leaves Benefits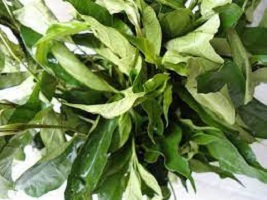 What is atama leaf? Atama Leaves Benefits ~ Atama leaves is the vegetable used to make Abak Atama, a soup popular among the Efik and Ibibio tribes of Nigeria's Akwa Ibom and Cross River states. Only this part of Nigeria consumes this vegetable.
Checkout Popular Related Articles >>>
Editan or Atama leaves are typically shredded very thinly, similar to how Afang or Ukazi/ Okazi leaves are shredded.
Atama comes in a variety of forms. Others are less aromatic and slightly bitter, while others are more aromatic and slightly bitter.
So don't go anywhere since this page will provide you a full description of atama leaf, also known as Editan leaf and Atama Leaves Benefits.
Atama Leaves Benefits ~ Terminology
What is the botanical name for atama ~
Atama leaf: Heinsia crinita
The botanical name of Editan plant or leaf
Editan Leaf: Lasianthera Africana
? What is Atama leaf in Igbo
? In the Hausa Language, what is the name
? Atama leaf in Yoruba
The English term for the Atama leaf is 'bush apples,' as many locals refer to it.
(Please, let me know in the comment section if you know their native names, I enjoy hearing from you)
Nutritional value of Atama leaf ~ Benefit of Atama Leaves
Atama leaves are both tasty and healthy. It's full of fiber and vitamins including A, B, C, E, and Folic acid… minerals such as iron and calcium
Editan Leaf/Atama leaves health benefits
Atama leaves are high in iron and are good in treating anemia caused by iron deficiency… It aids in the formation of red blood cells.
Atama leaf, also known as Editan leaf, aids in wound healing.
Helps to relieve constipation and encourages bowel movement.
Editan and atama leaves stimulate fertility and pregnancy by boosting ovulation, increasing passion, and conception
Atama leaf is beneficial to diabetics since it helps to manage blood sugar levels.
The leaves lower blood cholesterol levels while raising good cholesterol levels in the body.
For weight loss, Atama and Editan leaf should be added to the diet meal plan.
Atama leaf provides folic acid, which helps newborns avoid spinal Bifida. For pregnant women, atama leaf soup is beneficial, and they should be encouraged to drink more of it.
Atama leaves are beneficial to people who are gluten intolerant.
The soup aids in the treatment of low sperm count by increasing sperm production.
Editan leaf and fertility ~ The Atama Leaves Benefits
The Editan leaf boosts FRUITFULNESS in both men and women in this way.
Editan leaf increases seed count in men, whereas Editan leaf soup increases passion and rigidity by improving blood flow throughout the body.
The Editan leaf stimulates ovulation and controls menstruation in women. The Editan soup is excellent throughout pregnancy and can even help with conception.
Editan aids in the reduction of uterine fibroids, although this is not the case.
How to prepare Atama soup | Nigerian Atama Soup Recipe
Atama soup from Nigeria is a wonderful dish that reminds me of traditional Igbo soup. It has a wonderful flavor and aroma, and you may use it with a variety of vegetables, waterleaf, and even palm fruit extract.
This soup is spicy and, as a veggie dinner, it is really healthful, nutritious, flavorful, and unusual. You may cook this soup with a variety of ingredients, including egusi, to make it taste different.
To learn how to make atama soup, follow this link >>> How to Make Abak Atama Soup – Royac Shop
The main distinction between this traditional Nigerian soup and Banga soup is the use of Atama leaves.
The Atama leaves are the main difference, as they give the soup its particular flavor, scent, and name.
In the absence of Atama leaves, Nigerians in the diaspora can "remix" the flavor with a combination of bitter leaf and a smidgeon of Tarragon (Heinsia crinita).
Storage ~ The Atama Leaves Benefits
Atama leaves preserve well as dried leaves and can be used in Abak soup even when completely dried.
You shred the vegetable and cold dry it in an air-conditioned room for a couple of hours to maintain the green color.
Keep in an airtight container in the fridge or freezer to store for a long period.
Disclaimer: This article is for educational purposes only and should not be used as a substitute for professional diagnosis or treatment.
However, always seek medical advice, guidance, and treatment from your healthcare professional before making any health-related decisions or seeking counseling, guidance, or treatment for a specific medical condition.