Ebolo – Uncommon Nigerian Vegetable (All You Need to Know)
Ebolo – Uncommon Nigerian Vegetable (All You Need to Know)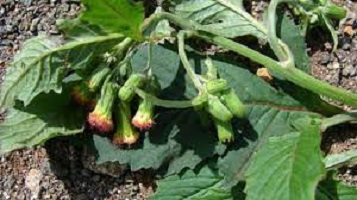 Since, I've learned that Iyana paja is a popular neighborhood in Lagos, Nigeria, and a vegetable. I decided to write on unusual vegetables starting with Ebolo >>>
 Ebolo – Uncommon Nigerian Vegetable
Ebolo in English is also known as Fireweed, Babahun, or Babaku (Hausa, Ghana). Crepidioides Crassocephalum (Benth.) S. Moore (Gynura crepidioides Benth.) or Ebolo, Thickhead, Redflower ragleaf, or Babohoh (Hausa, Nigeria), Alapolo (Igbo), or Ebolo (Yoruba).
Checkout These Unusual Nigerian Foods >>>
About Ebolo – Uncommon Nigerian Vegetable
A green leafy vegetable with therapeutic potentials. Crassocephalum crepidioides (ebolo in the Yoruba language) is a member of the Asteraceae family.
Ebolo is neither parsley nor coriander (although a picture of parsley is frequently displayed for ebolo).
Coriander (Efo Ebolo) is the annual plant Coriandrum sativum, which belongs to the Apiaceae family. Petroselinum crispum, also known as parsley, belongs to the same family as coriander. The Asteraceae family includes Crassocephalum crepidioides (ebolo).
The nutritional composition of Ebolo leaves per 100 g | Ebolo – Uncommon Nigerian Vegetable
Water 79.9%, energy 64 kcal, protein 3.2 g, fat 0.7 g, carbohydrate 14.0 g, fiber 1.9 g, Ca 260 mg, and P 52 mg are the nutritional components of Ebolo leaves per 100 g edible amount. The leaves have a slight stomachic effect.
Ebolo Meaning | Identification | Ebolo – Uncommon Nigerian Vegetable
A robust, erect herb up to 1 m tall with spirally arranged leaves and equal flowers; corolla tubular, 9-11 mm long, yellow or orange with a reddish-brown tip; fruit a ribbed achene c. 2 mm long, hairy, dark purplish, capped by white, caducous pappus hairs 9-12 mm long.
Seedling with epigeal germination; a weed of cultivation, disturbed terrain, and waste sites, found from Guinea to W Cameroons and Fernando Po in the West African Region, and widely diffused throughout tropical Africa.
In Sierra Leone, Ghana, Benin, Nigeria, Cameroon, the Democratic Republic of Congo, and Uganda and Asia, the leafy sections are frequently consumed as a vegetable.
Benefits of Ebolo leaves | Ebolo Leaf Health Benefits  | Ebolo – Uncommon Nigerian Vegetable
Ebolo's delicate, succulent leaves and stems are mucilaginous and are used as a vegetable in soups and stews throughout Africa, particularly in West and Central Africa.
Learn how to cook Ebolo vegetable >>> https://foodiedame.com/how-to-make-easy-granola-recipe-with-quick-oats
It is well-known for its distinct flavor, which is strong but not bitter. It is particularly popular in southwestern Nigeria, where the Yoruba word 'Ebolo' originated.
The leaves are softly blanched, excess water drained, and then cooked in soups and stews with peppers, onions, tomatoes, melon, and occasionally fish or meat.
In Nigeria, the leaves are used as headache analgesia in the form of a lotion or a decoction.
Leaf sap is used to treat upset stomachs in the Democratic Republic of Congo, and it is also used to treat fresh wounds in Uganda. In Nigeria, a leaf lotion or decoction is used to cure headaches.