Pineapple Salad/Pineapple Cucumber Salad – a 10 minute prep
Pineapple Salad/Pineapple Cucumber Salad – a 10 min prep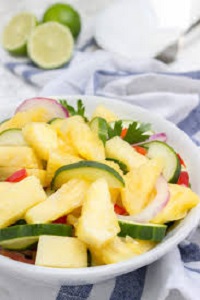 Summer is the ideal season for a trip to the beach! Summer is one of my favorite seasons! Regardless of how much fun we have in the sun, we must keep our bodies hydrated.
And, for a picnic or other special event, this fresh Pineapple Cucumber Salad dish is unbeatable. Why? Because it travels well and maintains its freshness. Nothing beats a pineapple salad as dessert for a pleasant meal.
Drinking refreshing drinks and eating watery fruits like watermelon, citrus fruits, cucumber, pineapple, and others is one approach for weight loss and staying healthy throughout this season.
Pineapple Salad Dressing (Old Fashioned)
If you think this Thai salad style is dull because of its small ingredient list, think again. This salad dressing will delight your taste buds.
It's composed of simple ingredients, but when mixed, they create a powerful summer flavor!
This simple dressing is packed with flavor and made using easy-to-find ingredients including Lime juice, mayonnaise, oil, honey, red pepper flakes, white vinegar, and salt & pepper
You get to savor all of these flavors in one serving: tangy, vibrant, and sweet, with a hint of fire. Oh, my goodness!
What Else Can You Add to your Pineapple Salad?
Depending on your preferences, you can always alter your salad with pineapple salsa by adding additional fruits or fresh veggies.
To be honest, I have a couple of variations for this salad. Here are a few of my favorite add-ons.
To mix the pineapple flavor, add a slice of avocado.
For a delicious taste, add some green leafy lettuce and cranberries.
Pineapple goes great with shrimp.
You can use any leftover bread.
Do you enjoy cheese? Add some parmesan or mild cheddar cheese, chopped.
What to Serve with?
This deliciously refreshing pineapple salad is ideal for summer vacations or backyard barbecues!
Serve it alongside these other mouth-watering summer favorites to wow your family and guests!
More Salad Recipes for summer
Are you stocking up on other delectable salads to prepare this summer? You might wish to take a look at the recipes listed below –
Pineapple Cucumber Salad Recipe | How to Make Pineapple Salad with Cucumber
Prepare yourself because you're about to rake in all the rave praises for this salad. Now and again, I attempt mixing and matching some fruits. As a result, this simple yet refreshing salad was born.
I'm confident you'll enjoy this pineapple-cucumber combination! There's no need to wait for a special occasion to make this. In only 10-15 minutes, you'll have this salad ready for dessert, lunch, or dinner.
 Ingredients
¼ cup thinly sliced red onion rings
1 fresh pineapple
1 cucumber
¼ cup olive oil
1 tablespoon fresh lime juice
¼ teaspoon kosher salt
Instructions
Firstly, submerse red onions in ice water for about 10 minutes.
Secondly, peel and then, core pineapple. Cut into bite-sized chunks. Slice cucumber thinly and cut it in half.
Thirdly, drain onions and pat dry, and dice.
After that, add olive oil, lime juice, and salt to a bowl and whisk to combine. Add in pineapple, cucumbers, and red onion.
Finally, dressing over the pineapple salad and toss until every inch of the pineapple blend is covered with the spicy vinaigrette.
Allow it to sit in the fridge for at least an hour or until ready to serve. It tastes even better the following day.