Ghana Chicken Chichinga: Suya Chicken Kebabs
Ghana Chicken Chichinga are chicken kebabs made with suya spice, which is a peanut-based spice blend that's widely used. In Nigeria, it is referred to as suya.
Please Read >>> Homemade Yaji: Nigerian Suya Pepper Spice Blend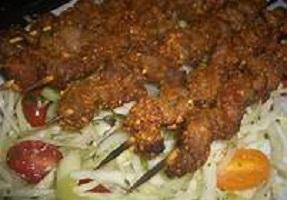 This hot, spicy peanut marinade is amazing on just about any meat, tofu, or vegetables. The meat versions of chichinga mostly beef, are popular street foods in Ghana and Nigeria
Related >>> Chicken Suya Skewers: Homemade Nigerian Chicken Kebab
Above all, chicken chichinga is enjoyable and very simple to make. You can either cook it on the grill or in the oven with a grilling pan.
Ghana Chicken Chichinga Recipe: How to Make Chicken Chichinga Kebabs
This recipe is usually made with chicken marinated in spice and the result is simply delicious.
Ingredients
3 large boneless, skinless chicken breasts (chopped into 1-inch cubes; roughly 30 pieces)
2½ tbsps. Suya spice
3 tbsps. Tomato paste
1 tsp. garlic (minced)
One tsp. ginger (minced)
1 tsp. salt
One tsp. black pepper
1 tbsp. canola oil
Checkout >>> Fruit Kebab or Fruit Skewers – Rainbow Color Fruit Stick
Instructions
Firstly, mix the tomato paste, suya spice, canola oil, garlic, and ginger in a large bowl. After that, use a spoon to mix the ingredients to make a marinade.
Secondly, dust salt and pepper onto the chicken and put the chicken into the bowl with the marinade.
Thirdly, use a spoon to coat all the sides of each chicken bite with the marinade. Then, place the marinated chicken in the fridge for 30 minutes.
Fourthly, if you are using wooden skewers, put them in a bowl with warm water for 30 minutes to avoid the skewers from burning when you're grilling the chichinga.
After that, remove the skewers from the bowl and thread each chicken piece onto the skewers
However, if it's a grill, put the chichinga on the grill and grill each side pending when the chicken is cooked through and browned on each side (about 10-15 minutes).
Lastly, remove from the heat and sprinkle a bit more of the suya powder on it, and serve.
Notes
Firstly, Chichinga is usually served with sliced onions and tomatoes.
Others serve this delicious kabob with some Jollof/Fried rice and a Ghanaian salad for a delicious taste of Ghana.
Ghana Chicken Chichinga Nutrition
Calories: 158kcal | Carbohydrates: 4g | Protein: 17g | Fat: 9g | Saturated Fat: 1g | Cholesterol: 43mg | Sodium: 191mg | Potassium: 400mg | Fiber: 1g | Sugar: 2g | Vitamin A: 167IU | Vitamin C: 3mg | Calcium: 10mg | Iron: 1mg