Brined Chicken Thighs for Perfect Chicken Every Time
Brined chicken thighs are one of the best ways to go whenever you're considering cooking with chicken.
Chicken brine results in the most tender and juicy chicken ever. Besides, it's so simple to prepare and you can brine a whole chicken or chicken parts in just a couple of hours.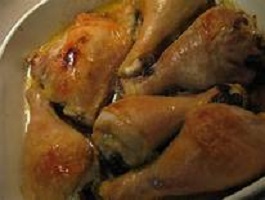 If you want your chicken moist, think through brining your meat before you cook it.
Brine chicken thighs in a combination of salt water with added sweetening agents and fresh or dried herbs, or add some spices for a thrill.
Related >>> Fried Chicken | How to make Tasty Fried Chicken
As one of my preferred chicken recipes, it's straightforward to make and chicken thigh is such an adaptable part of the chicken.
Chicken thighs can be sautéed, grilled, baked, fry, and even roasted!
Brined Chicken Thighs – Why Do You Brine Chicken?
Brined Chicken Thighs results in the most tender and flavorful poultry, and it makes it harder to overcook!
Brining permeates the chicken with tons of flavor and the correct amount of salt, resulting in the perfect chicken you've ever had.
As soon as you have your brined chicken thighs, it's time to get cooking!
Brined Chicken Thigh Recipes
Brining Chicken Thighs Is an Easy Technique, With Tasty Results. There are so many cookeries you can select from because chicken is used globally.
Checkout >>> Oven Fried Chicken Recipe | Best Baked Fried Chicken
Soaking your meats in a salty brine for a few hours can work miracles for lean, straightforwardly overcooked cuts for instance pork loin and turkey or chicken breast.
They will stay much moister when cooked, even if they're slightly overdone, and brine leaves them tasting nicely seasoned.
Though chicken thighs are obviously juicy and do not need much help on that front, brining them for a short time can definitely improve their flavor.
Ingredients
2 liters (8 cups) of water
60ml (4 tbsps.) salt
8 chicken thighs
60ml (4 tbsps.) sugar
Instructions
Firstly, place the water, salt, and sugar in a large pot and heat.
Secondly, stir until everything is dissolved.
Lastly, wait for the liquid to cool down before brining the chicken
Notes
The amount of brine required hinges on the quantity of chicken used and the size of the container you store it in.
The objective is to have all the wings totally submerged in the brine if possible overnight.
If you don't have enough brine, simply make another batch.
Feel free to try with the salt, sugar, and water ratios.
This is the basic recipe you can find. You can also add different ingredients to gear up the brine's flavor, for example, carrot, onion, celery, pepper, and all kinds of herbs.
Nutrition
Serving Size: 1 serving, Calories: 289, Sugar: 6.1 g, Sodium: 2015 mg, Fat: 10.4 g, Saturated Fat: 2.9 g, Carbohydrates: 6.1 g, Protein: 40.5 g, Cholesterol: 125 mg
Tips for the Perfect Quick Chicken Brine
Don't over-brine the chicken! The salt solution is more than your normal overnight brine, thus you want to make sure to limit your brining time to 2-3 hours at room temperature or 4-6 hours in the fridge.
Ensure you weigh your ingredients to make sure you have the precise proportions.
Dissolve the salt totally before you take it off the heat.
After brining, salt your chicken skin lightly before cooking.
Brined Chicken Thighs Variations
Make use of fresh cilantro and a sliced fresh jalapeño for Mexican chicken brine vibes.
Lightly combine a few black peppercorns below a heavy skillet and add to your chicken brine.
Test with different fresh herbs and dried spices.