Coated Peanut Burger | West African Snack | Groundnut Recipe
Coated Peanut Burger | West African Snack | Groundnut Buns Recipe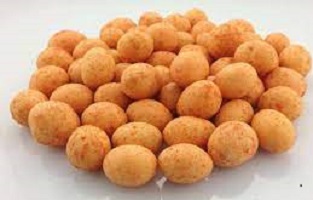 How To Make a Peanut Burger in Nigeria– Coated Peanut Burger Snack?
Coated Peanut Burger is a common snack in Africa, mainly in West African countries such as Nigeria and Ghana.
The Peanut Burger is crunchy, slightly sweet, nutty, and extremely addictive! It can be prepared for home consumption or for sale, i.e., for a commercial purpose.
A smooth peanut burger (coated groundnut) is also known as "coated peanut" in Nigeria. This snack is produced by coating groundnuts, known also as peanuts, with flour, eggs, and other ingredients.
The groundnut burger is a healthy and nutritious snack that everyone enjoys. If you definitely like groundnuts, you'll love the peanut burger.
Related >>>>
What Is a "Coated Peanut Burger?"
Contrary to popular Western belief, a peanut burger is not a hamburger made entirely out of peanuts.
Rather, groundnut buns are a popular West African snack-a deep-fried Nigerian snack similar to Nigerian buns, chin chin, puff puff, doughnuts, etc.
How do you make a coated peanut burger snack? This post discusses "coated groundnut" or "peanut snack."
Continue reading to find out how I came up with a tasty homemade burger-type peanut snack.
Coated Peanut Burger Recipe
Homemade tasty peanut snacks can be made on the stovetop or in the oven. It's time to treat your family to a spicy and crunchy – burger snack.
They're significantly superior to store-bought since you can customize the spices to your liking.
Tips for Making Peanut Butter Burger Snacks
The groundnut can be eaten raw, roasted, or fried, depending on the situation. To remove the skin, however, roasting or frying is preferable. Before coating with flour, it's usually simple to peel back the brownish skin.
There are some peanuts that are as hard as stone these days, and I've come to know that it's a result of the method and ingredients employed.
This homemade recipe is exactly as delectable, soft, and crispy as the coated peanut snack that I'm about to make known.
Ingredients for peanut burger
2 cups of flour (250 grams)
3 eggs
13 cup of sugar (66.7 grams)
2 cups of raw groundnuts, aka peanuts,
12 teaspoon baking powder
14 teaspoon nutmeg, optional
A pinch of salt
Vegetable oil for frying
How to make Ghanaian coated Peanut Burger
Initially, sort through your groundnuts in a bowl, removing any bad ones.
Secondly, combine the flour, baking powder, nutmeg, and salt in a mixing bowl and set aside.
Thirdly, in a separate bowl, combine the eggs and sugar.
Subsequently, drizzle some of the egg mixtures over the groundnuts. Shake the bowl until the mixture completely coats the groundnuts.
After that, shake some of the flour mixtures over the groundnuts.
Then, repeat steps 4 and 6 until the groundnuts are completely coated in flour. If some of them stick together, use your fingers to separate them and continue.
Heat the oil in batches over medium heat until golden brown.
Finally, allow it to cool completely before serving or storing in an airtight container.
Notes on the Recipe
When coating the groundnuts, it's fine to have some flour at the bottom of the bowl. Before frying, make sure to separate the nuts from the flour.