Kanyan Recipe: West African Peanut Bites
Kanyan Recipe: West African Peanut Bites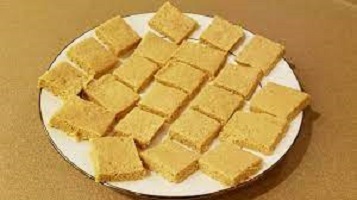 How To Prepare Easy Liberian Kanyan Snack Food?
Kanyan is naturally gluten-free and created with only three simple ingredients: peanuts, sugar, and toasted rice flour.
The roasted rice flour in this Liberian Kanyan Snack reminds me of fudge, but with a drier, slightly crunchy texture.
If you want to create this cassava (using Garri) and peanut butter the old-fashioned way, you'll need steel arms to push, punch, and grind the mixture until it's pulverized to the point when it starts to stay together.
Women in Sierra Leone (and beyond) are well-versed in this technique and can be spotted slowly pounding grains and peanuts in the dappled sunlight while laughing and conversing.
I knew I had to try this easy Liberian dessert after reading about them, but I didn't want to spend hours grinding them, so I whizzed them together in my food processor instead.
What's the good news? From start to end, pulverizing the Kanyan in a food processor will take about ten minutes.
Easy Liberian Recipes – Kanyan Recipe
I hope I succeeded in pulling this recipe for kanyan off for my Liberian followers. Garri is prepared from cassava for non-Nigerians who read this article.
Ingredients:
1 ¼ cup unsalted peanuts
½ cup sugar
1 cup rice flour. Garri is a good alternative to rice flour in this recipe
Method:
Firstly, in a food processor, combine the peanuts and sugar until loose, pebbly sand develops. Set this aside for now.
Secondly, toast the rice flour in a clean, dry skillet over medium/low heat until light brown. It may take a few minutes, so constantly stirring to avoid burning or uneven toasting.
After that, in a food processor, combine the hot rice flour, peanuts, and sugar until the mixture not only presses together but also keeps its shape.
It takes a lot of pulsing and processing, for the mixture to cake up so be patient.
Once ready, press the mixture firmly into a small casserole dish using the palm of your hand.
Now for the most crucial part: if you can't cut the Kanyan into squares and remove them without crumbling (the square), the mixture isn't ready.
If this occurs,
Scrape the peanut mixture back into the food processor and process until you succeed.
Lastly, with a cup of coffee, a companion, and two smiles (make one of them yours), this is a great way to start the day
Enjoy!