Obe Ishapa Recipe – Easy White Zobo Leaf Soup
Obe Ishapa Recipe – Easy White Zobo Leaf Soup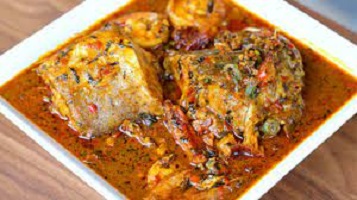 White zobo leaves – How to cook Obe Isapa soup
The rainy season is gradually approaching, and some meals are associated with it. Waterleaf Shoko, Efo Tete (Green Amaranth), and other affordable and fresh veggies will soon be available in Nigerian marketplaces.
You May Also Like >>>
During this season, the Egbas of Abeokuta, the Ijeshas, and other Yoruba regions should be looking forward to a new addition to their soup menu: Obe Ishapa.
During the rainy season, vegetable soups like Obe Ishapa become popular. Obe Ishapa is a simple Egusi soup made with freshly harvested white zobo flowers.
In English, isapa leaf is known as roselle leaf or hibiscus leaf…
Unripe zobo leaf is referred to as isapa in Yoruba. Isapa soup is made from the ishapa (or isapa) plant.
If you don't have enough money for fish or meat, isapa leaves might be used as a substitute. It provides a unique dining experience that is ideal for vegetarians.
The medicinal properties of isapa leaf can also be obtained by soaking it in water and drinking the resulting juice.
This soup is really tasty and has a lot of nutritional value as well as some health advantages.
Obe Ishapa Recipe: Nutritional value and facts
Isapa plant is rich in Vitamin A, Vitamin B1 (thiamin), Vitamin B2 (Riboflavin), Vitamin B9 (folic acid) and Vitamin C.
Isapa plant leaves, stems, and flowers are also high in vital elements such as calcium, potassium, magnesium, and iron.
Health benefits of isapa soup
It helps with digestion and relieves menstruation cramps. White Zobo Leaf, commonly known as Isapa leaves, aids in weight loss.
Some of the White Zobo Leaf benefits include blood pressure control and cough relief.
When taken as tea or as a herbal preparation, the isapa plant can help maintain the kidneys healthy by preventing kidney stones.
Because the plant is high in antioxidants, which assist to neutralize free radicals in the body, it may aid to prevent cancer. In men, it helps to increase sperm count and libido; in women, it helps to increase ovulation.
Is it safe to eat the isapa plant when pregnant?
Yes. Isapa is considered to be safe and beneficial during pregnancy. Pregnancy loss, birth abnormalities, or miscarriage in women have never been documented.
Ingredients and Preparation
8 pieces of Beef
1 medium Smoked Fish
6 peppers
1 small mudu Ishapa (white zobo or hibiscus leaves)
6 tomatoes
1 Onion
8 medium-size Tatashe (optional)
1½ cups ground Egusi (melon seeds)
1 small wrap Iru
2 stock cubes
½ teaspoon ground potash/Kaun
Water
Salt To taste
Here is how to prepare Obe Ishapa soup – How to zobo soup
1. Firstly, put the steak in a pot after washing it. Then, add salt, one stock cube, and half of the onion to taste. Steam until the water has evaporated.
Put additional 2 more cups of water and continue to boil for another 20 minutes, or until the meat is fully cooked.
Secondly, wash the peppers, tomatoes, and onion, then deseed and cut the tatashe into small pieces before blending everything together into a homogeneous paste.
Please note that this soup can be made with either dried or fresh Ishapa. When using fresh Ishapa, properly wash it before placing it in a clean pot.
Boil for around 15 minutes with 4 cups of water and ½ teaspoons of Kaun. Set aside after straining.
Soak dried Ishapa for 20 minutes in boiling water, filter, and rinse, then set aside.
After that, heat the palm oil for 2 minutes, then set it aside to cool. Then, add the ground tomato mixture and cook, stirring occasionally, for about 10 minutes.
Now, combine the meat, rinsed dried fish, ½ liters of water, and iru in a large mixing bowl. Allow boiling for about 8 minutes, stirring intermittently.
Make a thick paste with the ground egusi and pour it into the pot without stirring. Allow for 6 minutes of cooking time. Taste the soup after adding the remaining Maggi cubes. Reduce the heat and season with salt to taste.
Stir in the boiled Ishapa and cook for 5 minutes at a low temperature.
Lastly, remove from heat and serve with pounded yam, amala, or your favorite swallow.
Enjoy!