Curry Goat Recipe- How to Make Nigerian Goat Curry Sauce
Curry Goat Recipe – How to Make Tasty Nigerian Goat Curry Sauce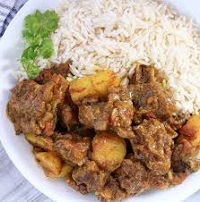 Many people will mistake this for goat meat pepper soup, but it's not! This is a whole different recipe.
While we Nigerians use traditional Peppersoup spices, you use largely Indian ingredients in your curry goat sauce.
About Curry Goat Recipe
However, because goat meat takes some time to soften while cooking, this is one dish you should prepare when you have plenty of time before your guests arrive.
Just as stubborn as the live goat is, one of the disadvantages to cooking goat meat is, it takes an incredible amount of time on the cooker to get tender.
But don't panic; you can use a slow cooker instead. I make sure to savor every piece of curry goat whenever I make it. It vanishes swiftly from the pot.
The sauce is flavorful, and the meat becomes delightfully soft and juicy when cooked slowly.
Besides, goat meat never fails to wow, especially when it comes to enhancing the flavor of stews, sauces, and even soups. This recipe goes well with rice, potatoes, or yam.
For the record, Nigerian goat curry is the real deal, and the taste never disappoints. It's fair to say that goat meat never disappoints when it comes to infusing rich tastes into soups, stews, and curries.
The Nigerian curry goat is a delectable dish made with goat meat stock, herbs, and slow cooking till soft with all the wonderful juices seeping out of the bone.
The goat meat and vegetables are then added to make it a complete supper – really excellent.
To turn it into a complete meal, goat meat and veggies are then added – Incredibly delicious.
Goat Curry – Nigerian Curry Goat Recipe
Goat meat is used in this delectable dish. When served hot with white rice, potato, yam, and other side dishes, it's perfect.
Ingredients
3-pound(s) goat meat
2 tbsps White Vinegar
2 tbsp curry powder
1 medium onion, chopped
4 cloves garlic, chopped
1 tbsp ginger, chopped
2 tbsp thyme, chopped
½ fresh pepper, chopped
1 tbsp black pepper
¼ cup(s) Vegetable Oil
1 tbsp salt
4 cup(s) boiling water
1 large Irish potato, diced
2 tbsp, Nutmeg
1 medium carrot, sliced
How to Cook Curry Goat
Firstly, trim meat, cut it into tiny or moderate pieces (depending on how you like it) and then, wash in a mixture of water and vinegar.
Secondly, add 1 tablespoon curry powder, ginger, chopped onion, thyme, garlic, scotch bonnet pepper, black pepper, and salt.
Thirdly, rub the seasonings into the meat, cover, and put to marinate for 2 hours.
After that, heat vegetable oil in a heavy bottom skillet over medium heat and add the remaining one tablespoon curry powder.
It's now time to add the marinated meat and allow it to sear. Turn the meat and add 4 cups boiling water.
Cover and allow simmering for about 1 hour 20 minutes or until the meat is tender.
Then, add the diced potato and cook for 5 minutes. Put in the sliced carrot and nutmeg and cook for another five minutes.
Lastly, add the chopped vegetables and leave to simmer for 3 minutes before turning off the burner. Serve with boiled rice or potato