Nigerian Pepper Soup | African Chicken Pepper Soup Recipe
---
Nigerian Chicken Pepper Soup is a simple and hearty comfort food very common in West Africa. It is also known as African Pepper soup.
Best Nigerian chicken pepper soup is not only enjoyable but it also adaptable. Occasionally, a comforting bowl of soup is all you need.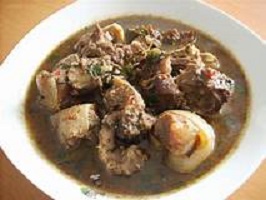 Chicken pepper soup is simple to put together loaded with traditional spicy, bold, and hearty flavors. It's so easy to make and you can hardly go wrong putting this together.
As the name implies 'Pepper Soup' is a hot and spicy chicken broth recipe made with a blend of aromatic African spices
Pepper soup is a Nigerian favorite soup and can be prepared with any protein namely – chicken, fish, goat, mutton, game, or organ meats, etc.
You can serve it as an appetizer or as a main dish. Meaning that you can start with it while waiting for the main dish, or serve it with white rice, plantain as the main dish itself.
Pepper Soup is a staple in bars. Hardly, will you enter any eatery house or restaurant in Nigeria and other African restaurants and not find Pepper soup in the menu.
Nigerian Chicken Pepper Soup goes well with a lot of drinks too. Try Nigerian yam and Chicken Pepper Soup today with any cold drink of choice and thank me later.
Why I like Homemade Nigerian Chicken Pepper Soup
Broth: low calorie
Chicken: Good home-raised chicken.
Green Plantains: Good Carb
Peppersoup spice: Medicinal/health benefits
This outstanding all Nigerian recipes pepper soup is highly medicinal, made with traditional aromatic spices, and it can be taken at any time of the day.
Though, some nursing mothers prefer to eat it when recuperating from childbirth; others like to have it when they want to recover from cold or flu whenever they feel like it.
I feel anything going into the body should have some great health benefits, whether in sickness or in good health.
The classic ingredients used in making pepper soup gives it a total package of nourishment and flavor; starting from the cooking process, the whole atmosphere is filled with the strong aromatic smell of the spices.
You can enjoy Pepper soup in various forms like Cat Fish Pepper Soup, Goat pepper soup, Cow Leg Pepper Soup, or Assorted Meat Pepper Soup.
It's a matter of replacing and going for your chosen type of protein.
In many cases, starchy foods like yam cubes, potatoes, or plantains can be added to the soup to make it a complete meal.
Nigerian Chicken Pepper Soup Recipe
I don't know about you but I like including EVERY part of the chicken in my soup, including the feet, and head and my kids love to nibble on them!
The amount of pepper used in this dish is very much a matter of personal taste.
I love my pepper soup hot and spicy!!!  I have recommended using a pleasantly hot amount, but not overwhelming: Just enough to make you sit and take notice Lol
This pepper soup is a blend of distinct blend of spices which include Ehuru (calabash nutmeg), uziza seeds (can't come up with the English name), and Uda (Negro Pepper).
You can buy this spice mix in African stores or the local market near you in Niigeria
I assure you, this is the only chicken Pepper soup recipe you will need so allow me to show you how to make it in easy steps.
Best Chicken Pepper Soup Ingredients
Chicken
Crayfish
Pepper soup spice
Stacy food: like green Plantains, potatoes or yam makes a good source of carbs.
Herbs, peppers, and aromatics like Garlic cloves, Ginger root, onion, Fresh Basil Leaves, and scotch bonnets
Seasoning powder: Adds that umami flavor to the soup
Salt to taste
Cooking Notes:
Adding a starchy food to this pepper soup is optional, but, if you want to make this a full meal then it's advisable to add it.
Method
Firstly, blend onions, ginger, garlic, and scotch bonnet and set aside.
Secondly, cut the chicken into pieces and clean it carefully.
Thirdly, add the cleaned chicken inside a pot. Then, the blended mixture, seasoning powder, and salt to taste. Mix very well and leave to cook for about 10 to 15 minutes.
Fourthly, add the pepper soup spice, crayfish, and water. Stir and leave to cook for another 15 minutes.
Meanwhile, peel the plantains and cut them into about 2-inch chunks.
After that, add the cut plantains inside the cooking soup and leave to cook for 15 to 20 minutes or till the plantains become tender
Lastly, stir in the basil leaves and serve hot or warm.
When to Serve Nigerian Chicken Pepper Soup
This dish is great for all kinds of occasions and when you want a change from your usual Sunday rice.
You can serve it when you have friends over and everyone is in suspense
Chicken Pepper Soup Nutrition
Calories: 253kcal | Carbohydrates: 23g | Protein: 16g | Fat: 11g | Saturated Fat: 3g | Cholesterol: 61mg | Sodium: 683mg | Potassium: 519mg | Fiber: 2g | Sugar: 10g | Vitamin A: 806IU | Vitamin C: 19mg | Calcium: 31mg | Iron: 1mg