Yam and Egg Sauce Recipe from Scratch
Don't know what to make for lunch or dinner? Use this guideline to cook yam and egg sauce or egg stew and thank me later.
Egg sauce and boiled yam are one of the breakfast staples in Nigeria or should I say weekend breakfast.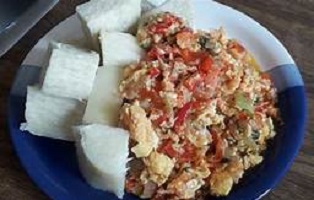 Boiled yam is often served with egg stew. Yam is a wonderful superfood found mostly in the tropical region like Jamaican, Africa, and Caribbean and poles apart from the "Yam" found in the most leading grocery store.
Related >>> Egg Stew: How to Make Nigerian Egg Sauce
The US's yam is a variant of sweet potato while the African Yam has dark brown peelable skin and the inside is either white or yellow.
Apart from yam, egg sauce can be served with plain rice, Jollof rice, fried rice, Agege bread, and other main course meals.
Boiled yam and egg sauce is very easy to make.  Typically in Nigeria, we use eggs, tomatoes, scotch bonnet chili, and onions in making this sauce. Feel free to make this your own
Read Also: Garden Egg Stew: How to Make Nigerian Eggplant Sauce
Egg Sauce and Boiled Yam Recipe
Ingredients for egg sauce and boiled yam
Tuber of yam
4-6 eggs
2 medium-sized tomatoes, chopped
1 small onion, chopped
1-2 scotch bonnet, chopped
1 red bell pepper, chopped
⅓ cup vegetable oil
½ tsp salt plus 1 tsp for yam
½ tsp curry
1 Seasoning cube
½ tsp thyme
How to Cook Yam
Firstly, slice yam into 1-inch size each and peel the skin off.
Then, rinse in clean water till water runs clear and no residue in the water.
After that, put the yam in a pan, add enough water to cover it, add salt, and place on medium heat and cook till soft.
Lastly, check with a fork, if it goes through, then the yam should be soft enough. Then, drain water from yam if you want.
How to Make Egg Sauce
Firstly, break the eggs into a shallow bowl, then whisk till egg white and egg yolk are ready, add salt and whisk to combine then set it aside
Secondly, put a frying pan on medium/low heat, add vegetable oil, and heat for about 2-3 minutes
Thirdly, add chopped peppers and onions (this should sizzle) and cook for about 4-5 minutes or till oil floats on the sauce, now add salt, seasoning, curry, and thyme.
Finally, stir to combine the ingredient with sauce and also avoid sauce sticking to the pan.