Classic Potato Latkes Recipe – Crispy Jewish Potato Pancakes
Latkes are potatoes crisped up in fat. Some are flat and lacy, while others are thick with substantial chew.
The holiday season is fast approaching, bringing good tidings, visitors, and enjoyable delicacies.
These Hanukkah staple party foods are small potato pancakes that are similar to fried fritters.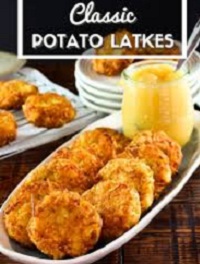 Just as Christmas is celebrated with gingerbread and fruit cakes, the festivities of Hanukkah include eating potato latkes (pronounced "lot-kuhs," with a deeper draw in the vowels) also known as delicious potato pancakes.
At Hanukkah, how you pronounce latkes makes a world of difference
The beauty of this food is in its closeness to not getting bad. Classic Potato Latkes are the ideal Jewish-style potato pancakes.
Latkes Origin
Even though many Americans link potato pancakes with Hanukkah, they have more broad origins.
Latkes originated in the eastern European countries of Germany Austria, Russia, and Poland as peasant food.
Sweet potatoes were not expensive, abundant and easy to store, making them a staple and prompting potato recipes.
Nevertheless, it was the European Jews who gave potato pancakes their renowned Yiddish name–latkes–and repurposed them as a holiday vegan food.
Latkes Recipe
The main ingredients found in latkes are potatoes, eggs, and some sort of starch (though optional).
They can be fried, baked, or even flipped like pancakes.
Traditionally, you can serve latkes with applesauce or a yogurt dip/sour cream or other types of table sauce
Ingredients
4 medium-size potatoes (Grated)
3 eggs
2 tablespoons of all-purpose flour
1/2 teaspoon salt
1/2 teaspoon garlic (grated) optional
Oil for frying
Schmaltz is an optional but recommended ingredient in this recipe. Also known as rendered chicken fat
Latkes Toppings
Instruction
Firstly, peel the potatoes and coarsely grate by hand, transferring to a large bowl of cold water as grated.
Then, soak the potatoes for a minute or two, and then drain well in a colander.
Secondly, transfer the grated potatoes and onion into cheesecloth and squeeze out the excess liquid, thereafter, pour the potatoes mixture in a deep bowl.
Thirdly, stir in the eggs, flour, salt, and then combine the mix properly to form a batter.
After that, heat the vegetable oil, scoop one spoon into the oil press down to flatten as it fries, fry tor about 3 minutes or until undersides are brown, then flip to the other side and fry the same way.
Repeat this process till you finish frying all batter
Lastly, remove from heat and transfer to a sieve lined with paper towels to drain.
Recipe Note
Grating and soaking the potatoes briefly in water, before draining out the liquid (as we've done here) keeps the batter from turning to brown too quickly.