How to Boil Crab: Whole Shebang Boiling Crab Style Recipe
Want to know how to boil crab?  And how long to boil crab? The Whole shebang Boiling Crab Style Shrimp recipe with corn on the cob for your family! You have come to the right place.
9jafoods.com will show you the nitty-gritty of boiling crab. At present, boiling crab is usually for the processing of the whole crab that has not been previously cooked.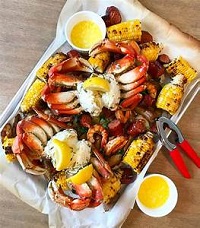 Some folks like to firstly, clean the crab which is fine, then go to the cooking crab and consuming them immediately
On the other hand, others like to freeze the whole crab and process it later, which is okay, but the crab needs to be boiled first.
Checkout: Coffee Deinks: 12 Different Types of Coffee, Flavor, and Taste
Secondly, some trust that boiling the crab and freezing it whole assist to reserve the fresher taste of the crab, then, steamed at a later time than freezing just the crab legs.
Either way works just fine, it's a matter of individual choice.
Above all, now that you have your whole crab, just caught it and get it ready for eating or freezing, and get ready on how to go about boiling crab…
How to boil Crab: Things You Will Need to Cook Crab  
Before you know how to boil crab, there are few things you should have within reach…
A big pot, depending on how many crabs you have to boil.
Salt or Sea Salt, whichever you prefer.
A Pair of Tongs come in handy for handling the crab in and out of a hot pan with boiling water.
Seasonings (optional)
If this is your first time boiling crab legs, I would recommend using just the salt, then test when you boil crab again.
How to Boil Crab: Boil Crab Recipe
Firstly, fill your pot to about 2/3's full of water, add salt (about 1/2 cup/gallon of water) and seasonings (optional/your choice), then, bring to a full boil.
Secondly, cautiously add the whole crab to the water. Ensure the crabs are all covered in water.
Thirdly, boil them until the shells turn red, for about 20 minutes counting time after the water comes back to a full boil.
That's it. They are done!
After that, you can cool the crab down by either laying them out on a clean dry towel or, placing them in cool water in a clean sink.
Either way is fine, but cooling them with cold water or even over ice is an excellent way to avoid the crab meat sticking to the legs.
Now you are ready to clean the crab or you can eat the crab. You now know how to boil crab!
Serve and enjoy!
The Whole Shabang Shrimp (Boiling Crab Style) Recipe
Ingredients
4 lbs. shrimp head-on
3 tbsps. Cajun seasoning
Three tbsps. paprika
2 tbsps. oregano
Two tbsps. cayenne pepper
2 tbsps. chili powder
Two tbsps. lemon pepper
3 tbsps. Louisiana hot sauce
Three tbsps. sugar
4 heads garlic minced
Four sticks unsalted butter
4 tbsps. old bay seasoning
½ cup garlic powder
1-2 cups lime or lemon juice (adjust to your taste by using less first)
4 half eats corn on a cob
Instructions
Firstly, add all ingredients excluding shrimp and corn in a pot
Secondly, simmer until all ingredients are combined in tasting regularly to your liking
Thirdly, add shrimp stirring constantly to make sure shrimp cooks very well. Do not overcook the shrimp
After that, once shrimp turns pinkish add corn and then cook for 2 minutes
Finally, turn off the heat and cover for 5 minutes
Serve and enjoy!
For the sauce, you may use lime juice, pepper and salt or ketchup, mayo and lemon pepper seasoning
How to Make Boiling Crab Sauce? 
Firstly, cut 1 lemon into quarters, squeeze juice, and drop into boiling water.
Then, throw shrimp in batches into boiling water for 2-3 minutes, until pink.
Lastly, be careful not to crowd the pot. Then, drain and toss into sauce.
Preparation for Sauce
Melt butter in a saute pan on medium heat. Throw in diced garlic in melted butter