Oatmeal fufu Recipe (Nigerian Healthy Swallow)
Oatmeal fufu is one of my favorite solids, especially when trying to lose weight.
Oatmeal Fufu is made from Quaker Oats. Yes! That grain you enjoy so much for breakfast. The good thing about oats generally is that they are healthy and great for weight loss.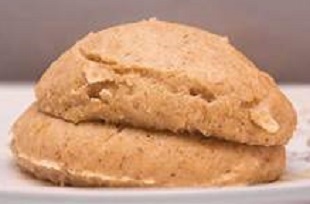 The way it works is quite simple. Oatmeal Fufu will make you feel full faster therefore you eat less than the number of other fufu meal wraps you would normally consume.
It's a healthy fiber-rich substitute for traditional solids. This does not mean I am against eating pounded yam, garri, Eba, Amala, etc. All these foods can be a part of a healthy meal.
Besides, it makes you feel full for a long time thus fewer food cravings between meals.
It is perfect for those who want to lose weight or uphold a healthy weight.
Oatmeal fufu Recipe
If you like wheat meal fufu, am sure you will like oat fufu/swallow since both are similar in nutritional facts and health benefits
Oats fufu is one of the many side dishes we eat with our African soups.
Ingredients
Directions
Firstly, mix quick oat and one cup water in a blender, blend until smooth
Then, place a medium-sized pot on medium heat and pour in the pureed oatmeal.
Now, stir continuously until the mixture begins to cuddle, continue to stir until the mixture is hardened.
Lastly, let it cool a bit; then roll into a ball.
Serve with any soup of choices like Ogbono, Egusi, or vegetable soup.
Making Oat fufu in the microwave is another easy method of making oatmeal fufu.
How to Microwave Oats Fufu in 5 Minutes
Ingredients
2 cups homemade oat flour
2 or 3 cups of water
Instructions
Firstly, mix water and oat flour till smooth
Secondly, cover the bowl with a microwave-safe lid and pop it into the microwave
Thirdly, cook on high power for 4-5 minutes.
After that, bring out and stir
Then, Share into four portions and wrap in Saran Wrap
Lastly, serve immediately or store in the refrigerator for up to 4 days
Cooking Notes
If you do not have a dry mill blender, use a regular blender and add some water to it before blending.
Pulse until the mix becomes smooth, pour into a pot and bring to a slight boil; then stir continuously to form