Wheat Meal Swallow: Nigerian Wheat Flour Meal Fufu Recipe
What is a Wheat meal | Meaning | An Overview
The wheat meal is food prepared as a form of swallow in Nigeria's menu. It can be eaten with any Nigerian soup in the form of morsels.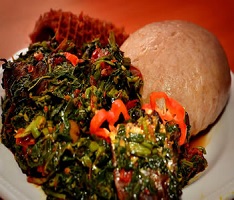 It is rich in original fiber which helps control the level of sugar and helps to lose weight by making you feel full for a long time. Wheat meal and diabetes work hand in hand.
What is Wheat?
Wheat is a brown flour made from whole wheat grains. It is the third most widely produced cereal after maize and rice. It is also rich in potassium, protein, magnesium, and Iron.
Related >>> Oatmeal Fufu Recipe (Nigerian Healthy Swallow)
Wheat is a very common cereal and is present in almost everything we eat:
From fufu (swallow), pasta, bagels, crackers, and bread to cakes and muffins, these healthy grains are an essential part of almost any meal.
At the moment Wheat is the world's most important grain crop; it feeds more people than any other grain, and its health benefits depend on the form in which you eat it.
Unlike many other grains, such as oats, corn, millet, and sorghum, wheat is not a common animal feed but it's food for the human diet. The price of wheat food is always affordable
How to Make Wheat Swallow Fufu from Scratch in Nigeria
Firstly clean the wheat grains of dirt and dust.
Then, take your clean wheat grains for milling.
Thirdly, after grinding very smoothly with a wheat meal machine, store the powder in an airtight container and only scoop out the quantity you need for every cooking.
Lastly, homemade Wheat flour lasts long in airtight containers and gives you the best wheat swallows.
Wheat Swallow Recipe: How Do You Make Wheat Flour?
If you can make Amala food, tuwo, or millet swallows, then making wheat flour meal will be simpler for you. These are popular bolus dishes you can eat with Nigerian soups.
These bolus foods are available in the form of flour/powder and are very simple to make once the flour is ready.
Occasionally, I alternate any of them with wheat flour or wheat flour where possible.
Requirements: Recipe for one serving
2 cups Honeywell Wheat for dinner
1litre Water
Method
Firstly, combine a little quantity of wheat flour in normal water, stir well and place the watery mixture on a stove.
Secondly, allow it to boil very well before adding wheat flour lightly while stirring, and stop adding wheat until you get to your desired consistency.
Thirdly, add a little hot water into the wheat in the pot then cover and leave to cook for about 5mins till the water evaporates.
Turn once more and form into the desired shape
Allow sitting for a few minutes before you serve and enjoy your wheat swallow with any Nigerian soup of choice.
Please Note:
This process is the same for making any other bolus or swallow meals from flour, such as pounded yam (from yam flour), Oatmeal, Rice fufu, corn fufu, and a lot more.
Wheat Meal Recipe Shorter Method (Using the Same Ingredients)
Firstly, boil the water in a small pot, then add the wheat flour into the pot
Then, stir in the wheat flour with a wooden spatula/turning stick (in one direction either clockwise or anticlockwise so as to avoid lumps). Do so until is hard
After that, add the little hot water into the wheat in the pot and cover. Leave to cool for about 5mins till the water evaporates.
Lastly, turn once more and form into any shape.
Serve hot with any Nigerian soup
Am sure you can now make your easy wheat swallow or dumplings.
Nowadays you can buy the wheat powder at African stores, but there is no telling the ingredients of the wheat powder.
But, when you can make yours at home, it is easier to say what you added or not