Okazi Soup: Nigerian Okazi Soup Recipe | Igbo Ofe Ukazi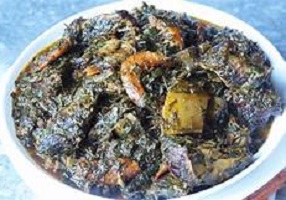 Okazi Soup (Ukazi Soup) is the Igbo version of the Efik's Afang soup. This delicious Nigerian soup is a thickened vegetable soup from eastern Nigeria.
Okazi Soup: What is Ukazi? / What is an okazi leaf?
Ukazi, botanically known as Gnetum africanum and popularly named Okazi by the Igbo people of eastern Nigeria.
Also known as afang leaves, okazi leaves are a dark green, leafy vegetable with a slightly bitter taste that is usually found in Africa, Asia, and South American.
It grows in dense equatorial forests. Both the seeds and leaves of this plant are edible.
Okazi/Ukazi/Afang Leaf (Gnetum Africanum) is used for cooking traditional Nigerian Afang soup and Okazi/Ukazi Soup.
Related >>> Nutrition and Difference Between Okazi, Uziza, and Utazi Leaves
The leaves are strong (hard) and glossy and similar to the leaves of an orange tree.
Due to their tough texture, ukazi leaves are usually sold pre-sliced in the Nigerian market by the vendors.
At times after it's sliced, it's further ground with a dry mill to make it soft thereby bringing out the taste more in soups.
Apart from Afang soup, Ukazi soup is also comparable to ofe owerri, the main difference is that Ofe Owerri is thickened with cocoyam while Okazi soup is thickened with either Egusi, achi, ukpo, or ofo.
Every single thickener has its unique flavor.
The Igbo's cherish okazi mainly because of its medicinal value and health benefits. Okazi Vegetable Soup (Prepared with Water) has about 70 calories.
What is the health benefit of Okazi Leaf?
The dietary fiber of ukazi leaf is very good for weight loss and also helps prevent constipation.
The Okazi leaves used in its preparation are rich in iodine. Iodine helps in preventing goitre.
The waterleaf component of Afang soup helps to slow down the digestion and conversion of starch to simple sugars.
Ofe Ukazi "Igbo" or Afang Soup "Efik" is made up of a mixture of vegetables (Afang /Okazi leaves and water leaves – spinach and lamb lettuce can be used as alternatives for this vegetable, Uziza, Ugu, and achara can also be added to okazi soup.)
Please Read >>> Utazi Soup – Igbo Soup | Ofe Utazi Leaf | Utazi Leaf Benefits
Okazi leaf is usually sold fresh or dry and both are okay for this soup. If using dry okazi, put it early in your cookery so it will rehydrate and soften.
Okazi Soup Recipe: How to Prepare Okazi Soup
Firstly, you need to soften the okazi leaves.
How to Soften Okazi Leaves
To soften okazi leaves, simply place 5 cups (500 g) of dried okazi leaves in a large bowl. Cover them with hot water, and allow them to soak for at least 10 minutes to soften them a bit.
How to cook Nigerian Okazi Soup (Ukazi Soup) Recipe
2 handful ground Achi Or Ofor Or Ukpo (Egusi /melon seeds as substitutes)
500 gr beef or assorted meat
100 gr Smoked fish
Stockfish (optional)
Shelled Periwinkle (optional)
2 tablespoonful ground crayfish
Fresh pepper or ground dried pepper (to taste)
Water leaves (optional)
500 g Afang Leaves (okazi/ukazi leaves)
Palm oil
1 Stock/seasoning cube
Salt to taste
 Okazi soup Preparation
Firstly cook the assorted meat and stockfish, and then, clean the dried fish and set aside.
– After that, grind the achi or egusi seeds(melon seeds), add some warm water to them, mix well, and set them aside
– Now, cut the water leaves (if using) and Okazi leaves and set them aside. If you are making use of dried Okazi leaves, you can pound or blend them.
2. After that, heat the palm oil, add some chopped onion, fry a bit and then add the mixed egusi. Stir the mixture constantly till the egusi begins to bubble a bit.
At this time, add some meat stock, mix carefully cover it, and leave to boil for 5 minutes.
(If using achi, this is the time to add it)
-Wait for 5 minutes before adding the stock cube, pepper, and ground crayfish. Mix well and then add the cooked meat, stockfish, and dry fish. You can add periwinkles at this stage if you prefer or have some. Cover and leave to cook for 2 minutes.
Lastly, add the Okazi leaves, leave to simmer for 5 minutes and then add the water leaves. Add salt to taste, simmer for 2 minutes and your Okazi Soup is ready.
Enjoy.
You can serve Okazi/Ukazi soup hot with Amala, Wheat meal, Pounded Yam, fufu, semolina, Eba food, Tuwo Masara, or any Nigerian Bolus meal.