Amala Food Recipe | Easy Nigerian Food | Health Benefits
Amala Food Recipe – the only ingredient needed when making this food is boiling water and either one of the two types of flour: yam flour and/or cassava flour.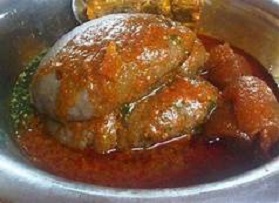 This popular delicacy is made from either yam flour or cassava flour. The recipe is lightweight and makes for an easy swallow and weight loss.
Related >>> Amala Food: How to Prepare Amala (Dark Brown Yam Flour)
Everybody in Nigeria knows about amala food and they all love it.
For those who do not like amala food, the reason is simple: they have not yet tasted it (Amala and Ewedu with stew is equal to none!)
Tasting is all it takes to fell in love with this Yoruba traditional delicacy
It's difficult to visit any of the local bukkas in large cities like Lagos and Ibadan without seeing the meal on the menu.
Amala Food Recipe: Types of Amala
Amala is of three types: àmàlà isu, àmàlà láfún and "amala ogede"
This is the most popular type of àmàlà and is derived from yam.
Cassava flour (àmàlà láfún)
The type is made from cassava flour. Dried cassava flour is known as "lafun" in Nigeria and "kokente" in Ghana.
Plantain flour (Amala ogede)
This type of Amala is made from plantain, elubo ogede (which is usually lighter in color).
The low carbohydrate level in plantain flour makes it a perfect diet for people diagnosed with diabetics and others who need a low-carbohydrate food.
Amala Food Nutritional Values: Calories, Nutrition Facts/Information
Nigerian Amala has the following important nutrients-Carbohydrate, Calcium, Dietary fiber, Copper, Magnesium, Potassium, and Vitamins.
It is a rich source of carbohydrates owning to the fact that yam is an important source of carbohydrate for many people of the Sub Saharan region particularly in the yam zone of West Africa.
Checkout >>> Amala Food Nutritional Values | Health Benefits | Health Risks
Health Benefits of Amala Food 
The Health Benefits Amala Food are many and they include:
Amala food nutritional values help to build your body formation and keep the body intact and also to fight bacterial and viral diseases.
Secondly, it helps with weight loss. The fiber content in Amala helps to flush out toxins from the body making you feel light after eating this food.
Vitamin A helps with good eyesight, brain formation, and also lowers inflammations.
Amala regulates the body's blood formation, stops blood clotting, and stabilizes your blood pressure.
Consumption of Amala food aids to lower bad cholesterol due to its high water content and fiber.
Amala boosts your body immunity; lowers the risk of colon cancer, controls diabetes, nurtures your skin.
Finally, it offers the body essential minerals, improves hair texture, and aids indigestion.
The great thing about Amala Food Recipe is that it is quick and easy to prepare, but then, if you are not careful you may end up with lumps
Amala Food Recipe – 4 Easy Steps on How to Make Àmàlà Flour without Lumps
Here are the 4 simple steps to making a lump-free Amala:
Firstly, heat water on the fire and allow boiling.
After that, bring it down from the fire and gradually add your Abebi Yam Flour (Do not add the yam flour to the water while still on the fire so it doesn't form lumps)
Thirdly, turn the yam flour with a wooden Eba stick (omorogun) quickly so as not to form lumps.
Then, add little water and put it back on the fire to cook on low heat for about 5 minutes.
Finally, after 5 minutes, begin to turn the Àmàlà again, keep turning until a smooth paste is formed. Also, the pulling of the dough into a smooth paste is the most difficult part of making Elubo.
Àmàlà can be eaten with various types of soups, which include:
Efo riro: this is made from vegetables and a mixture of meat, fish, etc.
Gbegiri soup: this is made from dried beans.
Amala and Ewedu: this is made from cooked and grated corchorus olitorius leaves with/without a small number of locust beans.
Eat Amala Food and Live Healthy