Tamarind Paste Substitutes: Best Alternative Ideas In 2022
Tamarind Paste Substitutes: Best Alternative Ideas In 2022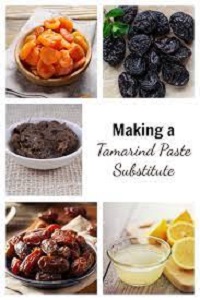 The best substitute for tamarind paste
What is tamarind paste? Thai tamarind paste substitutes
Tamarind sauce substitute
The recipe
Related >>>>
Tamarind Paste Substitutes – An Overview
What is Tamarind?
The tamarind fruit is native to the Indian subcontinent, but it grows across the world in tropical regions.
The trees can grow as tall as 30 feet, and their seeds are best for jewelry. Tamarind paste has many uses in cuisines throughout Asia and Africa, from making soups and curries to thickening sauces.
What Is Tamarind Paste?
Tamarind paste uses the edible fruit of the tamarind tree. The paste is made from concentrated tamarind fruit and has a sweet flavor with a sour taste, as well as being slightly acidic.
Because it's also thick, it tastes like lemon juice but not as much as apple cider vinegar does.
Tamarind seeds were used as currency before the Spanish invaded Mexico. The sauce, made from the fruit of its namesake tree, was a popular ingredient in Indian and Middle Eastern cuisine.
Today, tamarind is used in everything from candy to liquor to sauces and chutneys. The pulp can be found fresh or dried in most grocery stores.
Tamarind paste is sold in most parts of the world in cans or jars, much like preserves. It can also be purchased in powdered form.
In this article, we will be discussing Tamarind Paste Substitutes, benefits, and five great uses that you might not know plus the paste recipe
Tamarind Pate Uses
While tamarind paste is used in various cuisines to make desserts and even confectionery, it is primarily employed in Thai cookery for savory dishes.
Tamarind is used in traditional pad thai sauce, as well as several Thai curries and seafood meals. Tamarind is frequently used in Indian curries.
It's also used in Indian and Mexican cookery, as well as Vietnamese, Latin, and Caribbean cuisines. It's also a crucial ingredient in Worcestershire sauce, where it contributes to the tangy flavor.
Additional Uses for Tamarind Paste
Tamarind paste's sweet, sour, fruity, and tangy flavor makes it a good addition to many types of cuisines. Here are seven ways you can also use tamarind paste:
Candies
Chutney
Spice Blend
Ketchup – But you'll need to add fish sauce, oyster sauce, brown sugar, dark soy sauce, and rice vinegar to make it taste similar to tamarind paste
Marinade
Stir-fry
Tamarind balls
Tamarind paste can usually be found in your supermarket's Asian section or at an Asian grocer. If you can't find any, you'll need to find a tamarind paste substitute that works just as well as the original.
What are the best alternatives to tamarind paste? Tamarind Paste Substitutes
If you need tamarind paste for a dish but can't locate it anywhere, there are a number of tamarind paste replacements you may use.
Many of these alternatives are combinations, such as Worcestershire sauce, water, brown sugar, lemon juice, tomato paste, or a lime juice and brown sugar combination.
Pomegranate molasses or a blend of lime juice and brown sugar can also be used.
Lime juice (or occasionally white wine or rice vinegar) coupled with an equal amount of light brown sugar is a common substitute for tamarind.
This will provide the sweet and sour effect, but it will lack the added flavor provided by tamarind.
It all depends on how much tamarind is used in the recipe, and we recommend using a small amount.
Tamarind paste has a long shelf life, which means it can be purchased for years before it ever needs to be used.
Use the recipe below to stretch the flavor and use tamarind paste in more than just traditional recipes.
Tamarind Paste Recipe
How to Prepare Tamarind Paste
If you still want the original tamarind flavors, you can make this paste at home yourself. However, you will need to locate a block of tamarind pulp from which to make the paste.
These blocks normally come with seeds, but if you can find one without them, it's a far better option because it requires less work.
Here's how to proceed if you've discovered this essential ingredient.
Firstly, combine one-fourth cup warm water and one tablespoon seedless tamarind pulp in a mixing bowl.
If you have the seeded block, mix one and a half tablespoons of pulp with the same amount of water.
Then, allow the pulp to soften in the water for a few minutes.
To rub the pulp and make the paste, you'll need to use your hands. If it has seeds, make sure to rub all of the pulp off of them.
After that, strain the mixture to obtain pure tamarind puree after properly mixing it.
Finally, use it as directed in the recipe you're working on.
Tamarind Paste Storage
Freshly made tamarind paste can be kept in the refrigerator for a few days. It's the most effective technique to achieve the authentic flavors you're seeking in a recipe.
If you can't find it or make it, you can try the aforementioned substitutions as variants in each dish and discover which one appeals to your palate.
Hopefully, you'll be able to replicate the flavor as closely as possible to the original recipe. Best of luck!
Note:
It's vital not to force the tamarind through the sieve while producing tamarind paste at home, or the muck and stones will wind up in the finished paste.
Where to buy Tamarind Paste near me in my neighborhood?
Tamarind paste can occasionally be found in the foreign area of your local supermarket.
Start by looking through the Asian and Indian categories. If you can't locate it, try a specialist store or market that specializes in Asian or Indian food.
Finally, if you can't get tamarind paste but have access to tamarind pulp or the whole fruit, you can make it yourself.
A Recap on Best Tamarind Paste Substitutes
It's difficult to find an exact alternative for tamarind paste because it has a distinct flavor that's both sweet and tart at the same time.
Tamarind paste has a distinct flavor profile, but it doesn't rule out the possibility of replicating it.
There are a variety of replacements to choose from, and you may even make your own from scratch.
Use your creativity to identify sweet and sour ingredients to bring out the best in each dish when cooking Asian food.
If it doesn't work out, there's still Amazon and other internet vendors.