How To Cut Watermelon 10 Ways: Watermelon Cutting Design
How To Cut Watermelon 10 Ways: Watermelon Cutting Design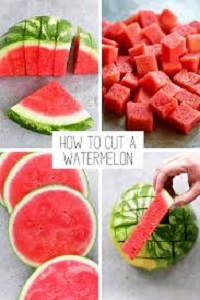 Learn how to slice and serve the fruit of heat season.
Watermelon cutting hack/Ideas
How to cut watermelon like a pro – step by step
Easiest/Best way to cut a watermelon for a party
Don't Miss >>>
It appears like everyone is experiencing a heatwave this week, so, I figured I'd provide a quick tutorial on how best to cut a watermelon…most summer's refreshing fruit.
I mean, no matter what time of year it is, we all enjoy a delicious watermelon (especially in the summer).
Choosing a watermelon as a snack is not only tasty but also refreshing, as it contains 90% water. It's also high in Vitamins C and A, as well as potassium.
In our house, watermelon is a summer staple. Nothing beats a refreshing piece of watermelon. It's quite juicy, and our entire family enjoys it.
How To Cut Watermelon
Years ago, I would be hesitant to buy a whole watermelon because I didn't know how to cut it properly, so I would either look for it pre-cut or avoid it altogether. Not anymore!
The advantages of knowing Watermelon Cutting Techniques
Although pre-cut watermelon is widely accessible in many supermarket stores these days, buying one whole and chopping it yourself is more beneficial.
For starters, since watermelon begins to soften and release juice once diced, it's best to do it yourself so that it will be fresher and have a nicer texture.
You may also cut it to any size and shape you choose. Wedges? Cubes? Balls? Fun Shapes? Just name it.
How To Choose a Good Watermelon?
When looking for the perfect watermelon, look for a large yellow spot that signals it is ripe. If at all possible, choose a watermelon that is not misshaped or bruised.
Although some people believe that tapping a watermelon to see whether it is ripe is a good way to tell if it is, this is FALSE, and you should not do so.
Since, watermelon is linked to cucumbers, pumpkins, and squash, it is considered a vegetable.
What are the best methods for cutting and storing watermelon?
For Large Pieces of Cut Watermelon
Regardless of the size of the cut end of the melon, it's best to wrap it in plastic wrap and store it in the refrigerator for up to a week.
Watermelon Cutting Design
I hope that by following this step-by-step instruction, you will be able to cut watermelon as easily as I did so that you can enjoy it better. Plus, learn how to carve a beautiful watermelon in a fun way for your summer activities.
Watermelon Top Cutting Tips 
Sharp knives make cutting easier while also lowering the risk of injury.
Cutting into a huge watermelon with a robust bread knife with a serrated edge can be easier.
Cut melons with a runnel on a clean chopping board to get all the juices.
Use your pumpkin carving tools to carve beautiful shapes into the rind or flesh of the pumpkin.
What is the Best Way to Cut a Watermelon?
Watermelon can be chopped in a variety of ways. Here are ten various methods to accomplish it, ranging from sophisticated to basic and everything in between.
How to Cut a Watermelon into Sticks
End-to-end, cut the watermelon in half. Place a half of a watermelon cut-side down on a cutting board and cut one-inch-wide slices lengthwise.
Then cut 1-inch-wide crosswise pieces. Reverse the process with the other half.
How to Cut a Watermelon into Round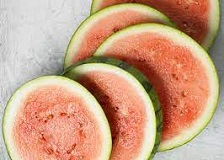 Cut the watermelon into 1-inch rounds crosswise. These watermelon pizzas are the most photogenic because they're topped with fruit and yogurt. For easier consumption, plain rounds can be cut into triangles with the rind attached, or the meat can be chopped into strips.
How to Cut a Watermelon into Triangles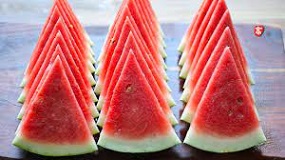 Using a knife, cut the watermelon into rounds (see above). For grab-and-go dining, stack three or four rounds and slice into small triangles.
How to Cut a Watermelon into Stars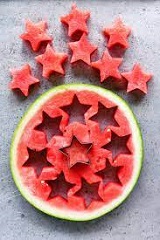 Remove any residual rind from the watermelon, leaving only the edible section. Watermelon should be cut into 1/2 to 1-inch slices.
With the cookie cutter, make stars: Separate the slices. Cut the watermelon slices into stars with a cookie cutter.
How to Cut a Watermelon into Stacks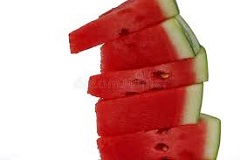 Watermelon should be cut into 2-inch-wide rounds. Cut circles with a round cookie cutter, biscuit cutter, or ring mold.
How to Cut a Watermelon into Wedges 
To get the classic photo of happy youngsters munching into huge watermelon wedges, do it this way.
Watermelon should be cut in half lengthwise. To produce quarters, cut each half lengthwise again. Cut the watermelon into slices crosswise.
How to Cut a Watermelon into Balls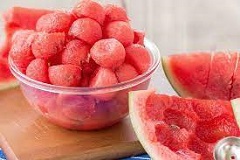 Cut the watermelon in half lengthwise or crosswise. Scoop out the meat with a melon baller.
How to Cut a Watermelon into Cubes 
Split the rind off the watermelon and cut it in half crosswise. Peeled half should be cut into 1-inch or bigger slices.
Stack two or three slices and cut them into strips, then cut them into cubes by cutting across the strips.
To construct the best-looking cubes, make all of your cuts the same width. Use the cubes in traditional watermelon salads or skewer them for this Watermelon Salad on a Stick.
Cubes of watermelon
How to Make a Watermelon Boat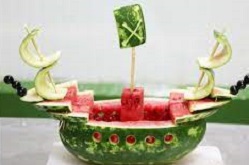 Use a watermelon with a thick rind for the best results. To cut the watermelon in half crosswise or lengthwise, draw a line around the outside of the melon and use it as a cutting guide.
Optional: Make a zig-zag cut with a small, sharp knife. Remove the flesh and set it aside. Turn each half over and slice a little piece off the bottom to provide a flat surface on which to place the bowl.
Make careful you don't cut too much or you'll cut into the bowl's hollow. You can now serve watermelon salad or watermelon soup with it.
You can now serve watermelon salad or watermelon soup with it.
How to Make a Watermelon Basket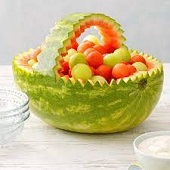 This watermelon fruit bowl is a fancier version of the traditional watermelon boat.
As you'll see in this step-by-step example from West of the Loop, it's actually easier to make than it appears.
The Bottom Line
This summer fruit is crisp, cool, and refreshing, making it ideal for salads.