Watermelon Juice Benefits for Hair, Skin, & Health | Side Effects
Watermelon Juice Benefits – many people think that watermelon juice is just simple sweet flavoring water, but this delicious fruit offers a lot that can help you in terms of health benefits.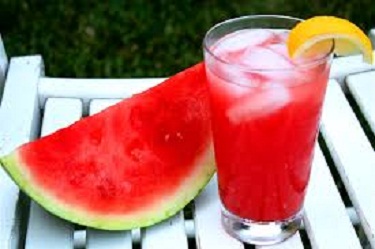 Best Watermelon Juice Benefits | what is Watermelon Juice?
As the name suggests, watermelon juice is extracted from watermelon fruit – a member of the watermelon family with the scientific name Citrullus lanatus var. Lanatus that grows on a creeping vine.
Related >>> Amazing Health Benefits of Watermelon We Should Know
This juice is very tasty and can be prepared in different ways, subject to the other ingredients you can add to change the taste.
Watermelon Juice Benefits | How Healthy Are Watermelons?
This juice has many remarkable nutrients and can be an excellent addition to a healthy diet
It has many remarkable properties and can be a great addition to a healthy diet
Watermelon juice contains traces of protein, as well as vitamins A and C, and minerals such as potassium and magnesium. Both help to quickly regain aging muscles and fatigue
Who can keep away from a slice of watermelon to beat the scorching heat on a hot day?
Even after exercising in the gym, a glass of watermelon juice will help restore fluid levels and sore muscles.
For many people, it is free of guilt way to enjoy dessert because watermelon has low calories.
Watermelon Juice Benefits | What Are the Nutritional Benefits of Watermelon Juice?
The benefits of a healthy diet of watermelon include:
It is rich in B vitamins, especially B6, B1, magnesium, and potassium. These nutrients are useful for the body to convert calories into energy.
Watermelon is a wonderful tropical fruit, very rich source of carbohydrates, vitamins (A&C), potassium with has no amount of fat and calories.
It is considered the best fruit to beat the scorching heat. The good news is that it can be planted all seasons in the tropics
Watermelon has a neutral taste due to its 95% water composition. It tastes a bit sweet though. It is high in water and electrolytes and is rich in fiber content which makes it perfect as a weight loss fruit.
Besides, watermelon juice is a natural skin that whitens the skin
What are the benefits of drinking watermelon juice? |10 health benefits
One of the best benefits of watermelon juice is to prevent the symptoms of aging.
The presence of Lycopene in it also helps with the skin as antioxidants tend to lower free radicals in the body and slow down the process of proper aging,
Lycopene also improves vision by preventing macular degeneration and reduces eye strain/cataracts.
Top 10 Benefits of Watermelon Juice:
Keeps the Heart Healthy
Proper for Weight Loss | It detoxifies the body
Stress Fruit
Anti-Aging Agent
Immediate Source of Energy
Cleanses the kidneys
Treats Skin Problems | Skincare
Natural Moisturizer
Treats Osteoarthritis Disease
Maintains Blood Pressure
Healthy watermelon juice recipes
You can make all kinds of recipes with watermelon: You can put chopped watermelon and other ice cubes in a blender for a cold-pressed juice on a hot day.
Watermelon Juice Variations:
Firstly, watermelon juice combined with lemon, cucumber, or milk
Secondly, healthy juice drinks
Thirdly, watermelon juice cocktail
Healthy juice for babies
lastly, you can spike up a salad with chunks of watermelon and mint.
If you are going to make watermelon juice, scrub the outside of the watermelon with a brush and apple cider vinegar to get rid of any sprays or waxes.
Watermelon Juice Benefits | One Potential Side Effect
Think two times before consuming a gallon of the juice. Sure, it contains amply of nutrition, but its side effect is the sugar content.
Moreover, excessive consumption of watermelon juice can cause some risks, including heart and vascular complications, among others.
Allergies: Some people are allergic to watermelon, though this is rare, and is often associated with gastrointestinal depression, nausea, or vomiting.
Bottom Line
Above all, always drink this juice in moderation, no matter your allergy position.