Best Homemade Guava Ice Cream Recipe in Nigeria
Ice creams may be the perfect treat or family pack for infants. Guava Ice Cream can simply be described as Guava-flavored ice cream.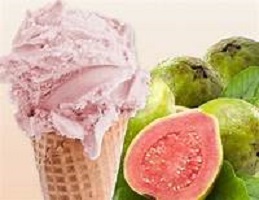 When you lick this ice cream, you get the thrill from not only the guava but also from the spicy flavor at the top combined with the sweetness of the cream and sugar (optional).
Related >>> How to make Homemade  Ice Cream – 7 Easy Steps
This article serves as a treat for my loyal fans, who have been engaging with my blog online, burning data, and coming back to my blog daily, am more than grateful and I promised never to let you guys down.
Guava Ice Cream – Types of Guava in Nigeria
Typically we have two types of guava here, one with less seed variety whiter pulp, and the other one is the pink guava with deep pink juicy pulp and more seeds.
I prefer the pink guava, even though I love both, as I love its flavor and color. I tried guava juice with pink guava as well, and it was super fine. In this hot Nigerian climate, it was always a nice treat.
The Best Homemade Guava Ice Cream Recipe
This recipe is prepared with only 3 main ingredients at home with gadgets available.
It's great to have smooth, flavorful, and delicious ice cream with pink guava nearby.
Ingredients
Serving: 8
5-6 Pink guava (The challenge is to get the guava ripened to the right stage for a great taste)
150ml condensed milk
1 cup of whipping cream
Instructions
Firstly, cut up your guavas and set them aside.
Secondly, mix together your condensed milk and guavas.
Thirdly, whip up your heavy cream in another bowl, and then, allow cooling for about 10 minutes.
After that, take your guava puree and whipped cream and start by slowly and gently fold your whipped cream into the guava puree.
Now, cover it with a lid when you've finished and allow sitting in the freezer if possible overnight. If you are in a rush, 4-5 hours would be fine also.
Lastly, Scoop and enjoy! Serve with more whipped cream or some guavas and you are good to go!
 Cooking/Recipe Notes
You can peel off the skin if you like. Make sure you take out all the seeds, else you won't achieve a smooth texture.
Sugar (optional) can be modified to suit your taste.
Topping with chili powder and salt is another choice. The mix gives a feeling of raw guavas earring topped with salt and chili powder!
To freeze your ice cream so that scooping is fast, use a large package. Keep aside for 5 minutes outside and dip your ice cream scooper in warm water before scooping, if it is too hard to scoop.