African Salad: How to Make (Abacha and Ugba / ukpaka)
African Salad: How to Make (Abacha and Ugba / ukpaka). Please watch (How to Prepare NCHA) >>>>
My mum came to visit with dried shredded cassava and all the ingredients used in preparing African salad (English name) commonly called Abacha.
The sight of Abacha takes me back on memory lane, stunning scenes of nature, clean air, hospitable men and women, and quiet existence – all these things come to my mind when I think of my village where the dried shredded cassava is produced.
There is something divine and mysterious surrounding the village that is charming. Am I alone in here? Or haven't you noticed?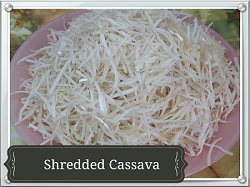 African Salad – How to Make Abacha Cassava
Abacha also called tapioca is made from cassava tubers (yuca in Spanish). The cassava tuber is peeled, boiled, shredded/grated,
The sliced cassava is thoroughly immersed in cold water overnight, washed very well, and dried beneath the sun.
From where I come from (Anambra State), Abacha is made with 'Ncha', a sauce made by mixing palm oil and Ngu (Palm Fruit head/bunch burnt into ashes).
Hence the real name is "Abacha Ncha. Potash is commonly used as a substitute for Ngu these days as it is difficult to find.
Please Read: West African Cabbage Salad Recipe: Keto Low Carb Diet
Nigerians especially the Igbos are known for their traditional culture.
An aspect of this culture is to showcase the type of food and appetizer they eat and serve on occasions or feasts.
Abacha food is one such food/appetizer.
How to Prepare African Salad
There are lots of methods for preparing Abacha. Nevertheless, whichever method you opt to use, the Abacha food will still come out tasty.
If you are excited to cook this dish as I am, get ready, and let's start!
Abacha Salad Recipe (With Potash)
Abacha
Ugba (Ukpaka)
Palm oil
Powdered Potash
Dry/roasted/fried fish
Onion, chopped
Salt and dry pepper
Ground crayfish
Stock cubes
Ehu seeds (calabash nutmeg)
Optional African Salad Ingredients
Ogiri / Iru
Ponmo, cooked and sliced
Garden Eggs, diced
Garden Egg leaves/Utazi leaves/spinach leaves finely chopped
1 medium onion (for serving), sliced
Onion rings to garnish the prepared Abacha.
Preparation
Firstly, cut the fresh fish and fry it.
Secondly, dissolve the akanwu (potash) in little water and sieve to remove particles, set aside
Thirdly, rinse the Ugba in lukewarm water and set aside.
Then, soak the Abacha in water for 30 minutes and subsequently drain out the water.
After that, slice one onion into rings, and chop the other onion bulb.
Lastly, grind some pepper.
Making the West African Salad
Firstly, warm the palm oil and allow it to cool before pouring it into a bowl or pot.
Secondly, gradually add the potash mixture to the palm oil, mix very well, you will notice that the palm oil will begin to thicken and turn yellowish.
Then, add the crayfish, chopped onions, ground pepper, ground ehuru (calabash nutmeg), ogiri, and seasoning cube and mix very well
After that, add the Ugba (ukpaka), cut garden eggs, and mix well
Carefully, add the drained Abacha and salt to taste. Please note that it is important to add salt last because our Abacha may or may not need salt. Mix thoroughly.
Finally, add the shredded garden egg leaves, and mix thoroughly.
African salad dressing is done with onion rings and fried fresh fish.
How to Make African Salad without Potash or Akawu At Home
While schooling at Enugu state, I learned how to prepare an Enugu African salad without potash.
Ingredients
Dried /fresh Abacha (4 to 5 hand full)
Ugba food packed with health benefits – 1 milk cup
Maggi cube – 2 cubes
Palm oil – 15 cl (1 milk cup)
Salt and fried pepper to taste
Garden egg leaves – 200 g
Crayfish – 100 g
Garden eggs for African salad dressing (big or small)
Fresh fish preferably mackerel (fried) – 400 g
Onions – 200 g (2 medium bulbs)
Kpomo or Kanda (cow skin) – 200 g
Opkeyi (Locust beans-optional)
Stockfish (optional)
Ehu 3 seeds (optional)
Method
Firstly, wash the fish and kpomo into a clean pot, and season lightly with salt, Maggi cube, and onions.
Secondly, cook for about 10 to 15 minutes. Remove fish and deep fry.
Thirdly, soak the dried Abacha in boiled water and sieve immediately to avoid being too soft. Then keep it aside. Skip if you are using fresh Abacha.
Next, slice your onions, and garden egg leaves and blend your crayfish, then set aside.
In a pot or mortar add about 10 cl of red oil and then, add the blended crayfish, pepper, ground ehu, and ugba to the mixture and stir.
After that, add salt, Maggi cube, sliced kpomo, and Opkeyi
Then add Abacha and stir very well to incorporate all the ingredients. Put shredded garden egg leaves and onions into the mixture and stir very well
Finally, garnish with sliced garden egg seed (if using big seed), and fried fish
Serve your African salad warm or cold with palm wine as an appetizer or main dish
Questions People Tend To Ask:
History of African Salad
African Salad is a delicacy that got its origin in Nigeria, among the Igbos in the eastern part of Nigeria.
The dish is not cooked, which makes it as nutritious as a salad but you have to apply caution when consuming it because of the calorie content.
Is African Salad Fattening/Good For Weight Loss/ Is Abacha Healthy?
The 'Abacha food' is a dish made with a lot of ingredients all of which contain about….
340 calories! Just that small Abacha food serving! That's right.  I am not saying you cannot eat it, but eat with caution. Apply wisdom!
Where to Buy Abacha in Lagos?
You can order Abacha food near me through online delivery at the following places:
Natives Restaurant & Patio, Bukka Hut, Jevinik, Nwanyi Nnewi Restaurant, and L'afric Restaurant and Bar to mention but a few.
What is African salad made of?
Abacha is a dish from Eastern Nigeria made with dried, shredded cassava. It can be eaten as a snack or as a full meal.
There are numerous ways to make this salad, but the more ingredients you use, the tastier the dish.
What does the term "African salad" mean?
African salad (Abacha food) is a delectable West African dish native to the Igbo people (people of Igbo).
I can make this delicacy in 15 minutes with just cassava flakes, palm oil, crayfish, ugba, and a few other spices.
What effect does African salad have on the body?
Improves bowel movement and reduces constipation.
Aids in the treatment of diseases such as heart disease, cancer, and blindness, as well as improving vision
Abacha is typically served with animal protein, such as fish, chicken, or kpomo, which is beneficial to the body.
What is Abacha made of?
The ingredient (Abacha) is made from cassava. Cassava tubers are cooked until tender before being sliced with a special grater.
The sliced cassava is then soaked in cold water overnight, thoroughly washed, and sun-dried.
Is African salad good for losing weight?
Health benefits of Abacha
Because it is high in potassium, it is beneficial to the heart and fights diseases of the body's cells.
Abacha can also aid in weight loss.
What is the most famous African dish?
15 of Africa's favorite dishes
Pap en vleis/Shisa nyama, South Africa. Feast your eyes on these succulent steaks
Namibian venison, Namibia
Muamba de Galinha, Angola
Piri piri chicken, Mozambique
Jollof rice and egusi soup, Nigeria.
Bunny chow, South Africa.
Kapenta with sadza, Zimbabwe.
Chambo with nsima, Malawi.
Is African salad healthy for diabetics?
Abacha's vegetative content contains antioxidants that are required to fight free radicals that can accumulate in the body and cause diseases such as type II diabetes, heart disease, and even cancer.
Is it safe for a pregnant woman to consume African salad?
"Abacha is healthy and safe for everyone, including pregnant women," Charity Amos said.
It can be eaten as a snack or as a full meal. Whatever way you prefer to eat it, warm or cold, it will be delicious.