Shakshuka Recipe with Feta-Rich Egg Dish That Satisfies
Shakshuka recipe is composed of ingredients you regularly have on hand at home. It is truly a perfect dish. Not only is it easy to make, totally flexible, both comforting and exciting to eat but also healthy and inexpensive.
Please Read: Falafel|Nigerian Falafel Recipe|How to Make Falafel
As long as you like eggs and tomatoes, you'll love this one-pan delicacy. There are many versions to make this recipe like the shakshuka recipe nyt,  Moroccan version, with smitten kitten, Israeli recipe, ottolenghi version, jamie oliver version, Melissa Clark version to mention but a few.
Read Also: Nigerian Chicken Tortilla Recipe: Crockpot, Slow Cooker Or Stovetop! 
Therefore, choose the version or ingredients that appeal to you since the recipe is very flexible.
What Is Shakshuka?
Shakshuka (also spelled shakshouka), is a delicious combination of eggs, tomatoes, and spices to create the perfect meal for any season and time of day.
shakshuka recipe with meat is mostly associated with the Middle East and Israel in particular, where it was made known by Jewish immigrants from Tunisia, Morocco, Algeria, and Libya.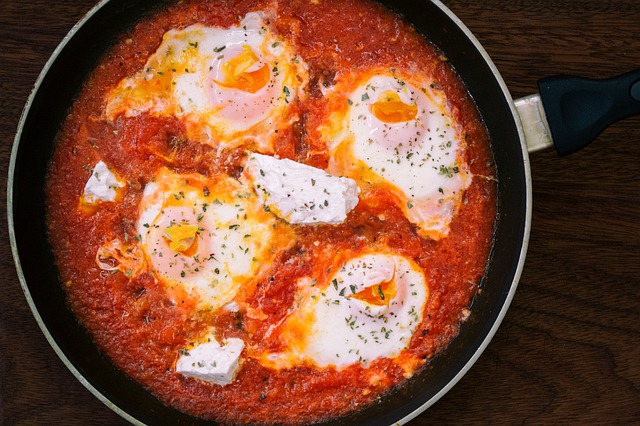 What Do You Serve With this recipe?
Once you are done with baked egg in tomato sauce, simply add pita, or slices of any rustic crusty bread for sopping up the sauce. You will be perfectly satisfied, and convinced to come back for more shakshuka eggs.
Origin of Shakshuka Recipe
The recipe comes in several shapes and sizes. The spicy dish is likely of Tunisian or Yemini origin. The name is believed to originate from either Arabic or Amazigh (Berber) meaning "mixture." Shakshuka recipe for one is very easy to make.
In Nigeria, the word shakshuka sounds like the popular shaku shaku dance. So, whenever I mention the dish, people often gazed at me … as if I have sneezed, or something.
In addition, if you are not familiar with this delicious, easy and healthy Israeli breakfast dish, it will be a pleasure to introduce the concept to you!
Easy Shakshuka Recipe with Feta
Fundamentally, to make shakshuka original recipe you, first of all, make a thick tomato sauce and crack some eggs in it. However,there are lots of ways to shake up your best shakshuka recipe.
You can change the traditional shakshuka recipe by adding almost anything that appeal to you, like more vegetables, shakshuka with potatoes, shakshuka eggplant, spinach, peppers, and other ingredients of choice.
Shakshuka Ingredients
3 tablespoons olive oil
A medium onion, diced
1 red bell pepper, seeded and diced
4 garlic cloves, finely chopped
2 tsp. paprika
cumin
¼ tsp. chili powder
1 (28-ounce) can whole peeled tomatoes
6 large eggs
Salt and pepper, to taste
Small bunch fresh cilantro, chopped
1 small bunch fresh parsley, chopped
½ cup crumbled feta
INSTRUCTIONS
First, preheat the oven to 375°F. Warm the oil in a large cast iron skillet over medium heat. Once shimmering, add the onion, bell pepper, and salt.
Secondly, cook for 4 to 6 minutes stirring often, until the onions are tender and translucent.
Then, add the garlic, tomato paste, cumin, paprika, and red pepper flakes. Cook and stir continuously until fragrant, for about a minute cast to achieve shakshuka spice blend.
Carefully, pour in the crushed tomatoes with their juices and add the cilantro. Stir, and let the mixture come to a simmer. Lower the heat and cook for 5 minutes.
After that, turn off the heat and adjust the seasonings as necessary. Make a hole at the center and crack the eggs directly into it.
Gradually spoon a bit of the tomato mixture over the whites to help cover the eggs. Sprinkle a little salt and pepper over the eggs.
Next, transfer the skillet to the oven and bake for 8 to 12 minutes. They are ready when the egg whites are an opaque white and the yolks have risen a bit but are still soft.
Move the hot skillet to a heat-safe surface. Top with the crumbled feta, fresh cilantro leaves, and more red pepper flakes, if preferred.
Finally, serve your homemade dish with crusty bread on the side.