Ofam (Spicy Plantain Cake) Ghanaian Recipe
Ofam, a peppery Ghanaian dish composed of ripe plantains, ginger, and pepper, is spicy food. It is quite popular among Ghana's Akan tribes.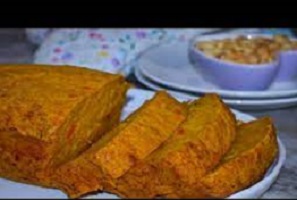 Do you want to test some new recipes with your friends and family while you're on holiday?
So, here's a recipe for you to try! Serve Ofam, savory plantain cake to your family for a tasty and spicy lunch.
It's similar to Nigerian Ukpo Ogede made with overripe plantain
Related >>> Ukpo Ogede (Plantain Moi Moi): Nigerian Plantain Pudding
Ofam food is a Ghanaian cake flavored with spices and palm oil and created from overripe plantains. It can be served as a dessert, the main course, a side dish, or a snack at any time.
Ofam Recipe
It is also simple to cook and does not necessitate a lot of effort. The ingredients and steps to make this excellent dish are listed below.
Ingredient
6 fingers of very ripe (almost turning black) plantain
Ginger
2 bulbs of onion
4 cloves (optional)
Half a cup of plain flour
4 tsp chili powder/ scotch bonnet pepper
Salt to taste
1 tsp of nutmeg (Optional)
1tsp of baking powder
A small cup of coconut oil (or any oil of your choice)
A loaf tin
Instruction
Firstly, in a shallow mortar, pound the pepper, onion, cloves, nutmeg, and ginger (used for blending palm fruits).
Then, peel and cut the ripe plantain into little pieces.
Thirdly, add the plantain to the mortar paste and mash until all of the ingredients are combined into a homogeneous paste.
After that. preheat the oven to 200 degrees Fahrenheit and oil the loaf pan (any oil of your choice).
To the paste in the mortar, add flour, a small cup of oil, a teaspoon of baking powder, and a pinch of salt. Then, using a ladle, whisk until all of the ingredients are thoroughly combined.
Now, fill the loaf pan halfway with the paste and bake for 20 minutes.
Remove the loaf pan from the oven and test the Ofam with a skewer to see if it is fully cooked. If the skewer comes out clean, the Ofam is done cooking and ready to eat.
Finally, using a clean cloth, carefully remove the loaf pan from the oven and transfer the contents to a clean dish.
Serve with chilled water and cut into pieces.