Ukpo Ogede (Plantain Moi Moi): Nigerian Plantain Pudding
Ukpo Ogede (Plantain Moi Moi) is another delicious Nigerian plantain recipe prepared with overripe plantains. It is a great substitute for the popular and classic Nigerian Moi Moi.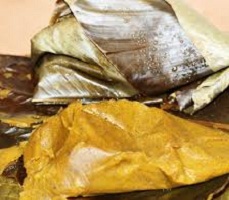 It is quick and easy to make. Ukpo ogede is soft, sweet, and savory all at the same time and needs the heat of chili to balance the sweetness of the plantain.
Especially for You >>> Moi Moi: How to Make Nigerian Moi Moi
As long as your plantain is overripe and not rotten, you can make yourself this lovely plantain pudding also known as ukwaka, epiti or ukpo ogede.
Usually, plantain flour or cornmeal is added to the overripe plantain to give it more body or firmness and cut down the sweetness.
You can also add unripe plantain, it will taste good but the pudding will be a very deep brown color.
If you love eating Nigerian moi moi, then this steamed plantain pudding is another great recipe for you to try out in your kitchen.
Ukpo Ogede Recipe
It is a great way to use up overripe plantains instead of throwing them away.
Therefore, stop throwing away those overripe plantains and enjoy this delicious plantain moi moi.
Ingredients
5 overripe plantain
Palm oil or fresh palm nut juice
Pepper
3 cups plantain flour
Crayfish (optional)
Seasoning cubes (optional)
Salt
Plantain/banana leaves or uma leafs
Small bowl/tins or even aluminum foil in the absence of leafs
Method
Firstly, prepare small bowls by oiling them, make aluminum foil envelopes, or wash the leaves. Put aside.
Secondly, wash, peel, and cut plantains into chunks.
Thirdly, place plantain, onions, crayfish, pepper, cornmeal, and water in a blender. Grind until smooth.
Then, pour the batter into a bowl, add salt and palm oil. Mix well and adjust for seasoning.
Once the batter is ready, ladle it into prepared bowl, aluminum foil envelopes, or any of the leaves gently folding it into a cone and sealing off base and top.
Now 'water bath' them and steam for about 45 minutes or till the puddings are firm and then allow cooling.
Lastly, serve your delicious Plantain Moi Moi with custard, oatmeal, or akamu. It can also be eaten as a snack with a chilled drink.