Moi Moi: How to Make Nigerian Moi Moi
Moi Moi or Moin-Moin is a Nigerian favorite steamed bean pudding. It is a protein-rich food that is a staple in Nigeria and native to the Yoruba's.
Nigerian moi moi is usually eaten alone as a meal, but most times it is served with other Nigerian foods.
These foods include: Jollof rice, fried rice, boiled white rice, Pap (Ogi or Akamu), plantain, garri, bread and a lot more.
Moi Moi Translation
Moi moi sounds like a French word right? Anyway, Moi is humorously referring to you. Moi is the French word for 'me'.
I don't know the English name of moi moi or what it means. Do you know? Please let me know in the comment section.
Moin Moin Nigerian food is beyond delicious and can be cooked in various ways using:
Bowls
Moi Moi pouch/ plates/Bags
Containers
cups
Aluminum Foil Bags
Moi moi wraps – Uma/Banana/plantain leaves
Nylons
Uma Leaves (Thaumatococcus daniellii) – Traditionally moimoi is wrapped in leaves which is not only healthy but also adds a distinct flavor to the meal.
Please Note:
If you live in America or outside Nigeria with no access to Uma leaves. Baking dishes are also a good alternative when making moi moi.
Just choose the shape you want, and then cover with aluminum foil after pouring the batter in and place in water to steam.
Moin Moin Beans Variations
Beans (Brown/Black-eyed /Red beans or Lima beans): You can replace Nigerian brown beans (oloyin) with any of the beans mentioned above. It all depends on availability and choice.
How Do You Peel Beans For Moi Moi?
To prepare, moin moin food or Bean cake which is also known as Akara, Bean Balls, or  Bean Fritas from scratch, you must firstly, peel or dehull the beans.
This is one of the cooking tasks that dampen one's spirit especially if you are using the traditional method.
The traditional method of peeling beans is done by firstly, soaking the beans in water for about 30 minutes to a few hours.
Then, you wash the beans in between your palms to peel off the coat.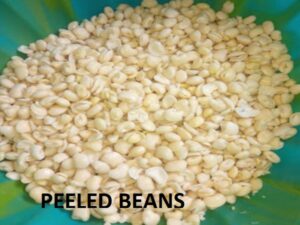 For more information, please read: How to Peel Beans with Hands
But, here's an easier method, am sure you'll like – making moi moi with a blender.
How to Make Moi Moi with Blender
You'll need:
Beans
Blender
Sieve/colander
Water
Method
Firstly soak the beans in water for about 5 minutes.
Secondly, put the beans inside the blender with enough water.
After that, blend for 10 seconds, stop and then repeat at intervals to evade blending the beans. Do this for like 5 minutes.
Finally, sieve by pouring some water into the bowl with the peeled beans.
You can now use the peeled beans, for Moi moi, Akara or any other recipe that calls for peeled beans like Gbegiri, a Yoruba soup
How to Preserve Peeled Beans for MoiMoi
Two methods are involved:
Freezing
Firstly, package them in some Ziploc bags and freeze.
Then, make sure to pack the beans into individual usable sizes, so that you only defrost what you need at a time.
In case, you want to defrost the frozen beans, simply place it in a large bowl of warm water until defrosted. Use like freshly peeled beans.
Sun Drying
Sun drying is easy in Nigeria because we are blessed with good weather.
Simply Sun-dry peeled beans especially in the dry season and then blend.
You can do this either in a blender, or a grain mill. While the two works, the grain mill makes your flour finer and smoother.
After that, sift the flour, and transfer to a bucket with a tight lid and store
That's it! Your beans flour is ready
Best Nigerian Moi Moi Recipe
The key to making great moin moin is first removing the skins from the raw, soaked beans. This step ensures a smooth final product.
Here is a simple recipe on how to make this meal
Ingredients
700 g Beans (1 big derica tin)
1 Tatashe (red bell pepper)
One Atarodo (scotch bonnet pepper)
2 cooking spoonful of vegetable oil
1 tablespoon of tomato puree (optional)
4 tablespoons of ground crayfish
2 large onions
Eggs or corned beef or smoked fish (any garnish of your choice)
3 stock cubes for seasoning (Maggi/Knorr cubes)
Water (as needed)
Directions (Before you cook the Moin-Moin)
Wash the beans
Choose your desired garnish.
If you chose eggs, boil the eggs and remove the shells.
Slice the boiled eggs into small pieces and set aside.
Now wash your Uma leaves and set aside.
Wash and remove the tatashe seed.
Cut the onions into pieces.
Set the ground crayfish and stock cubes aside.
Wash the scotch bonnet peppers and set aside.
Directions (To prepare the Moin-Moin)
Firstly, blend the beans, tatashe or tomato puree, onions, crayfish, habanero pepper together with some of the water and pour the puree into a big enough bowl.
Now add the vegetable oil.
After that, slowly add the remaining water and stir until you get a good mix of all the ingredients. Then, add salt to taste.
Fourthly and most importantly, fold the Uma leaves into a cone shape.
Lastly, dish the flavored beans puree into the Uma leaves, add egg and set them in the pot.
Cook your Moin-Moin for at least one hour, before checking it. Use a knife or toothpick, if it comes out clean then, it's done.
Enjoy your meal!
Variations of Making Moi Moi
You can own this recipe by making it your own with the following ingredients:
Plantain
Corn flour
Palm oil
Raw eggs
Vegan
Baking Instead Of Steaming Moin Moin
Most Nigerians agree that steaming produces the best and tender moin moin, but you can oven bake it in a pinch.
Oven baking is faster and easier to do when you're making a big batch.
Reduce the amount of oil in both methods and your healthy moin moin will be perfect for weight loss.
Questions People Ask
Why Is My MoiMoi Too Soft or Mushy?
If the water content in the moin moin is in excess, it will not bind together when you cook it, hence, your moin moin will turn out mushy or too soft.
Moderation is key. Be mindful of how you pour in your water so that it won't be too much.