Chicken Shawarma Recipe – Nigerian Shawarma Homemade
Chicken Shawarma Recipe – Nigerian Shawarma Homemade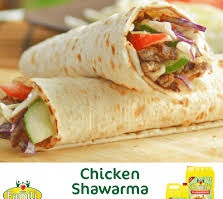 If you're looking for a chicken Shawarma recipe, you've come to the right place.
because this recipe post will walk you through the process of making Nigerian Chicken Shawarma from start to finish.
Let's get started right away…
What is Shawarma? Chicken Shawarma Recipe
Shawarma is a traditional Middle Eastern dish. It's created with roasted meat (lamb, chicken, turkey, or veal) thinly sliced and wrapped in flatbread. It resembles Gyro in appearance yet varies in so many ways.
Related >>>
A Little Historical Background
Shawarma is a 19th-century dish from the Ottoman Empire, which is now Turkey.
Because the meat can be flipped around in the oven, they name it çevirme, which means "turning," although the Arabs changed the recipe from the Turkish Doner kebab.
It was later transferred to Greece, where it influenced the popular Greek dish gyro, which is often cooked with pork or chicken.
Shawarma is also known by the names chawarma, shwarma, shawerma, and shoarmais. In fast food places, it's usually served as a wrap.
Health Benefits of Eating Shawarma
Protein, vitamin A, vitamin C, calcium, salt, and potassium are all rich in shawarma.
It's a healthy meal that can be substituted for bread. Simply serve it with a salad and a cucumber dressing.
The meat satisfies your need without causing you to gain weight.
Nigerian Shawarma is the" Nigerian version' of the famed shawarma (Which can be made with beef, fish, or chicken filling). And each shawarma has its unique taste.
This tasty snack has become a popular meal on the streets of Nigeria and is also one of the most requested recipes I have received.
Chicken Shawarma Recipe
Shawarma is popular in African countries like South Africa, Nigeria, and Ghana. However, the African version adds some flare to the traditional middle eastern Shawarma.
It is created using easy to get sweet, savory, and tangy spices which all come together to create highly seasoned marinated slices of chicken.
This Chicken Shawarma is full of vibrant, delectable flavors and contrasting textures, and it comes together in about 30 minutes!
For a low-carb option, serve them in pita wraps, tortilla wraps, or lettuce cups.
Nigeria Homemade Shawarma Recipe ~ How to Make Nigerian Chicken Shawarma at home
Nigeria's homemade shawarma is just as amazing as what you can get in eateries. It began in the Middle East and has now extended throughout Nigeria.
Shawarma sauce is commonly served in Nigeria with mayonnaise and ketchup, along with a pinch of cayenne pepper.
It only takes about 30 minutes to prepare!
Nigerian Shawarma Recipes
Because learning how to make shawarma can be difficult, this recipe is very well detailed so that anyone can come up with a way and pick up ingredients that they can apply and share.
Pita bread (shawarma bread)
Cabbage
Carrots
Cucumber
Chicken breast
Hot dog
Onions
Cayenne pepper
Curry
Ketchup
Vegetable oil
Mayonnaise
Salt and chili pepper (to taste)
Chicken Shawarma Recipe ~ How to Make Chicken Shawarma in Nigeria
1. Firstly, chop the chicken into pieces and season with curry to taste, then add 2 tablespoons of vegetable oil to a pan over low heat. After that, the cayenne pepper, hot dog, and onion are then added.
2. Secondly, the carrots should be grated, the cabbage and cucumber should be chopped, and the cayenne pepper should be diced. Then, put it aside.
3. Thirdly, grab your pita bread and spread mayonnaise on top of it. Then, add the carrot mixture (step 2) with the chicken sausage (step 1), afterward, add the pepper sauce.
4. Fourthly, drizzle with ketchup and extra mayonnaise and top with powdered chili, then wrap the contents gently into a pan and add a little vegetable oil.
6. Now, reduce the heat to the lowest setting and allow the shawarma to warm up while flipping both sides.
7. Lastly, check to see if it's cooked through, then grill it for 1 to 2 minutes to darken it up (if you choose)
How many calories are in the Nigerian shawarma recipe? 
shawarma made of chicken, on the other hand, contains 15 grams of fat and 400 calories.
Is Shawarma suitable for a Keto diet? Is Shawarma Keto friendly
Keto Diet and Beef Shawarma.  Beef shawarma contains about 25 grams of carbohydrates.
On a keto diet, you can eat up to 30 grams of carbs per day. You can still eat this food without harming your diet in that case.
Is Shawarma a snack or food?
You're in for a real treat if you appreciate juicy, succulent, well-seasoned beef because whether you're searching for a scrumptious lunch, a delectable dinner, or a late-night snack, you can't go wrong with shawarma.
What is the composition of Shawarma cream?
Yogurt with garlic Unsweetened yogurt, a little lemon juice, garlic, and salt & pepper make up shawarma cream.
It's a light and tangy topping that perfectly complements the remainder of the shawarma's flavors.
Is it healthful to eat a chicken shawarma sandwich?
Benefits of Chicken Shawarma
If you forgo the bread and just eat it with salad and cucumber dressing, it's a healthy snack.
The meat satisfies your need to eat something good without causing you to gain weight. It's high in vitamins A and C, as well as protein.
Chicken Shawarma Near me in Lagos – All Restaurants