How to Make Nigerian Beef Sauce Recipe at Home
Homemade Nigerian Beef Sauce Recipe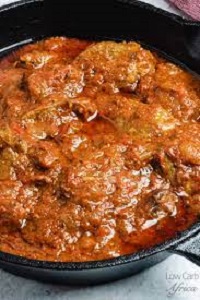 The beef sauce is one of the simplest sauces to make, and it's very similar to the tasty chicken curry sauce.
The beef sauce goes well with rice but also goes well with spaghetti, pasta, and even potatoes. One of the advantages of this simple beef sauce is that you would consume as much beef as you want.
Related >>>
How to Make Best Beef Sauce for Rice at Home – Beef Sauce Recipe
This meat sauce is the greatest I've ever had; it's a one-pan beef and mixed vegetable sauce.
It's a quick breakfast, lunch, or dinner that's far superior to eating out.
Nigerian Beef Sauce Recipe
Is there any reason you shouldn't make this sauce? All of the ingredients are readily available in local stores and marketplaces, so what's stopping you?
If you are as eager as I am to learn about the recipe, then let Go!
Ingredients
1 kg Beef
2 Red bell peppers
Two green bell peppers
2 Beef stock cubes
Cayenne pepper
Grounded ginger
4 Carrots
1 Bulb onion
Vegetable Oil
2 Tablespoons cornflour
Powdered garlic
Curry
Thyme
Dry pepper
Salt to taste
How to Prepare Homemade Nigeria Beef Sauce for Rice
I have the impression that we never have enough sauce to go with our Nigerian white rice.
That is why I am bringing you a simple Nigerian beef sauce to go with your Nigerian rice best prepared at home.
Method
Firstly, cut the beef into thin slices and then, place in a bowl, add hot water to reduce excess blood from the beef and strain out all the liquid.
Secondly, season the beef with beef seasoning, ginger, garlic, curry, thyme, and cayenne pepper.
After that, allow the beef to marinate for at least 30 minutes while you prepare the vegetables (carrots, green peppers, and red peppers).
Then, place 2 teaspoons of vegetable oil in a pan, heat till hot, now add the onion and powdered garlic and stir for 20 seconds.
Now, add the rest of the vegetables and simmer on low heat for 5 minutes, or until everything is soft.
Return the empty pan to the burner, drizzle with a little vegetable oil, add onions, and now add the marinated beef to brown for 5 to 10 minutes.
Continue to stir until it becomes brown, then add 1 cup of water and bring to a boil, then season with salt to taste.
Dilute the cornflour with small water and add to the beef, let this cook for 2 minutes
Bring the stir-fried vegetables to the sauce, tossing to ensure that everything is well combined.
After adding the dry pepper cook for a few minutes.
Lastly, when the beef sauce has thickened, it is ready to serve. Serve with boiling rice and eat in the comfort of your home.
How to Make Stir Fry Beef Sauce for Pasta
We use our preferred quick beef sauce recipe for this spaghetti. It's made in a single pot, really delicious, and takes less than 45 minutes to prepare.
Beef Sauce Recipe for Pasta
Ingredients
Beef
Spaghetti
Tomato sauce
Diced tomatoes
Ginger
Garlic
1 Bulb onion
Vegetable Oil
Dry pepper
Salt
Easy Spaghetti Beef Sauce
1. Place 2 tablespoons vegetable oil in a pan, heat till hot, then add the onion and powdered garlic and stir for 20 seconds.
2. Return the empty pan to the burner, drizzle with a little vegetable oil, and cook the marinated meat till brown for 5 to 10 minutes.
3. Cook until the onions, garlic, and ginger have softened in the pot.
4. Bring the mixture to a boil. Lower the heat and allow the spaghetti sauce to simmer once it has reached a boil.
5. Cook your spaghetti, toss your diced tomato and add the tomato sauce for taste.
6. As once the homemade spaghetti sauce has already had time to simmer, add it to the pot, along with your dried pepper, and cook it evenly. Serve up!
Chinese Shredded Beef Sauce Recipe
Chinese shredded beef sauce is a savory and flavourful beef sauce made in the Chinese way.
In addition, with simple available ingredients, you can make your own crispy shredded beef at home with this recipe and the result will amaze you with how delicious it tastes!
Shredded Beef Sauce Recipe
Ingredients
1 kg Beef
2 Red bell peppers
Two green bell peppers
2 Cube seasoning
1 teaspoon of paprika
Vegetable oil
Ginger
Garlic
Onions
Soy sauce
1 Egg
Corn flour
Curry
Scotch bonnet
Preparations
1. Firstly, cut the beef into thin strips and combine with soy sauce, ginger, and powdered garlic, as well as vegetable oil. Mix thoroughly and set aside for at least 10 minutes to marinate.
2. Secondly, stir in the scotch bonnet, onions, curry, paprika, seasoning, salt, and dry pepper.
3. Thirdly, one egg should be broken into the marinated beef strips and mixed thoroughly.
4. Fourthly, cornflour is then used to coat the beef strips. Before cooking, toss aside any extra flour.
5. After that, heat the oil to 350 degrees Fahrenheit. Deep fry the breaded beef for 1-2 minutes until it is crispy.
6. Meanwhile, preheat the saucepan over medium heat. Pour a tablespoon of vegetable oil into the pan, then add the sliced onions and swirl for a couple of seconds.
7. After that, add the pepper slices and stir thoroughly.
8. Subsequently, add the beef strips that have been cooked. Put the sauce mixture into the pan and top with the spring onions.
Lastly, stir well to blend all ingredients and cook for two minutes on high heat until thickened.
Your Chinese shredded beef sauce is ready! Enjoy