Amala African Food (Yam Flour) – Brown Amala Food Recipe
Amala African Food (Yam Flour) – Brown Amala Food Recipe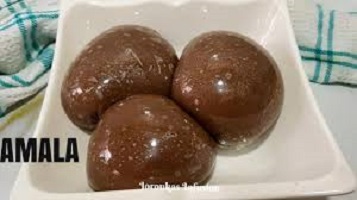 Let me give you a quick rundown on this delicacy if you're unfamiliar with it.
Amala is a traditional Nigerian meal eaten by the Yoruba ethnic group in the country's western states. It's manufactured using unripe plantain flour, yam flour, and/or cassava flour.
Before now, Amala is commonly eaten with Ewedu and Stew but in recent times Gbegiri (beans soup) has been introduced into the menu which has however made it more attractive and desirable.
In addition, it has become a staple meal in every Nigerian household. It has spread across Nigeria's various dialects and has gained traction in every part of the country, as well as some parts of Africa.
Related articles on Amala African Food Recipe >>>
Amala African Food
It's no longer just Nigerian food; it's also known as Amala African cuisine.
However, one advantage of this meal is that it may be consumed at any time of day; it digests quickly and easily due to its light nature.
This meal may turn you off at first glance; evidently, the eye eats first, followed by the tongue. You'll want to eat this amazing dish every other day once you've decided to try it.
Amala is easy to make but then if you are not careful enough, it becomes fluffy, lumpy, and unenjoyable.
Relax if you have trouble preparing lump-free, fluffy, smooth Amala; with this recipe, you'll have it under control.
What exactly is Amala African Food and what does it taste like?
It's a Nigerian dish made from yam and/or cassava flour or unripe plantain flour, and it's predominantly eaten by Yorubas, especially in Oyo state. Yam flour is made from peeled, dried yam that has been ground into flour.
It is often brownish.
It may interest you to know that Amala African Food is not only brown but white as well. Not many people are aware of this fact though.
The brown (Elubo in Yoruba) amala is made up of yam and/or unripe plantain flour while the white (Lafun in Yoruba) amala is made up of cassava flour only.
But our concentration here today is the brown African amala. The taste of the African meal is awesome and very earthy.
Amala African Food Health Benefits
Minerals including copper, calcium, potassium, iron, manganese, and phosphorus are abundant in amala.
Amala includes an enzyme that can be used as a natural alternative to hormone replacement in postmenopausal women. Amala is a good energy source.
This African Swallow is high in Vitamin B6, which is required by the body to break down homocysteine, a chemical that damages blood vessel walls.
Amala is high in HDL cholesterol, which helps to lower the risk of coronary heart disease and atherosclerosis.
Amala is beneficial to pregnant women, and it is even recommended.
How to make Amala African Food
The brown Amala (Elubo) is prepared in this manner while the white Amala (Lafun) is prepared differently. So, here's a step-by-step guide to making perfect Amala.
Let's pretend that this Amala recipe is 101. Shall we? Hahaha!
Amala African Food Ingredients (Serves 2-3)
With this recipe, you will get perfect and smooth Amala all the time.
4 cups (1000ml) of Water
2 cups of Sifted Yam flour
1 cup (250ml) of hot water (reserved)
Directions
Firstly, fill an electric kettle halfway with water and pour 4 cups into a pot.
Secondly, cover the water and allow it to boil until bubbles appear, as seen in the image below.
Thirdly, reduce the heat to low and add the yam flour all at once to the water, stirring/turning with a wooden spoon or spatula (omorogun) until it comes together but isn't smooth. It takes around a minute to complete this process and make it smooth
After that, pour the reserved 1 cup of water into the Amala, making a well in the center and sides with the wooden spoon, and steam the Amala for 1-2 minutes.
Then, stir the amala for 1-2 minutes, or until it is completely smooth. Turn to the other side after some time has passed.
I prefer my Amala light with soup. If you want it to be less soft, use ¾ cup of water instead of 1 cup of water at stage 4.
Enjoy with Ewedu, Gbegiri, Fresh fish stew, Ogbono, Okra, or any other soup.
Cooking Tips on Amala African Food
Firstly, use a pot with a handle you can grip tightly and never use a nonstick pot for amala.
Most people make the error of stirring and adding yam flour a bit at a time. The amala will be lumpy as a result of this procedure.
Before stirring, add all of the yam flour.
However, if you leave Amala on the stove for too long, it will stretch out. The entire procedure should take around 4-5 minutes from the time you pour in the yam flour to the time you remove it.
African food palace Amala joint Near me in Lagos, Nigeria
Abule Amala
Amalatohsure
Amala On The Island
The Amala Place Canteen
Amala 4 Real
The Amala Ogbomosho
Amala 730
The Amala Tax Office
Amala Place Coca-Cola Lagos Island
The Amala Ibadan
Amala Olatishe
The Amala District, Traditional Food Kitchen
Amala To Rewa
Amala Kitchen
Iya Amala
Oya Okanlawon Amala Joint
Amala Zone
The Amala Bowl
Amala Shitta
Akpu Vs Amala Vs Fufu – Different Nigerian Swallows
Among Akpu, Amala, and Fufu which is your best and why? which one is even more edible? Let me know in the comment section below