Ginger Tea: How to Make Fresh Ginger Root Tea
Ginger tea is an exceptional immune-boosting tea, a spicy beverage with less than four ingredients that comes together in about 10 minutes.
Ever had real, fresh ginger tea? It's warming, healing, soothing, caffeine-free, and invigorating at the same time. What's more? It loaded with numerous health benefits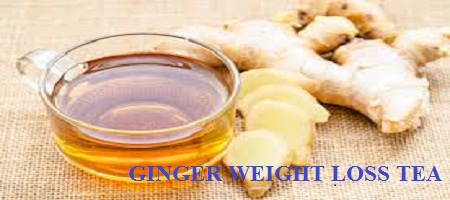 Related >>> Ginger Weight Loss Tea – Benefits, Uses, and Side Effects
Ginger tea is a medicinal, lightly spicy drink for warming up on cold days. It's light and an alcohol-free alternative to a nightcap. It also soothes upset stomachs and eases indigestion
Besides showing you how to make lemon ginger tea, I'll also be including recipe tips and variations, plus a variety of other infusions you could try to boost the flavor and make the ginger tea even more appetizing
Many people believe that the best time to drink it is in the morning for the reason that it's an invigorating way to start the day.
Nevertheless, drinking this healthy drink is nice at any time of the year and it can work both as a morning pick-me-up or evening soother.
Also, when ginger tea is prepared with fresh ginger root, it tastes better than ginger tea brewed from a stale teabag.
Ginger Tea Benefits
The health benefits of ginger are huge. Not only is ginger root best for soothing sore throats and act as a general cold/flu relief, but it has various other benefits which include:
Contains Antioxidants, anti-inflammatory, and antibacterial properties
Ginger tea helps with digestion; helps soothe upset stomachs, and can reduce nausea. It offers some relief to women with morning sickness as well.
Enhances blood circulation
Can reduce soreness and muscle pains
Lessens blood sugar and cholesterol levels
Reduces the risk of heart disease and even contains anti-cancerous properties
Ginger soothing tea is a non-alcoholic, non-caffeinated, and virtually calorie-free drink (unless you add a sweetener) which is good for weight-loss
The list is unending however, it is best to get medical advice before you start adding homemade fresh ginger tea to your daily regimen.
How to Make Ginger Tea from Scratch
I tried several ginger tea methods, and the easiest way is truly the best way. Here's how to do it:
I prefer making mine with ginger, lemon or orange every (optional) and a small drizzle of natural sweetener, usually honey.
Sometimes I mix things up with some additional flavor options, as written in my recipe notes below.
Ingredients
2 tablespoons ginger root (fresh, raw; about 2 inches of ginger root)
4 cups of water
Optional: 1 tablespoon fresh lime/lime/orange juice
Sweeteners: 1 to 2 tablespoons honey/maple syrup (to taste)
Steps on How to Make It
Firstly, thinly slice your fresh ginger. No need to peel, just rinse and scrub off any visible dirt.
Secondly, combine the ginger with fresh water in a saucepan (use one cup of water per serving).
Thirdly, bring the mixture to a boil over high heat. Reduce the heat to maintain a gentle simmer.
After that, allow simmering for five minutes (or up to 10 minutes, if you want extra-strong tea).
Finally, pour the tea through a fine sieve. If preferred, serve your tea with a sliced round of lemon or orange for some harmonizing acidity. You may also like to add a drizzle of honey or maple syrup, which will temper the fiery ginger flavor.
My Fresh Ginger Tea Secret
My secret to quick and easy homemade ginger tea is to grate fresh ginger. After grating fresh  tea is steeped and ready to drink in just 5 minutes!
Also, the secret to a perfect healing ginger tea is lots and lots of fresh ginger, simmered for a long time to bring out the flavor.
Lastly, if you have leftover ginger juice pulp you can freeze it to use later
Variations
Want to take your plain drink to the next level? Here are some easy variations.
With Cinnamon
For more warming spice, just add a cinnamon stick to your tea before bringing to a simmer.
Turmeric 
Turmeric offers extra anti-inflammatory benefits, plus a fun orangery hue and extra-spicy, intriguing flavor. Use fresh turmeric the same way that you use fresh ginger—cut it into thin slices, and put in your ginger and water mixture.
Mint
Fresh mint offers a cooling piece, which helps balance the warmth of fresh ginger. Add a few sprigs of fresh mint to your mixture before bringing it to a simmer.
Hot Toddy
Simply add fresh ginger to the water when you make the hot toddy recipe.
Lemon or Lime
When making the tea and squeeze the juice of a lime or lemon wedge into each teacup.
Side Effects/Precautions
A cup  can be an energizing alternative to a cup of coffee, but the most vital thing to keep in mind is to drink it in moderation
Even though ginger is said to help with digestion, drinking too much of the tea can trigger an upset stomach and loose stools in some people.
Therefore, if you have high blood pressure, gallstones, heartburn, acid reflux, diabetes, or any health condition speak to your healthcare provider before drinking it regularly, too.
Above all, have it in mind that this tea should not be used as an alternative for standard care in the treatment of a health condition.
Do let me know how your tea turns out in the comment section! I enjoy hearing from you.