Fresh Mango Juice Recipe (100%-natural)
Mango Juice is velvety, sweet, smooth, and rich-tasting, with vibrant colors. It is a refreshing, delightful, nourishing juice made with all-natural products mango juice recipe and nothing more.
Mango Juice creaminess is exceptional and it's so easy to make. A must-try during the hot season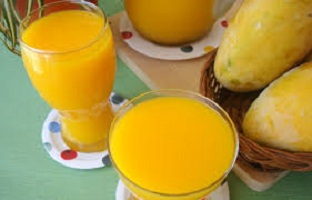 This recipe is also kids and toddlers' friendly remember not to add any sugar to the drink rather use ripe sweet mangoes.
Related >>> Pineapple Orange Smoothie | Vitamin C Boost Recipe
Mango juice comes with great benefits of which I am sure you would be delighted to know.
Mango Juice Benefits
The benefits of Mango juice can assist in keeping you healthy since it contains loads of vitamins.
It is said to assist in preventing anemia by enhancing hemoglobin production.
This exotic juice is good for the eyes because it is rich in vitamin A.
It aids digestion and improves the skin.
Best Mangoes for Juice Making
First and foremost make sure the skin is not brown or gray, because it is a sure sign that the mango has gone bad.
You need to choose the perfect fruit to make delicious and healthy juice.
The mango needs to be moderately soft, but not too soft. The ripe fruit is supple, heavy, with smooth skin, and good to touch.
The fruit's skin color is important too. It should be orange/reddish-green with small yellow patches.
Nonetheless, this is not an outright indicator since mangoes come in diverse varieties.
Mango Juice Recipe – Homemade
The juice made from fresh mangoes fruits has a very refreshing taste.
There are many ways to extract this precious and tasty juice.
The whole process is much easier if you own a juicer/blender though you can still juice a mango without a juicer
This Mango Juice is 100% natural, yet it is sufficiently sweet, fruity and so refreshing.
It comes together within minutes. Best for beating the heat during hot days and good for you!
The nectar is so yummy that you feel like actually tasting it just from the description.
How to juice a Mango
How to make mango juice is quite easy. Firstly, to prepare the concentrate just cut the fruit into pieces and blend in the juice maker.
Secondly, grind into a smooth puree, then add water and blend it again.
After that, strain the juice and throw away the fibrous pulp if any.
Though optional, keep refrigerated, chilled till serving.
Mango Juice Calories
On the other hand, if you like mango pulp, then don't sieve the juice.
A remarkable fact is that homemade mango drink is considered to be a dietary product because 100 grams of this drink contains only 54 calories.
Nevertheless, moderation is important because the sweet fruit has quite a lot of natural sugars.
But, this is still better than buying different mango nectar juice brands like Costco, etc
Mango Juice Variation: Mango Juice Recipe with Milk
Mint, coconut water, ginger, pineapple, and lemon juice are the ingredients that you can add during the preparation to add flavor. Pineapple, orange mango juice tastes Amazing!
Mango is a pulpy fruit that needs more liquids when blended into juice or smoothie.
Since plain water adds no nutrition or flavor to the juice, it's best to use oranges or coconut water which enhances the nutrition to jazz things up a little bit.
Besides, mango juice is quite popular and good for small scale business too. One of the most popular Mango Juice cocktails is a milkshake with mango.
Tips to make
If you love the fresh pure mango flavor then avoid using any other ingredient. Just blend the mangoes with water until you get a smooth consistency.
To twist things a little bit, you may add some orange juice or even milk. Try mango juice recipe with milk combo and thank me later.
How to Store Your Mango Juice
You can store it in the fridge for up to 4 days, but it's so good and refreshing and will not last that long.
To freeze, put in a freezer-suitable air-tight container and freeze for up to three months. Do not forget to fill the container 3/4 full since liquid expands when frozen.
Lastly, to thaw leave in the fridge or on the kitchen counters for a couple of hours.  Shake well before serving