10 Amazing Benefits of Honeydew Melon Juice: Ways to Enjoy
Honeydew melon juice is a stimulating drink to have on a hot day. This sweet thirst-quenching fruit is best for our Nigerian hot weather especially when served cold
Please Watch >>>>
Despite the name, honeydew melon juice is not loaded with sugar. Being low in calories, it gratifies your sweet cravings as it delivers the needed Vitamins like B and C, and minerals, such as potassium, magnesium, calcium, iron, and zinc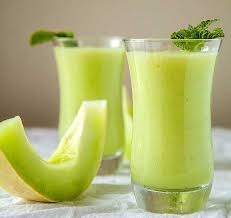 Honeydew melon, or honey-melon, is a fruit that belongs to the melon species cucumis melo (muskmelon).
Honeydew melon fruit is also called the yellow melon, and green melon.
Related >>> Fresh Mango Juice Recipe (100% – Natural)
The sweet flesh of honeydew is naturally light green, while its skin has a white-yellow tone.
Honeydew melons are large, oval melons with a smooth rind and pale focal point. Its size and shape are comparable to that of its relative, the cantaloupe.
Honeydew Melon Juice: Varieties of Honeydew Melon Fruit
This fruit is not the same as cantaloupe and watermelons. Honeydew melon is categorized under the species Cucumis melo.
It has distinctive smooth skin (unlike cantaloupe skin) and pale flesh that may be white, green, or orange.
Honeydew melon is available globally and can be eaten alone or used in desserts, salads, snacks, and soup recipes.
Best Read >>> Juice a Papaya Recipe; How to Make A Pawpaw Drink
Although its greatest appeal may be its flavor, honeydew is also nutritious and may offer several benefits.
Top 5 Ways to Enjoy Honeydew Melon
Freeze It. Prepare popsicles by puréeing honeydew and a splash of lime juice. Then, pour into molds and freeze.
Juice It. Make a slushy with your honeydew.
To Prepare Melon Salad: Honeydew, cantaloupe, and watermelon mix well for a beautiful and delicious fruit salad.
Serve as Sweet Green Salad. Add melon to a green salad for sweet bursts of flavor.
Melon Salsa. Mix melon with finely chopped red onion, fresh cilantro
Honeydew Melon Nutrition Facts
The following nutrition information is provided by the USDA for 1 cup (177 g) of balled honeydew melon.
Calories: 64
Fat: 0.3 g
Sodium: 32 mg
Carbohydrates: 16 g
Fiber: 1.4 g
Sugars: 14 g
Protein: 1g
How to Cook Honeydew Melon
Sweet honeydew melons are a healthy alternative for dessert.
Because melons have a high percentage of water, cooking them destroys their texture.
Honeydew is best served raw, juiced, diced, sliced, or balled with a melon baller.
You can combine it in a fruit salad, blend into smoothies, or you can pair it with Greek yogurt, cottage cheese, or ricotta
Health Benefits of Honeydew Melon Juice
Below are some of the health benefits of this tropical fruit.
Fights cholesterol
Good for digestion
Ideal for hypertension
Strengthens bones and teeth
Excellent hydration
Immunity booster
Promotes healthy eyes and vision
Works as diuretic
Good for pregnant women
Great nourishment for the skin
Supports weight loss