Jamaican Coco Bread Recipe: the Authentic Taste of Freedom
Jamaican Coco Bread Recipe: even though home feels far away, this tender, coconut-scented Jamaican bread provides solace and liberation.
Whoever produced these Jamaican Coco Breads had to be a sandwich connoisseur!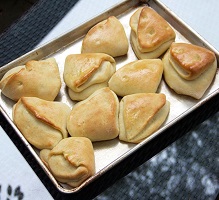 Jamaican Coco Bread is firm enough to retain every filling you can think of while still maintaining the distinctive softness on the inside that we all appreciate in bread.
Besides, did I mention it's shaped like a folded piece of bread so you can easily stuff it?
Source of the Cocoa Bread | Origin of Coco Bread
The origins of coco bread, like many other culinary traditions, are shrouded in mystery. There's no way of knowing for sure where it came from.
Please Read >>> Jamaican Meat Pie (Jamaican Beef Patty) Recipe
Locals, on the other hand, assume coco bread was a product of scarcity. Its simple ingredients and filling capacity reflect the masterful way enslaved Africans – and later indentured Indian laborers – who worked on Caribbean sugar plantations used enterprise to make something out of nothing.
Coco bread's simple strength lies in its ability to put the past and present into sweeter harmony.
What is Coco Bread, exactly?
The Jamaican version of the American dinner roll is coco bread. Patty, cheese, jerk chicken, and callaloo are typical pairings for coco bread.
Coco bread's history is unknown, aside from the fact that it became popular in Jamaica. Some believe the bread's name comes from the original recipe, which called for coconut milk.
What is the Taste of Coco Bread?
Consider Hawaiian Sweet Rolls, but with a denser texture. Coco bread has a hint of coconut milk and is buttery and slightly sweetened.
However, if you want a sweeter flavor, feel free to increase the sugar.
Ingredients in Jamaican Coco Bread
You don't have to be concerned. In reality, you'd most likely already have all of the ingredients in your pantry.
Just 8 SIMPLE INGREDIENTS are needed to make a large batch of this for weekend sandwiches or lunches.
Recipe for Jamaican Coco Bread | Jamaican Coco Bread Recipe
This recipe does not include the use of a bread machine. Here's a quick rundown of what you'll need:
Equipment
Mixing bowl
Mixer
Large plastic spoon
Baking pan
Ingredients
A teaspoon salt
1 tsp. splash Oil for baking sheet
A teaspoon sugar
1 whole egg beaten
6 tablespoon unsalted butter melted (85 grams)
3 cups all-purpose flour 460 grams
¾ cup whole milk warmed (180 ml)
2 packets dry yeast 18 grams
Detailed instructions
In a large mixing bowl, dissolve the yeast and sugar in warm water, then add the milk, salt, and egg.
Whisk in half of the flour while adding the remaining flour. Knead and fold until a dough forms.
Thirdly, dust a cutting board or some other surface with flour. Knead for at least 10 minutes, or until the dough is smooth yet firm (make sure you get out all the bubbles).
After that, pour a small amount of oil into a bowl and rub it all over the inside. Place the dough in the tub, cover with a damp towel, and set aside for an hour (this should be sufficient time for the dough to RISE).
Then, divide the dough into 8-10 parts and roll each into a circle (4 inches). Fold each piece in half after brushing it with melted unsalted butter. Flatten each piece gently and brush with melted unsalted butter before folding in half again.
Arrange the bits in an oiled baking sheet, spacing them 2 inches apart. Cover the doughs in plastic wrap and set aside for another (1) hour.
Preheat the oven to 425°F and set a pot of water on the bottom oven rack.
Preheat the oven to 425°F and set a pot of water on the bottom oven rack. Bake the bread for 15 minutes on the top rack, or until golden brown. Every 5 minutes, brush the bread with melted garlic butter.
Lastly, remove the bread and sprinkle it gently with melted butter once more.
Is it possible to prepare Jamaican Coco Bread ahead of time?
Yes, Freeze and reheat, and BAM, hearty Jamaican breakfast on my table!
Transfer the frozen items to a freezer-safe container jar, mark it, and store it in the freezer for up to 2 months.
How to Reheat Jamaican Coco Bread?
When you're ready to serve, reheat your frozen coco bread by putting it snugly in a baking dish or a baking sheet pan, brushing it with melted butter, and baking it in a 350°F oven until warm enough, around 7-10 minutes.
What do you do with Jamaican Coco Bread?
Feel free to eat it however you'd like to enjoy your sandwich. I'm sure you will come up with a slew of different lists.